Literature Lesson Plans for Intermediate Readers
Intermediate Readers Learning from Literature
"One glance at a book and you hear the voice of another person, perhaps someone dead for 1,000 years. To read is to voyage through time." – Carl Sagan
Delve into Learning with Intermediate Readers!
Do you want to entice students to think critically? To get excited about learning? Our Intermediate Readers Literature Lesson Plans are full of  activities that make reading more meaningful. By asking questions, encouraging students to write about the book and by providing enriching activities we can make books and literature become an exciting learning adventure.
Reading books can be a magical way to transport children to a whole new world. Maybe it's an exciting location or a fascinating time in history. Perhaps it's meeting new or familiar characters or finding that others feel the same way that they do. By reading about characters going through similar experiences students can feel understood and by reading about characters with different life experiences students can learn empathy. The lessons that can be learned from books can be endless. By opening the pages of a book a whole world of possibilities can be discovered.
This page contains affiliate links. Please visit our disclosure page for more information.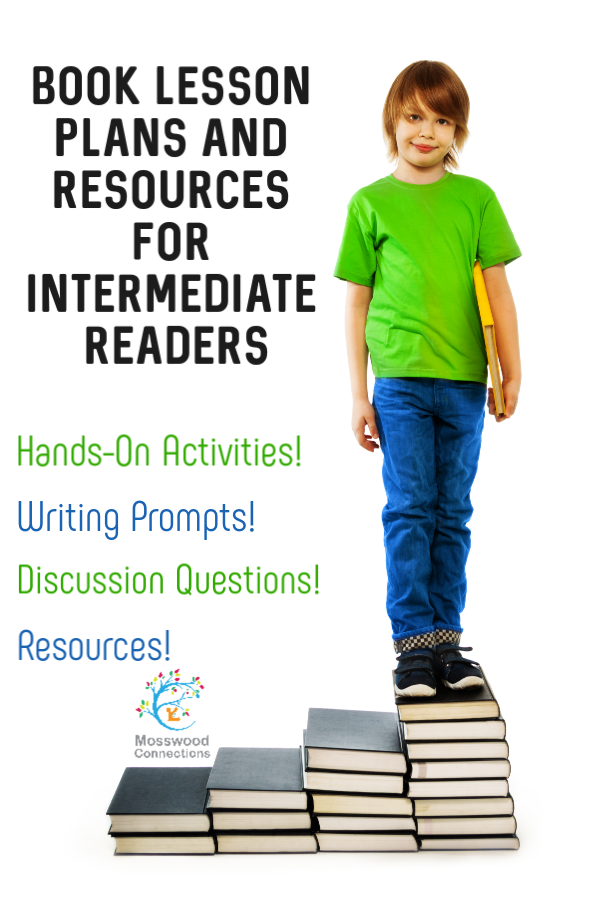 Book Clubs for Kids
One year a family who was homeschooling their middle-school aged daughter wanted to find ways to make reading and exploring literature more fun for her. They were also looking to find group learning opportunities for her to experience so they asked me to run a book club for tween and teen girls.  I was given the challenge of creating literature lesson plans  for these intermediate readers. It was a challenge I was eager to take on; sharing my love of books is always exciting to me. Since that time many book curriculum guides have been developed and shared. The book club was a huge success; your children can also have fun reading with their friends and enjoying book extension activities together.
THE SECRET GARDEN LESSON PLANS AND TEACHING IDEAS
The Pumpkin War
by Cathleen Young draws you in with lyrical language and the amusing idea of racing in pumpkin boats. The central storyline revolves around the fight between the main character, Billie, and her former best friend Sam. We get an idea of how Billie is feeling about Sam with the first line in the book,  "He looked like a two-legged bug I could squash with my thumb."
Woven into this story of a friendship gone wrong are colorful characters, science topics, and stories of heritage. Billie grandmother is Native American and her grandfather is Irish giving readers a glimpse of two very different cultures. Science is heavily featured through the character's interest in cosmology, plant science and raising bees. There truly is something to interest any child in this award winning middle school novel.
If you are looking for key standards, discussion questions, vocabulary, hands-on activities and more visit Cathleen Young Books.
THE SECRET GARDEN LESSON PLANS AND TEACHING IDEAS
The Secret Garden
by Frances Hodgson Burnett is a classic book that has appealed to a generation of young readers. The book starts in India where we meet Mary Lennox, a character who seems rather dislikable at first. When orphaned Mary Lennox comes to live at her uncle's great house on the Yorkshire Moors, she finds it full of secrets. Mary discovers new friends and a secret garden full of possibilities. The transformation of Mary from an angry, lonely child to a girl full of wonder and love is both entrancing and magical.
The Secret Garden has many gems of learning that are hiding within the story waiting to be discovered. You can choose to simply read the book and enjoy the story or dive deeper into the garden of literacy to explore themes, character development and symbolism.
The Secret of Sarah Revere Reading Guide
The Secret of Sarah Revere by Anne Rinaldi
is a wonderful companion book for a unit on the American Revolution. Sarah is the daughter of Paul Revere and in this fictional account she becomes involved with the political intrigue of the time. Seeing the events leading up to the revolution through a young teen's eyes will help students feel more connected to this tumultous period. While reading the book students become familiar with some of the historical figures who helped found America.
THE PHARAOH'S SECRET Book ACTIVITIES and Literature Lesson Plans
Filled with intrigue and surprises, The Pharaoh's Secret
includes Marissa Moss's original illustrations throughout. The novel skillfully weaves history with a personal story full of heartache and family tensions that will entice and enthrall readers.
When Talibah and her younger brother, Adom, accompany their father, an academic, to his homeland of modern Egypt on his research assignment, they become involved in a mystery surrounding an ancient, lost pharaoh-a rare queen ruler. This book is a perfect companion to an Ancient Egypt Study Unitl.
Looking For More Ancient Egypt Activities, Chapter Discussion Questions, Vocabulary, and Key Standards?
Download our incredibly detailed and comprehensive Teachers' Resource Guide for The Pharaoh's Secret.
ABSOLUTELY AMAZING ACTIVITIES TO DO WHILE READING THE PHANTOM TOLLBOOTH
The Phantom Tollbooth
by Norman Juster has been enjoyed by children for decades. The main character, Milo, can't get excited about anything until a magical tollbooth mysteriously appears in his room. Milo and the readers are magically transported to another world full of wit, wisdom, and wordplay. Anyone with an appreciation for language, irony, or fantasy adventures will love this book.
You can find standards, vocabulary, writing prompts, fantastic hands-on activities and chapter by chapter discusion and comprehension questions for intermediate readers in The Phantom Tollbooth by Norman Juster Teacher's Curriculum Guide.
CATHERINE, CALLED BIRDY BOOK LESSONS AND ACTIVITIES
The book Catherine, Called Birdy
 by Karen Cushman takes place in medieval England in 1290. Birdy is the 14-year-old daughter of an English country knight who is very inventive and humorous. The book is written in journal form because Birdy's brother, who is a monk, taught her to read and write and he suggested to her that writing the account of her days will help her grow "less childish and more learned." Birdy hates to act like a lady and doesn't want to get married. This journal describes her adventures throughout a year of her daily life and her efforts to get rid of any male suitor that her father wants her to marry. This book is a A Newbery Honor Book.
Explore Medieval times through literature with book activities for intermediate readers.
TEACHERS' RESOURCE FOR THE LONG WAY TO CHICAGO
A Long Way From Chicago
by Richard Peck is written as a series of vignettes that are funny snapshots of life in rural America during the depression. The humor, simple language and short story format make this book accessible to struggling readers. It's an enjoyable read that exposes children to what life was like during the Great Depression. I have used this book many times to get reluctant readers excited about literature.
For Standards, Literature Circle Questions, Hands-on Activities, Writing Prompts check out the full Curriculum Guide for The Long Way to Chicago.
Connect to the The Industrial Revolution through Literature
Wheels of Change
illustrates how the Industrial Revolution was a turbulent time for America. As the Industrial Revolution churned forward change was forced upon many families. In the book Wheels of Change
 by Darlene Beck Jacobson we see the impact through the eyes of 12-year-old Emily. Her father is a carriage maker at a time when "horseless carriages" are beginning to replace using horses as transportation. Readers will become engaged with Emily's family as they learn about the impact of the many changes happening at that time in history.
More Children's Literature Lesson Plans and Resources for Intermediate Readers
Do you have a favorite book that you think we should create a lesson plan for our students? Please tell us about it!