YA Historical Fiction
Reading is an exercise in empathy; an exercise in walking in someone else's shoes for a while. —Malorie Blackman
Using Historical Fiction to Learn About the Middle Ages
Go back in time to the middle ages and get a glimpse of what life was like for young women. Reading this book with our Tweens Girls Book Club evoked many spirited discussions about women's rights, the treatment of women throughout history and what life would be like during medieval times. Written in a diary format the book also lends itself to introducing journaling to kids. We had a fun time developing our Catherine Called Birdy Lessons and Activities.
This page contains affiliate links. Please visit our disclosure page for more information.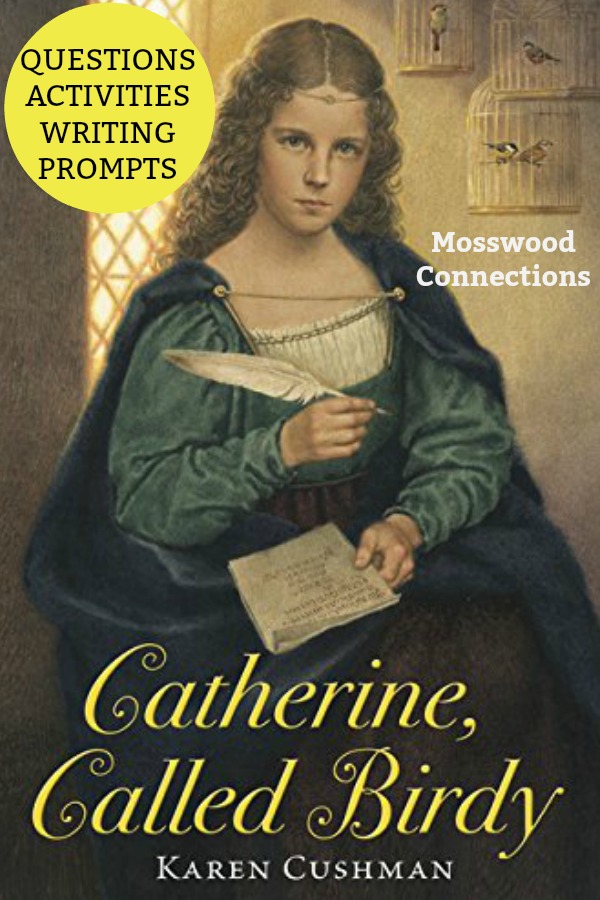 Catherine, Called Birdy Lessons and Activities
The book Catherine, Called Birdy
 by Karen Cushman takes place in medieval England in 1290. Birdy is the 14-year-old daughter of an English country knight who is very inventive and humorous. The book is written in journal form because Birdy's brother, who is a monk, taught her to read and write and he suggested to her that writing the account of her days will help her grow "less childish and more learned." Each different passage tells of the adventures of her days and how her parents are trying to make her act like a lady so her father can marry her off. Birdy hates to act like a lady and doesn't want to get married. This journal describes her adventures throughout a year of her daily life and her efforts to get rid of any male suitor that her father wants her to marry.
Reading Level: 1170 Lexile. Guided reading level: X. Grades: 6-8
An interactive diagram of a castle from DK Kids.
Facts and Castle related Activities from The School Run.
Have the kids construct their own castle online with TVOKids.
Discover Herbs: Herbs were important to the people of the middle ages. They were used to flavor and preserve food. They were used to combat the stink of the times and most importantly they were used as medicine. We have a few activities you can do with herbs:
Gather some bundles of different herbs. Have the children look, feel and smell the herbs. then blindfold the children and see if they can identify the herbs by smell and feel.
Grow some herbs. For some advice on growing herbs, you can read Raise a green thumb by growing herbs and to grow an authentic medieval herb garden you will want to know What to grow in a medieval herb garden.
Learn about The Medieval Herb Garden and A selection of herbs used in medieval times.
Writing Prompts
Catherine's mother says to her "You are so much already, Little Bird. Why not cease your fearful pounding against the bars of your cage and be content!" Write an essay in which you do each of the following: Explain what point the author makes in the quotation. State the extent to which you agree or disagree with the author. To develop your essay, be sure to include specific examples, reasons, and details.
Madame Joanna says to Catherine: "You are lucky, Little Bird, for you have wings. But you must learn to master them. Look at the baron's hawk there on her perch. Just because she doesn't flap her wings all the time doesn't mean she can't fly." Birds are often used in literature as symbols for freedom. The symbolism of birds is repeated throughout the novel. For example, Catherine is nicknamed Birdy, and she keeps birds as pets, and she decides to set them free at the end of the story. Write an essay in which you do each of the following: Explain what point the author makes in the quotation: Why does Madame Joanna compare Catherine to a bird, and what advice is she trying to give her? State the extent to which you agree or disagree with the author. To develop your essay, be sure to include specific examples, reasons, and details.
Write about Catherine's situation regarding being "married off". "Now my father, the toad, conspires to sell me like a cheese to some lack-wit seeking a wife." Catherine, like many girls her age during the medieval time period, is being forced into an arranged marriage. She tries many ways to get out of her situation, including playing tricks on her suitors and attempting to run away. What would you do?
Pretend that Catherine is your friend and the diary entries that we have read so far have been letters to you. Write a letter back to Catherine using the Personal Letter Format.
Make research journals: These begin with a Know/Want to Know page about the character. Double pages are set up with the following (basic) headings which come from the "want to know" lists: 1) Know/Want to Know About the Characters 2) Medieval vocabulary words and phrases 3)Daily life – jobs, responsibilities, duties, hygiene 4) Family life – Home, Foods, Clothing 5) Events: Holiday, fair, journey, war, plague, etc. 6) Historical references with dates 6) Sketches: Symbol representing character, home, clothing, etc. 7) Works Cited/Bibliography (Guideline sheet is provided for reference)
Write a "final" diary entry for Birdy, dated December 1, 1291. Show what her new her life with Stephen is like and her attitude about their future together.
Write a Journal from Another Point of View. Choose a character from the novel and write about a specific event from his/her point of view. Include observation and/or thoughts of Birdy.
More Book Lesson Plans and Activities