The Secret Garden Teacher Resource
Intermediate Readers
"Books are a uniquely portable magic." ~ Stephen King
Invite children into the magical world of books by reading The Secret Garden. One year I formed a Girls Book Club for Tweens and I asked them what theme they would like for our book selection. They all agreed they would like to read books with female heroes and historical figures. Mary of The Secret Garden is a character that has sparked the imagination of children for decades and served as an example of resilience and spunk. She is not the typical "princess character"; she is neither attractive nor pleasant and yet we come to love her.
This page contains affiliate links. Please visit our disclosure page for more information.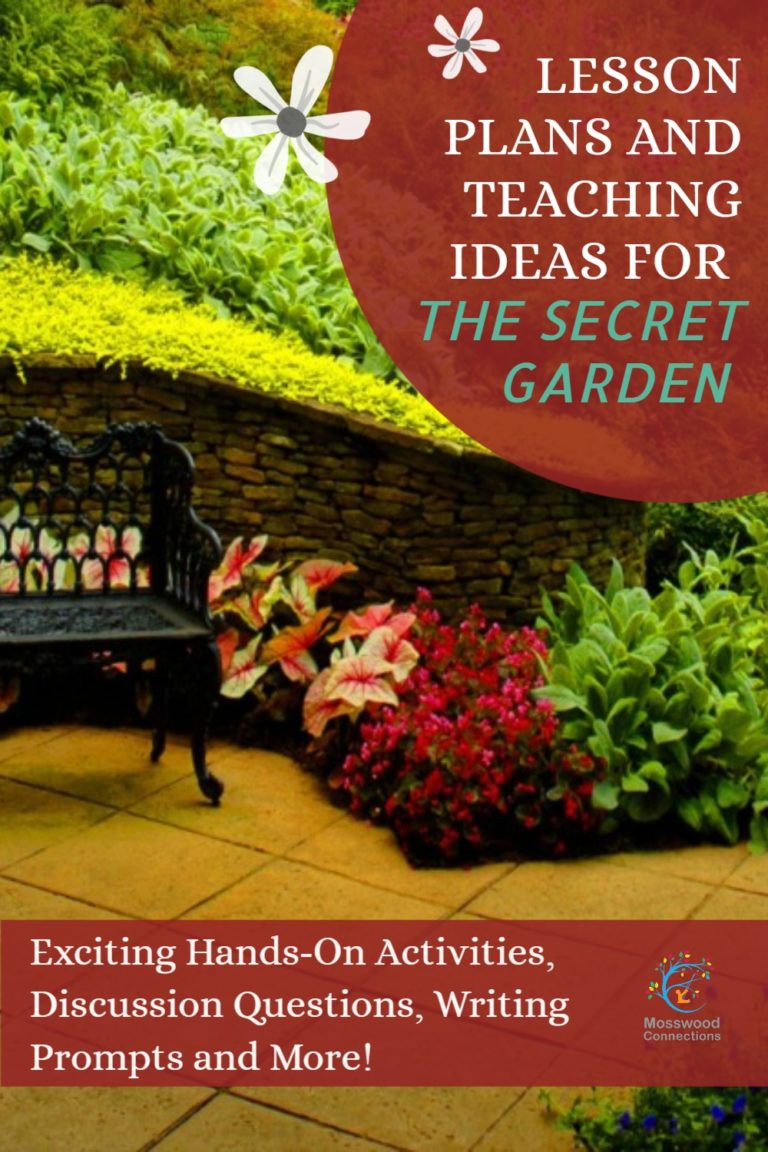 Overview of The Secret Garden by Frances Hodgson Burnett
A beloved classic of children's literature, The Secret Garden by Frances Hodgson Burnett, tells an inspirational tale of transformation and empowerment. Mary Lennox, a sickly and contrary little girl, is orphaned to dim prospects in a gloomy English manor – her only friend is a bed-ridden boy named Colin whose prospects may be dimmer than hers. But when Mary finds the key to a Secret Garden, the magical powers of transformation fall within her reach
Guided Reading Level: U; Lexile® Measure 90L; DRA Level:50; Grade Level 4; Ages 8
Lesson plans and teaching ideas for The Secret Garden by Frances Hodgson Burnett
The Secret Garden
 has many gems of learning that are hiding within the story waiting to be discovered. You can choose to simply read the book and enjoy the story or delve deeper into the garden of literacy to explore themes, character development and symbolism.
Companion Activity Ideas for The Secret Garden:
Design your own garden. You can have the children do this as a drawing and math activity or you can literally plant a garden. We had fun planting a butterfly garden. Children also may enjoy making a fairy garden.
Go bird watching. The robin in the story is integral both to the plot and the symbolism. Extend the learning with our Bird Study Unit. Or for artsy kids, you can make a Robin Craft.
Have a picnic. The children in The Secret Garden enjoy their picnics. Have your own Secret Garden inspired picnic.
Create a storyboard. Students can add to it as they read the book.StoryboardThat has some resources that you can access for a 2 week trial period.
Explore the characters with a 

The Secret Garden

 Character Sketch. Pixton offers some awesome character props you can use for free.
Recreate a trip from India to England in the 1900's. We found these useful resources:
A home for the ayahs: from India to Britain and back again
A map shows how long it took to travel the world in 1914
Writing Prompts for Reports and Papers
1. Frances Hodgson Burnett liked happy endings so much that she called herself "Mrs. Romantic." She believed that it was possible to transform reality by thinking positively. How does positive or negative thinking affect the lives of Mary, Colin, Dickon, and Mr. Craven?
2. How does the garden function as a metaphor for the way Mary and Colin are at the start of the novel?
3. Compare Dickon's background with Mary's and Colin's. How is it different?
4. Examine the situation of servants in the novel. What is a servant's life like? How are they treated? How does the narrator regard servants? Take your examples from both Yorkshire and India. Compare the situation of servants in Yorkshire with that of servants in India.
5. Which characters are most strongly associated with the world of the manor house? Which characters are most strongly associated with the secret garden? What does this opposition suggest?
6. Write a review about The Secret Garden.
7. Which character would you like to be friends with? Why?
8. If you were to have your own Secret Garden what would it look like?
9. You're given a plot of land and have the financial resources to do what you please. What's the plan?
10. Have you ever acted like "A little Rajah"? What would happen if you did?