The Pharaoh's Secret
Intermediate Readers
Connecting to Ancient Egypt Through Books
Ancient Egypt seems to hold an enduring fascination for many children. Perhaps because it seems so exotic, it is usually easy to get the kids excited about learning about ancient civilizations. Stories are a wonderful way to bring faraway places closer. The Pharaoh's Secret by Marissa Moss does just that. Through the magic of historical fiction, it brings two modern children back in time to the time of Hatshepsut. Packed with action and rich with historical facts this book is a perfect companion to an Ancient Egypt Unit Study.
Guided Reading Level: U;  Lexile® Measure 770L to 1080L; DRA Level:50; Grade Level 5, Ages 9-12
This page contains affiliate links. Please visit our disclosure page for more information.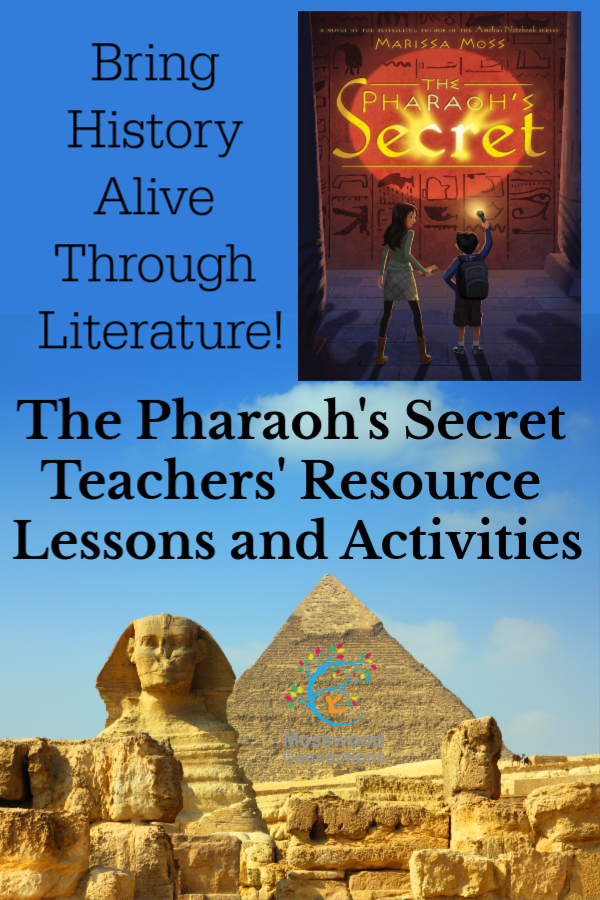 The Pharaoh's Secret by Marissa Moss Activities
Filled with intrigue and surprises, The Pharaoh's Secret
 includes Marissa Moss's original illustrations throughout. The novel skillfully weaves history with a personal story full of heartache and family tensions that will entice and enthrall readers.
When Talibah and her younger brother, Adom, accompany their father, an academic, to his homeland of modern Egypt on his research assignment, they become involved in a mystery surrounding an ancient, lost pharaoh-a rare queen ruler. Someone has tried to wipe her from the official record, to make it appear as if she never existed! She needs Talibah to help her and her high priest, Senenmut, reclaim their rightful place in history. Exotic locales, mysterious strangers, and a sinister archaeologist round out an adventure that is full of riddles, old tales, and, most surprisingly of all, a link to Talibah's and Adom's mother, who died mysteriously.
Have the students figure out what their names would be in Hieroglyphics. They can write hieroglyphic notes to each other and decode what they mean with a Hieroglyphic Typewriter.

Have an Ancient Egypt sports day: tug of war, pass the hoop, etc.

Research 

Ancient food

. What would it be like to 

dine like a Pharaoh?

 Make one of the recipes. We made 

Basbousa

 and the kids thought it was delicious.
Book Lesson Plans and Activities