A Fun Collection of Non-Candy Valentines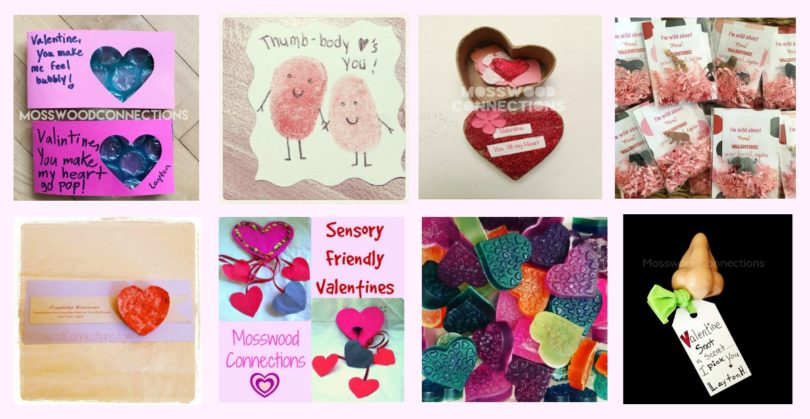 Valentine's Day is a fun holiday for kids and adults. Make it better with these Non-Candy Valentines!
Share some love with these easy Valentine craft ideas for kids.
Non-Candy Valentines
Over the years we have made quite a few valentines with the kids. We like to make non-candy valentines for a few reasons. It brings out the creativity in the kids, we work with allergy-sensitive children, and no matter what we do, the children will be inundated with sweets so why add to the sugar fest?
This page contains affiliate links. Please visit our disclosure page for more information.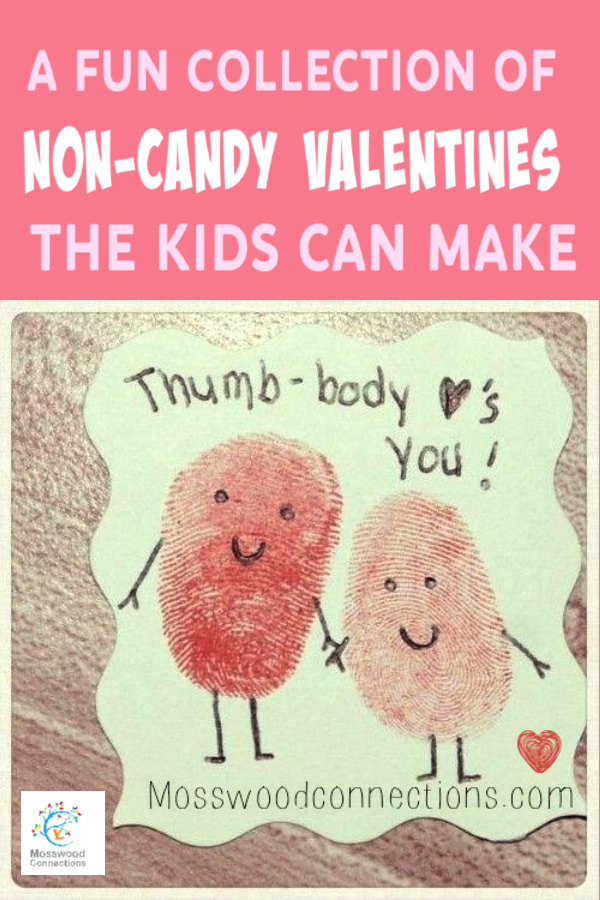 Thumb Print Valentine - Our most popular non-candy Valentine
Here is an easy Valentine for kids to do. It may be simple but the finished product is super cute. Just have your children put their thumbs in paint and press on a paper. Have them add features and Ta-dah! you have an adorable Valentine.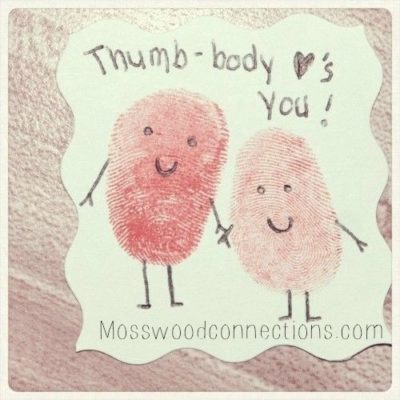 Our Easy Peasy Valentines are fun to make and the best part is you probably have all the materials already available at home.
Miniature Valentines
The next year Layton was obsessed with all things miniature. He was having a lot of fun collecting these teeny tiny rubber animals. We decided to use these non-candy Valentine's Day treats in place of an edible treat for his classroom Valentines.  It did take some time to assemble, but it was a fun project for my boy. You can download printable Valentines here.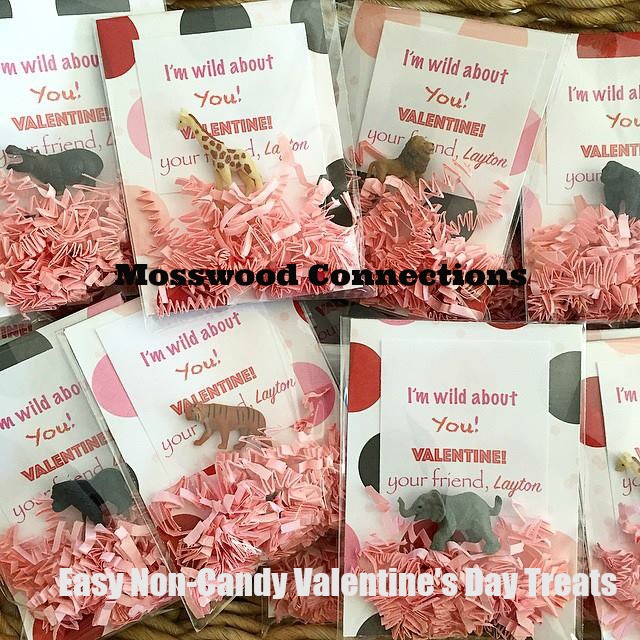 We always enjoy having non-candy options for Valentines Day and truthfully, we have more fun coming up with different ideas on what valentines we want to create along with the clever greetings to go with our creations. It's become a tradition in our home that we look forward to every year.
These sensory friendly valentines smell good and can also be used as fidgets for the hands. The ones that we made got a lot of use as fidget toys which were great. It kept the kids busy and in control on an exciting party day.
This upcycled nuts and bolts heart craft will put to good use those random nuts and bolts that you have in your garage. It is easy to personalize for any special person. The end result is a very special DIY gift.
We love handprint, footprint and fingerprint art, and craft projects. This craft project is a real winner. The combination of clay and fingerprints make adorable charms that will become beloved keepsakes.
How many old crayons do you have around the house? Do you ever worry that they are feeling sad and ignored? You can give them new life with this project. Then you can use them as awesome non-candy valentines treats.
This project is great for fine motor and hand-strengthening practice. The kids love the idea of hearts and confetti.
Wildflower Seed Bombs has so many lessons that you can choose from; a lesson in plant science, a sensory integration exercise, creating an experience that makes the world a more beautiful place.
The kids always seem to have plenty of sweets on Valentine's Day so we like to give a non-candy valentine treat. We have a lot of fun thinking up what we are going to say on our Valentine to go with the non-candy treat.