Growing Wildflowers
A Sensory Garden Project
Making Wildflower Seed Bombs has so many lessons that you can choose from; a lesson in plant science, a sensory integration exercise, creating an experience that makes the world a more beautiful place.
These seed bombs were shaped like hearts and given out instead of sugary treats on Valentine's Day.  But you can make them any time of year. I particularly like the idea of using pumpkin seeds, forming the seed bombs to look like a pumpkin and then having a smashing pumpkins party. I told a special education teacher about this project and she asked the class' occupational therapist to make them with her students. The students then sold them for a fundraiser. These little seed bombs just explode with so many gifts.
This page contains affiliate links. Please visit our disclosure page for more information.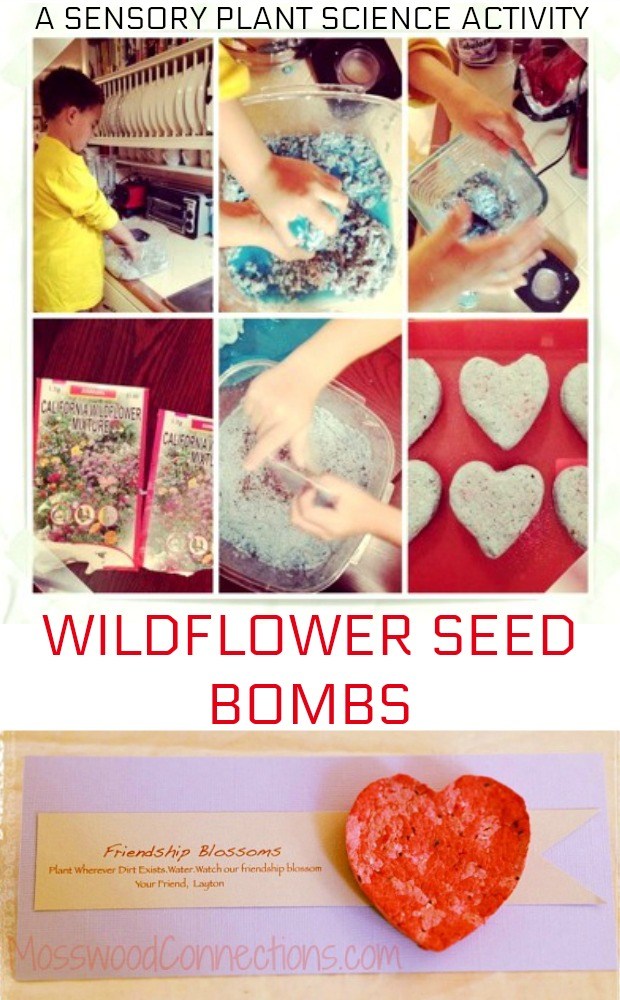 Targeted Skills for this sensory plant science activity:
Learning about plant life
Sensory Integration
Literature Connection (Miss Rumphius by Barbara Cooney)
Fundraising or gift giving
Materials you need to make seed bombs:
Clay-Based Wildflower Seed Bombs:
1 part native wildflower seeds (you can substitute other seeds.)
3 parts organic compost
5 parts clay (You can buy the clay from an art supply store or use your own soil if it has some clay.)
1-2 parts water
Large Bucket to mix everything in
Tray for drying seed bombs
We found the clay version to be easier to make but the paper version seems to sprout better. The paper-based seed bombs also come with a lesson in reusing and recycling.
Paper-Based Wildflower Seed Bombs:
A tall stack of recycled paper
1 cup of native seeds
Cookie cutters
Drying tray
Large bucket or container
Blender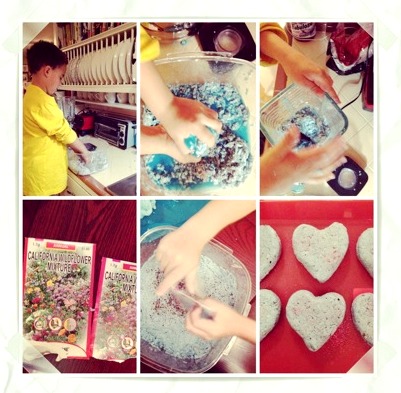 Instructions for both methods of making Wildflower Seed Bombs:
Read the book Miss Rumphius with the kids. Talk about how she made her world a better place by planting wildflowers. Who do the flowers benefit?
Clay-Based Wildflower Seed Bombs:
Combine seeds and compost thoroughly by hand.
Add in clay and mix again.
Slowly add water and continue mixing by hand until well-blended.
You will know when you reach the right consistency when the mixture holds together in a ball without falling apart.
Mold mixture into balls about the size of a jawbreaker.
Allow the balls to dry on a flat surface in the sun or in a dry place. If the balls are too moist, the seeds will sprout.
Paper-Based Wildflower Seed Bombs:
Shred paper and soak in water for 10 minutes.
Put paper in blender or food processor to make pulp. You will need to add a lot of water to get it to blend.
Once it resembles oatmeal you are ready to remove it from the blender and pour it into a cheesecloth where you will squeeze out as much of the water as possible.
If you would like to skip the blender then soak the water for a day or two.
You need your pulp to be as liquid free as possible so that the seeds don't sprout right away.
In a large bowl combine the paper pulp with the seeds until the seeds are well distributed.
Press the pulp into a cookie cutter shape. It won't work to try to cut them out. You have to press the pulp in and then gently push out. If this process is too difficult for the kids then you can simply roll them into balls.
Allow the seed bombs time to dry. You can place them in front of a small portable heater to speed up the process.
Remember, if the seed bombs are too moist, the seeds will sprout.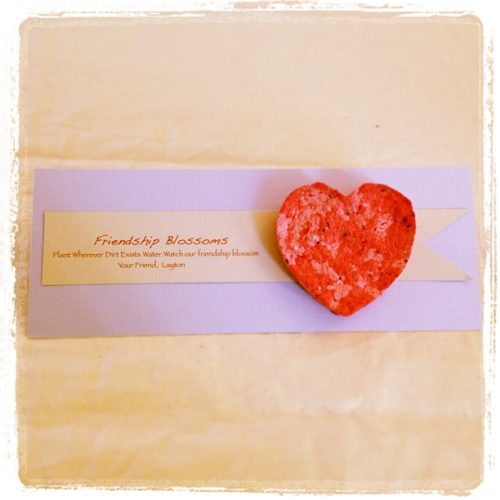 We turned our Wildflower Seed Bombs into Valentines. We like to imagine all the flowers growing in our friend's yards.