Mental Health Scavenger Hunt
Staying at Home Activity
"Life imposes things on you that you can't control, but you still have the choice of how you're going to live through this." — Celine Dion
Quarantine Related Stress
Are you stressed out because there's a global pandemic? I am guessing the answer is yes! We are all a bit anxious and our children are also feeling the effects of having their lives disrupted. In order to help we created a Mental Health Scavenger Hunt.
We noticed that people are using our Emotions Scavenger Hunt more than ever before and realized that parents are looking for ways to help their children deal with the stress that the shutdown is causing. Hopefully, spending some time doing some self-care will help the children with their emotions.
This post contains affiliate links. Please visit our disclosure page for more information.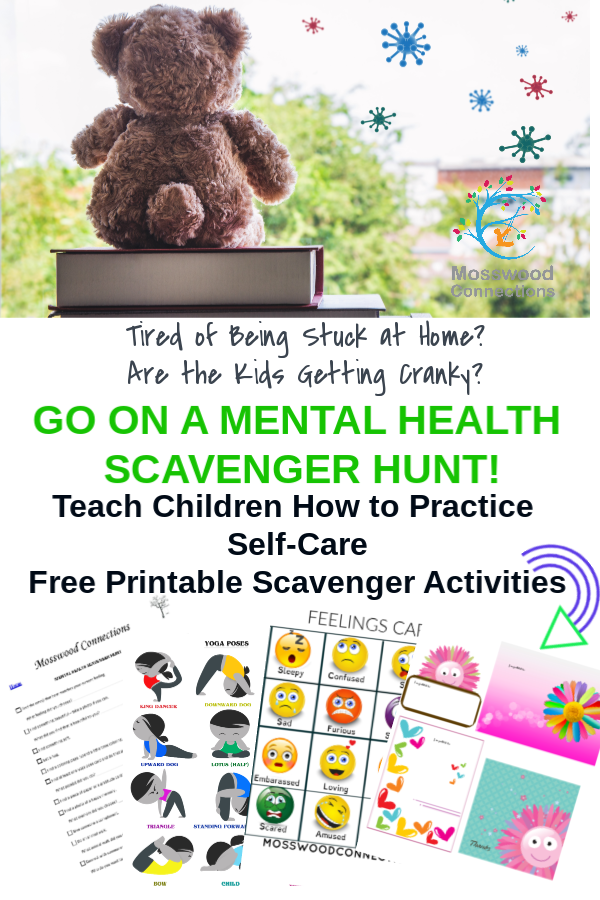 Mental Health Scavenger Hunt
This activity is a loose version of the typical scavenger hunt. The checklist includes doing actions rather than simply collecting items.
Target Skills For Your Mental Health Scavenger Hunt:
Identifying Feelings
Social-Emotional
Self-Care
Connecting with Others
Materials You Need for a Mental Health Scavenger Hunt:
Stay at Home During the Coronavirus Pandemic Mental Health Self-Care Scavenger Hunt:
The intention of this scavenger hunt is to help soothe the effects of having our lives disrupted. The children we love are experiencing a roller coaster of emotions. While our children may be safe and happy it is still very unsettling to have one's life changed in such a dramatic way and they are missing the in-person contact with their friends and extended family.
Stressful times can cause some children to have real mental health consequences. If you are truly concerned contact your family doctor. For online services and information go to our Mental Health Services for our Youth resources page.
Print out the Mental Health Scavenger Hunt Checklist.
Print out the Feelings Cards, Yoga Pose Cards, Gratitude Cards. Cut the cards out and hide them around your house or yard. (Links to pdfs are above in the material list.)
Put out coloring pages and coloring tools such as markers, crayons, or colored pencils.
If you are unfamiliar with animal walks you can download and print the animal cards from the links in the materials list. Put the cards where they can be found.
Send the children off to find all the items on their list. Have them check off what they found.
Whoever was able to cross off the most feelings on their list wins!
Afterward, you can talk about how doing the actions on the list made them feel. Was there something that was more helpful? For instance, how did they feel after doing yoga poses or getting a hug?
Online Classroom Version of the Mental Health Self-Care Scavenger Hunt:
This version will take a little pre-planning (and a lot of emailing). Follow the instructions above with a few modifications:
Email these instructions: We are going to share the Mental Health Scavenger Hunt during our next virtual class. Your job is to do the scavenger hunt at home. When we meet for class be prepared to share your experience. What was your favorite self-care activity? Why?
In your email be sure to send them copies of the pdfs in the materials list.
Enjoy More Amazing Scavenger Hunts with the Kids!
Explore with a Backyard Scavenger Hunt