The Best Toys for Encouraging Imaginary Play – Pretending is Important for Child Development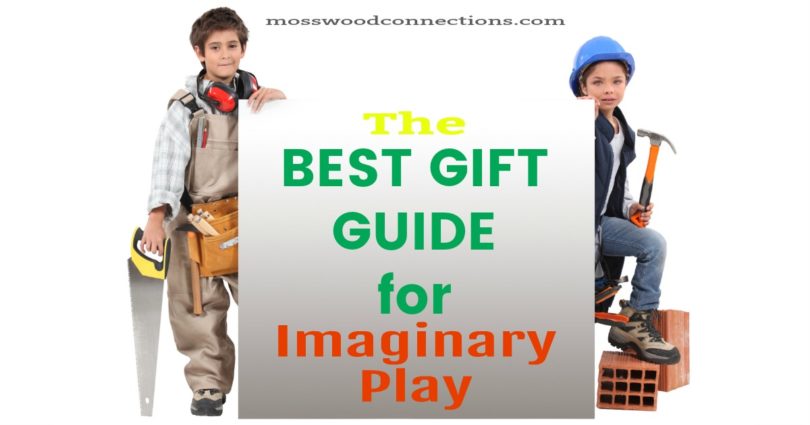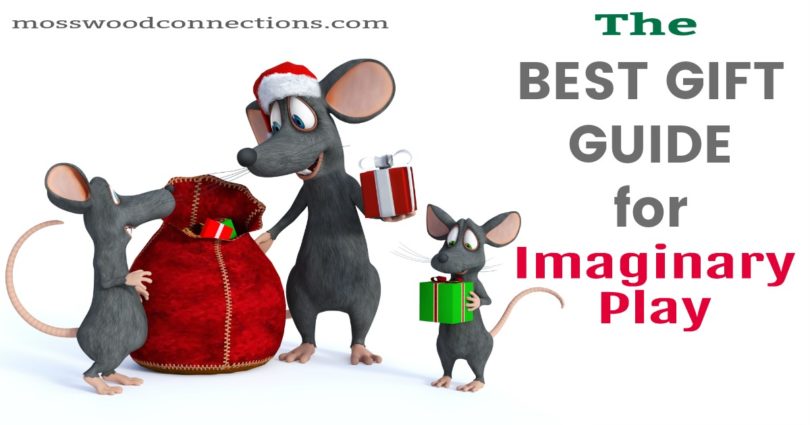 Learning Through Play
"Imagination is your mind's playground." ~ Vince Gowmon
Imaginary and Pretend Play is Critical for a Child's Development!
Hours can be spent in magical worlds full of endless possibilities. All you need is a little imagination. Playing pretend has a special place in our hearts as children on the autism spectrum do not always develop this skill on their own. Many lovely memories have been made with our students nurturing a love of imaginary play.
In our own homes, open-ended toys that promote pretend are the most used toys that we own. They are the toys that the kids gravitate to year after year.
This page contains affiliate links. Please visit our disclosure page for more information.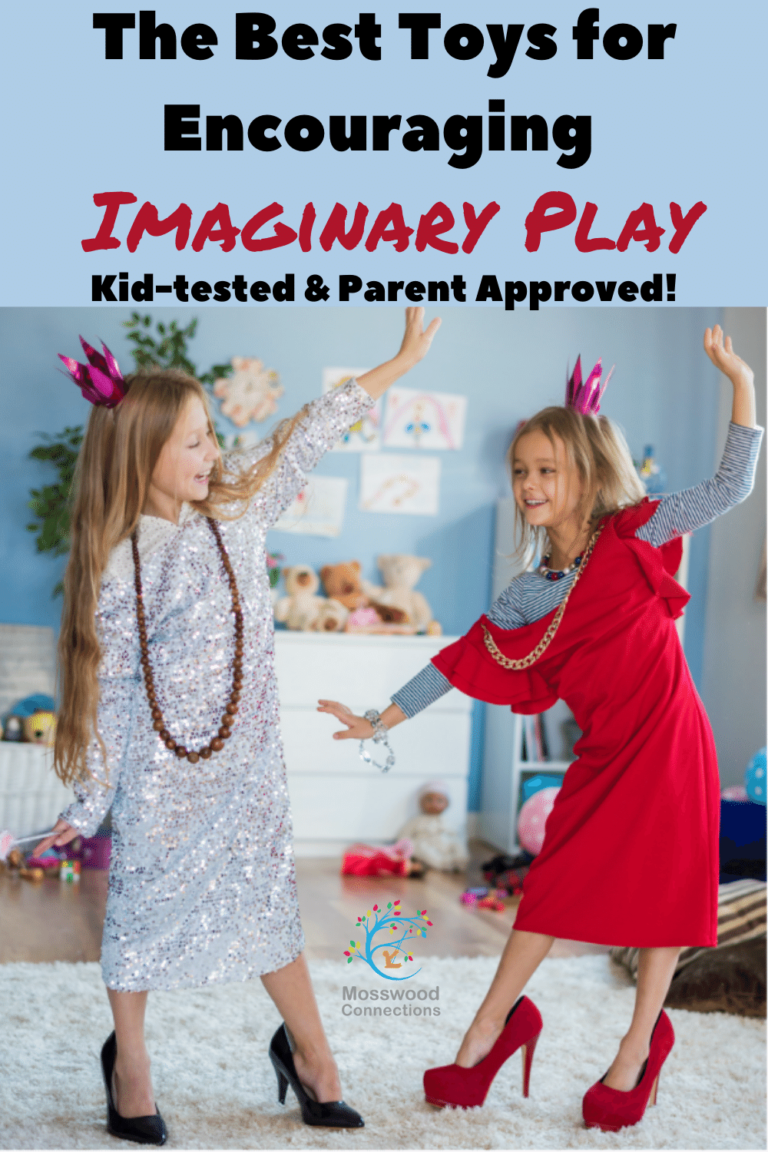 Why is imaginary play important?
There are many benefits when children engage in pretend games. Children will usually engage in imaginary play from the ages of about two through ages six or seven. Our own children continue to engage in imaginary play through their tween years.
Pretend play allows the expression of both positive and negative feelings. It allows exploration of complicated feelings in a fun and safe setting.
We use imaginary play to develop social skills: children practice negotiation skills, turn-taking, and sharing.
Emotional development: Understanding and expressing their feelings through the re-enactment of certain experiences. Children learn to practice empathy through role-playing and imaginary play.
Playing pretend develops critical thinking skills. After all, if a monster is stalking you it's best to use some problem-solving skills to get rid of that monster ASAP!
Help develop language skills through imaginary play: children practice listening, looking and talking. They also develop an understanding of what is being communicated through body language.
It promotes physical development in a fun way. We often use pretend while we are going for a walk. Perhaps we have to tiptoe because we are going to a giant's house or march in a pretend parade. Or maybe we have a child who needs help with fine motor, dressing a doll is a fun way to practice those skills.
Construction Toys That Foster Creativity and Skill Building
When my siblings and I were children we spent so many years playing with blocks. To us, they weren't just blocks, they were a tool we used to express our creativity, to build worlds that we could only visit in our imagination. To us, they are one of the best imaginative play toys for children 2-year-old to 10-year-old.
Solid-Wood Building Blocks With Wooden Storage Tray (60 pcs)

"This traditional set of 60 solid wood standard unit building blocks with a natural finish and smooth rounded edges is beautiful in its simplicity – and a great value! The blocks come in a lovely wooden crate for easy and convenient storage. Precisely measured and cut, these carefully crafted blocks will inspire children to build, stack, and use their imaginations to make all sorts of structures. Playing with blocks helps develop fine- and gross motor skills, problem-solving and more. And let's face it, it's also endlessly fun to simply watch kids build towers and knock them down!"
Heroic Knights Wooden Castle Building Blocks, 50-piece Medieval Play Toy Set in Storage Drum by Imagination Generation

"Enter a realm of great knights, towering castles, and fire-breathing dragons with these castle building blocks. Construct the tallest kingdom in the land, topple it over and then start again. With so many shapes, sizes, and patterns of blocks to tinker with, there are endless possibilities of castle creations! These wooden blocks are cut from solid wood and are finished with safe, water-based paint. They encourage early imaginative role-playing and storytelling as well as develops fine motor skills and dexterity."
Magna-Tiles Clear Colors 100 Piece Set
"Magna-Tiles are sized just right and easy to use, whether creating designs on a flat surface or building in 3-D. basic shapes are learned through play. Magna-Tiles develops patterning, shape recognition, building, and motor skills. use them for guided activities or hours of open-ended fun and exploration."
LEGO DUPLO Deluxe Box of fun 10580 Preschool Creative Play Toy

"This set makes the perfect introduction to LEGO building fun, with a huge range of classic and special DUPLO bricks. From teaching counting with the decorated number blocks to inspiring role play with the DUPLO figures, this box will open up a world of learning and creativity for your young builder."
Fat Brain Toys Squigz Benders

"Squigz are a species all their own. They flex. They stick. They suck people into creativity. Once they take hold, it takes some pull to separate them. When Squigz POP! in protest – you'll have to admit. your hands and ears are shamelessly delighted! Squigz and their new contortionist sidekicks, the Benders, stretch creativity farther. See aliens' legs stretch to unknown lands, whirling lassos, wearable goggles, Suess-like contraptions, and new innovations in pet harnesses. Squigz and Squigz Benders are scientific sorts – always up for playful experimentation and defying gravity – sticking to bathtubs, windows, school lockers, tabletops, and office desktops. (And they are mannerly guests too – never leaving a trace of their presence.) Fun little suckers. Squigz Benders bend over backward to accommodate imagination!'
The Best Open-Ended Toys
Now that the kids have had fun constructing with their building toys they need some accessories to really broaden their play. A block building is far more exciting when you add animals, dolls, and other figures.
Realistic Animal Toy Figures

Farm Animal Action Figures – Big Bucket of Farm Animals – 50 pieces in a set!
These realistic animal figures will spark hours of imaginative play. Durable enough to be used indoors or out, their uniquely molded textures and richly painted details bring them to life and help spark the imagination, and inspire creativity in kids.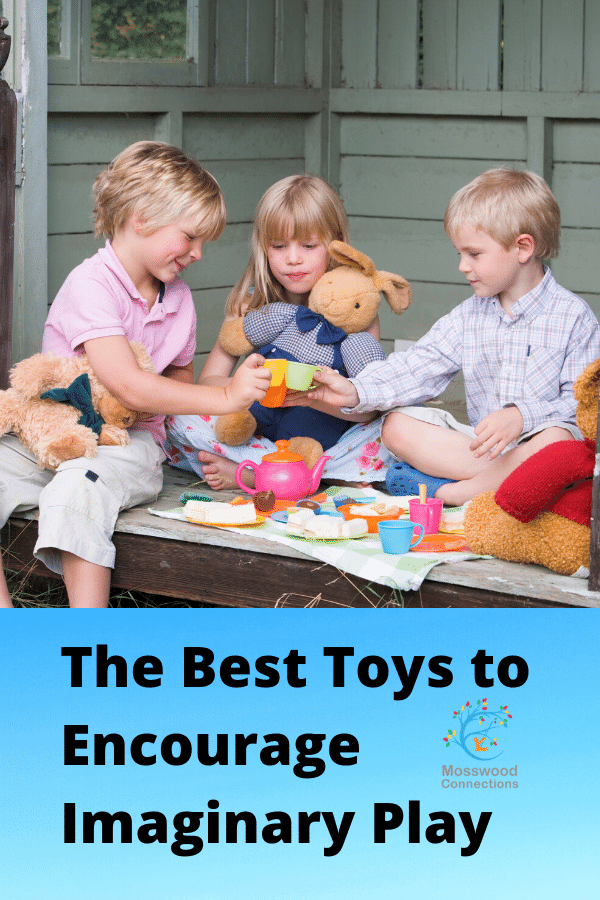 Plan Toys Set of Traffic Signs and Lights 1 (USA)
 And along with the road signs be sure to add Play Road Tape for Toy Cars & Trains
 to your gift list!
"Entice your child's imagination with this fun set! Decorate your Plan city with different street signs. This set is a great addition to any dollhouse, city or railway sets your child may already have!"
Our Favorite Toys for Encouraging Dramatic Play
Children learn so much through dramatic play. They build an understanding of the world around them, figure out how to negotiate and expand their imaginations.
Young children love to play dress-up. You can encourage them to explore jobs with the 1st Career Gear complete set of quality career-oriented dress-up clothes for role play.
 Or perhaps your child would like to explore their inner princess with the Classic Storybook Princess Dress 4 Pack Set
Peppa Pig's Deluxe House

"You're invited to hang out with Peppa and George in their House! The playhouse opens to reveal rooms filled with fun furniture. It includes over 15 play pieces and folds closed for on-the-go adventures. Come over to Peppa's house for a playdate that's full of great surprises."
Fisher-Price Little People Surprise & Sounds Home

We grew up with Fisher-Price playsets. They last for years and years and provide hours of pretend play. We really like the Little People Surprise & Sounds Home. It's one busy, happy home – and it's filled from floor to ceiling with great learning & fine motor activities for your toddler!
KidKraft Waterfall Mountain Train Set and Table
If you've read our post Playing with Trains you will understand how many hours we spent in our lives playing trains with the kids. Don't most children love to play with train sets?
Little Chef Wooden Toy Play Kitchen with Accessories – Burlywood
"This wood kitchen is super cute with knobs that turn to provide the illusion of really operating a stove! Stove opens up with a bright yellow handle for ample space to cook a feast the whole family will love. Two burners on the stove are a great place to whip up some satisfying soups or your evening tea!  Keep track of play time with the clock above the kitchen set and be sure to store some Knick knacks or flower plants above in the wooden space that is meant for extra storage or decorating."