Literature Lesson Plans and Resources for Young Reader Chapter Books
Bring Books to Life!
"I have a passion for teaching kids to become readers, to become comfortable with a book, not daunted. Books shouldn't be daunting, they should be funny, exciting and wonderful; and learning to be a reader gives a terrific advantage." – Roald Dahl
Our Collection of High-Quality, Developmentally Appropriate Literacy Activities
What do you do when you have a bright child who just doesn't seem to enjoy reading? The best approach for us is to find a way to connect reading with having fun. Books are so much richer when we can delve in and explore. Characters come to life, places become more vivid. Our Children's Literature Lesson Plans and Resources are full of interesting questions, creative writing prompts and engaging hands-on activities.
The book study guides here have been tested out with children of a variety of ages and reading abilities. We choose books that reluctant readers can enjoy. We hope that our book activities for young chapter book readers open the door to a lifetime of learning and reading.
This page contains affiliate links. Please visit our disclosure page for more information.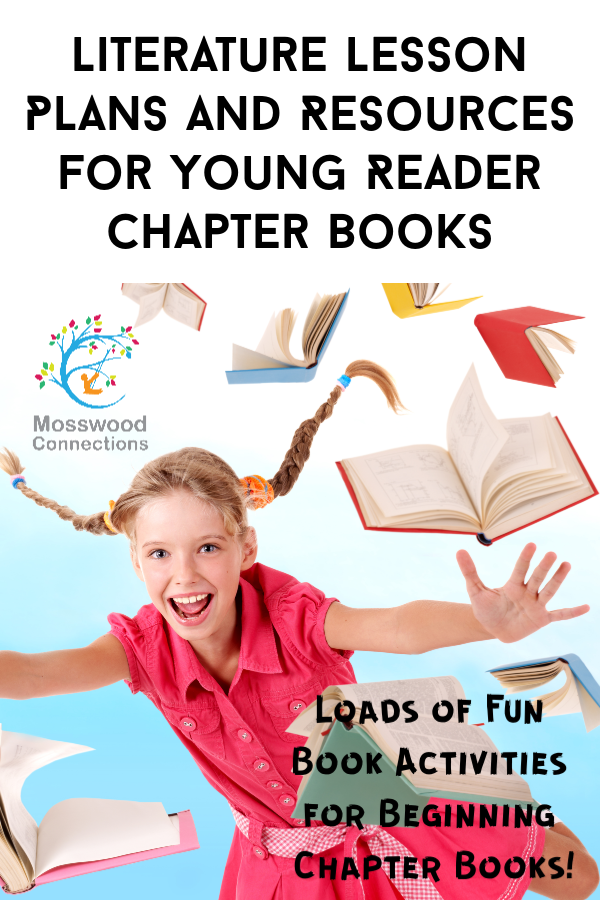 Some of Our Favorite Chapter Books for Young Readers
There is an almost endless list of books that we love to read with elementary school age children. Here are popular and engaging chapter books that have lessons and activities to extend the learning. Some curriculum guides were developed while homeschooling, all the activities and resources are designed to help children with dyslexia or autism access literature at their developmental level.
The Indian and the Cupboard by Lynne Reid Banks Book Lesson and Activities
The Indian in the Cupboard
is a classic book that appeals to children everywhere. The book's main character, Omri, is a boy who most of us can relate to. He lives an ordinary life until one birthday when he recieves an unusual gift. His friend Patrick gives him a plastic toy Indian and his brother gives him an old cupboard for his room. Both gifts rather disappoint Omri until his mother finds an old key that fits into his cupboard. When Omri discovers that when he turns the key the toys in the cupboard come to life his whole life changes. Omri and the Indian, Little Bear form a special friendship and life takes on a whole new meaning.
The Indian and the Cupboard Literature Lesson Plan includes discussion questions, reading prompts and activities about Native Americans.
Literature Lesson Plans for How to Be Human; Diary of an Autistic Girl by Florida Frenz
We have included over a dozen social-emotional EQ activities in our How to be Human curiculum guide that students can do while reading How to Be Human: Diary of an Autistic Girl
.
"For all the people going through similar challenges with this diagnosis, How to Be Human just may be the learning tool they need to better understand autism and feel whole again. All who read this book will find Florida's profound wisdom to be awe-inspiring. Through her desire to understand this world and her place in it, she provides us with invaluable insight into how a person with autism thinks. It is ironic that despite her own inner struggles she is able to break down and simplify the intricate complexities of the human spirit. At times she is humorous, making light of the situation and showing us how she has learned not to take herself too seriously. The book is a pleasure to read and is so enlightening, you do not have to be dealing with autism in your own life to appreciate Florida's philosophic genius.
I commend her highly for having the courage to share her deepest thoughts and feelings with the world and for having the rare gift to express herself in such an intelligible and honest way. She has taken the confusing topic of autism and has explained it and organized it in such a way that we can all understand.
I recommend that all children read this book – whether or not they have autism or know someone who does – so they too can better understand.
—Michelle Garcia Winner
Founder of Social ThinkingR
Speech Language Pathologist, MA-CCC
Sideways Stories from Wayside School Literature Lesson Plans
Sideways Stories from Wayside School by Louis Sachar
appeals to a child's sense of humor. The book is written as a series of short stories about the students at Wayside School. Because each chapter is a complete story it's a perfect book for students who are building their reading stamina.  The Wayside School series offers a gateway for children to learn to enjoy reading books.
"Accidentally built sideways and standing thirty stories high (the builder said he was very sorry for the mistake), Wayside School has some of the wackiest classes in town, especially on the thirtieth floor. That's where you'll meet Bebe, the fastest draw in art class; John, who only reads upside down; Myron, the best class president, ever; and Sammy, the new kid—he's a real rat."
A Teacher's Guide for Ivy and Bean: What's the Big Idea? By Annie Barrows
Ivy and Bean What's the Big Idea?
is the seventh book in the Ivy and Bean series. While the books are sometimes simplistic they are accesible to early chapter book readers. This book centers on a science fair project so it led us to explore climate change, global warming and environmental science.
For standards, vocabulary, and discussion questions for Ivy and Bean; What's the Big Idea? Download our Full Curriculum Guide.
Amelia's Notebook by Marissa Moss Activities and Resources
Amelia's Notebook
is a popular book series by Marissa Moss that follows Amelia from elementary school to middle school. As Amelia grows we can relate to her growing pains, which are always written about with humor and insight. The problems that Amelia faces are familiar to many children.
The book lends itself to lessons about friendships, feeling awkward, self-expression and journal writing. Teachers have been using the Amelia's Notebook series to get their students excited about journal writing. Each book focuses on a different topic, touching on many of the experiences that children. Friendship problems, parent problems, fighting with siblings and going away to camp are just some of the issues that Amelia faces in her own humerous style.
More Children's Literature Lesson Plans and Resources
Do you have a favorite book that you think we should create a lesson plan for our students? Please tell us about it!