The Indian and the Cupboard Lesson and Activities
Young Readers
A house without books is like a room without windows. —Heinrich Mann
When Omri's big brother has no birthday present for him, he gives Omri an old wooden medicine cabinet he's found. The cabinet doesn't seem like much of a present to nine-year-old Omri, until he deposits inside it another present he receives for his birthday: a miniature plastic Indian. His mother comes up with a key for the cabinet, and the real magic begins. When Omri turns the key once, the Indian, named Little Bear, comes alive; but turn the key a second time and it's an ordinary plastic Indian again.
This post contains affiliate links. Please visit our disclosure page for more information.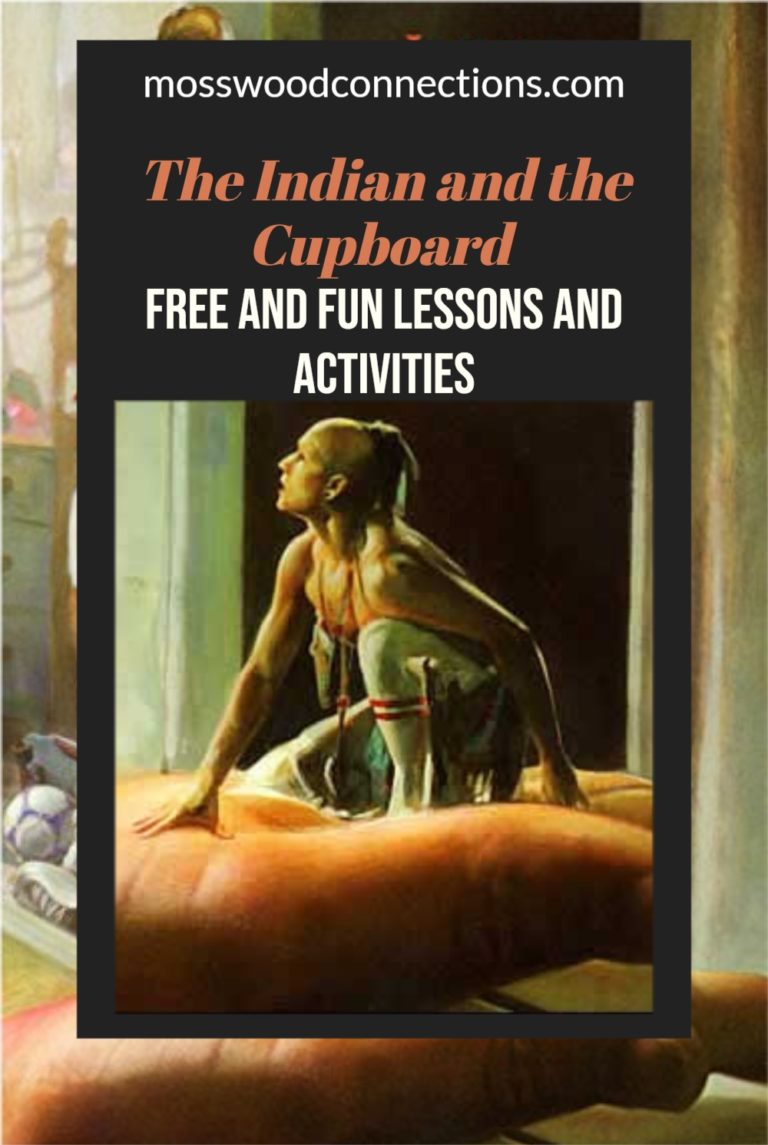 The Indian and the Cupboard Lesson and Activities - A Classic Book Perfect for Reluctant Readers.
It was easy to come up with a wealth of The Indian in the Cupboard
 by Lynne Reid Banks Lesson and Activities. The book is rich with concepts and topics to discuss from magic to history to friendship and this book will enthrall even the most reluctant reader. I have had so much fun reading this book with my students and extending the excitement with book extension activities. You can find the standards and discussion questions in our Indian and the Cupboard Curriculum. 
Writing Prompts for The Indian and the Cupboard
 If you had a magical cupboard that could bring anything to life, what object or toy would you choose?
 Write a story about Little Bear and Boone, back in their own time.
 Write a story about what will happen with Little Bear at school.
 Should Omri tell someone about Little Bear? Why or why not?
 Your assignment is to write a persuasive letter to Omri that will convince him to tell or not tell about Little Bear.
 Write a letter from Little Bear to Omri. What would he say?
 Write a story about where the soldier has come from and what he is like.
 Write an alternate ending for the story.
 Compare and contrast the characters Little Bear and Boone or Omri and Patrick.
Activity Ideas for The Indian and the Cupboard
Learn More About the Iroquois
Little Bear was an Iroquois Indian, the son of a chief. He told Omri that he lived in a longhouse, not a teepee and that his tribe fought on the side of the English against the French. Learn more about the Iroquois. Where did they live? Describe their lifestyle and customs. Who were their enemies? Why
were they called "The Five Nations"?
Here are some online resources about the Iroquois:
You may choose to have this research done in small groups and have expectations and objectives such as:
1. Written report with references cited.
2. Oral presentation using note cards with facts.
Constructing a Longhouse
The kids can make their own longhouse. This is a good project to do as a group.
Draw and Color a Map of the Iroquois Land
There were many different native tribes in America. Help the students understand the geography of the Iroquois land and it's relationship to our history.
Individual Project: What's in Your Cupboard?
Make a cupboard. Decide what you will put in it to transform into a living thing. Write a story/ account of what happens when this item comes to life. It does not have to be plastic, as it was in the book, but it must fit in the cupboard. Examples might be: toy dinosaur, stuffed animal, doll, toy car, toy
robot, etc.) Then have the kids come up with three hints about what they chose to put in their cupboard. Encourage the kids to keep their project secret so others can make guesses later.
Materials:
o Paint, Markers, Glue, and a Cardboard Box
More Resources for The Indian and the Cupboard Lesson and Activities: 
More Book Lessons and Activities for Young Readers