Active Math Games for Elementary School
Educational Activities
"TELL ME AND I FORGET. TEACH ME AND I REMEMBER. INVOLVE ME AND I LEARN." –BENJAMIN FRANKLIN
Promote Math Success Through Games and Movement!
Years of working with children have taught us that different children benefit from different ways of learning.  Some children will learn best from repetition while others thrive on novelty. While one child may be a visual learner, others will be kinesthetic learners. By playing games you can incorporate more than one way to learn into the activity and reinforce a variety of learning styles.
Because we work with a wide age range and an even wider range of abilities and learning styles we find that combining sensory and movement into our activities help our students retain what they have learned. Engaging in active learning activities creates and sparks a connection in the neurons of the brain to help with processing and retention of new information.
Active math games help build a mind-body connection as well as making math an enjoyable task. Children are far more responsive when they are engaged in an activity that is fun for them. Aren't we all more motivated to do a task when we enjoy what we are doing?
This post contains affiliate links. Please visit our disclosure page for more information.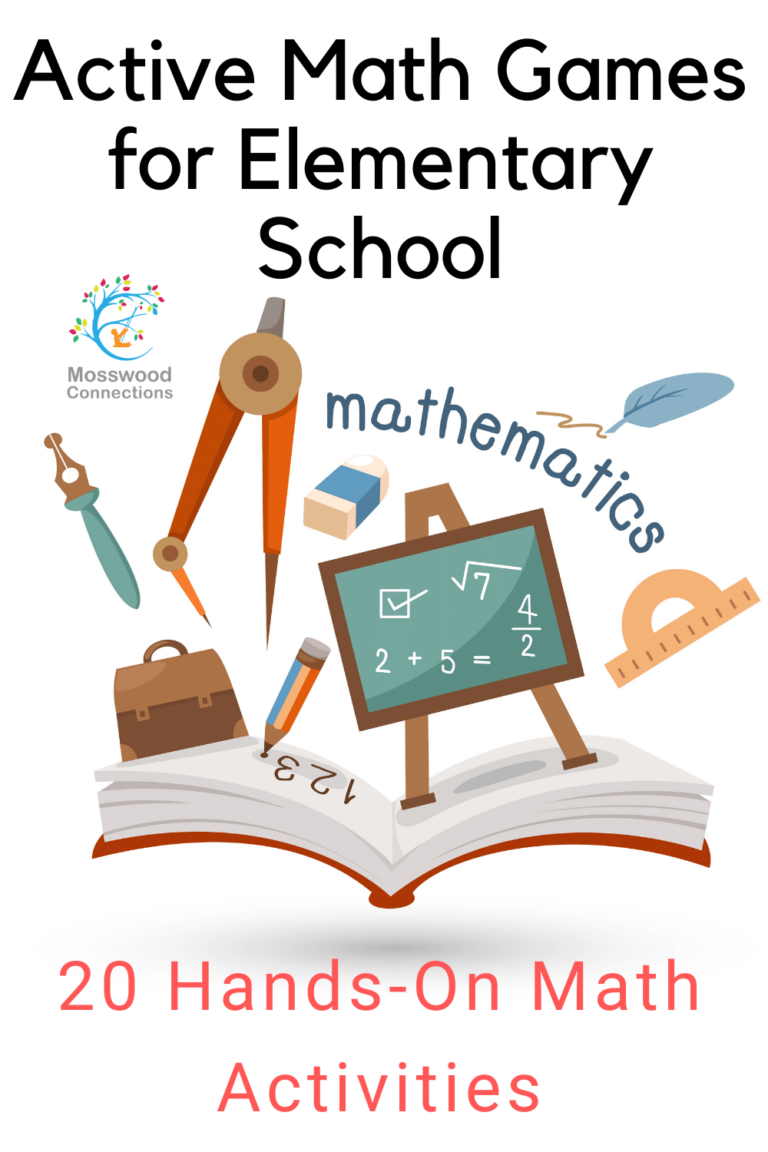 Take the Learning Outside
Why not move the math lesson outside? Just breathing fresh air and having room to move wakes up a child's mind and helps them get ready to learn. We found some fun outdoor math games that the kids will love!
True Aim Math Game: The kids really enjoyed this game. Probably because we used some fun squeeze rockets. They really got excited about adding the numbers up to get the biggest score. Then they got competitive and realized their scores would be higher if they multiplied so they added a level of difficulty to their game.
Patterns Outside & In Nature: "Math is all around us in nature, and patterning can be a great entry point for students to engage in mathematical thinking and learning while exploring and playing outdoors. The ability to recognize, name, extend and create patterns prepares children with a solid foundation for complex mathematics moving forward."
Sidewalk Chalk Outdoor Clock Game: "This Sidewalk Chalk Clock Game is a fun way to get outside, get moving, and practice math. Can math practice be any more fun?"
Go on a Number Walk: A number walk is a fun way to practice writing numbers while walking (or biking) around the neighborhood. Grab some chalk and head outside.
Plot Graph Scavenger Hunt: Go on a Graphing Adventure -- it's just like a treasure hunt but your kids will be learning to read a plot graph and scouting out the 'secret' locations!
Math Run-Makes Math Fun While Kids Run!: Sitting down doing math problems is not all that exciting for most kids. Add a little exercise and it gets more interesting. Our kids loved this activity. It is so easy to set up and really gets them moving.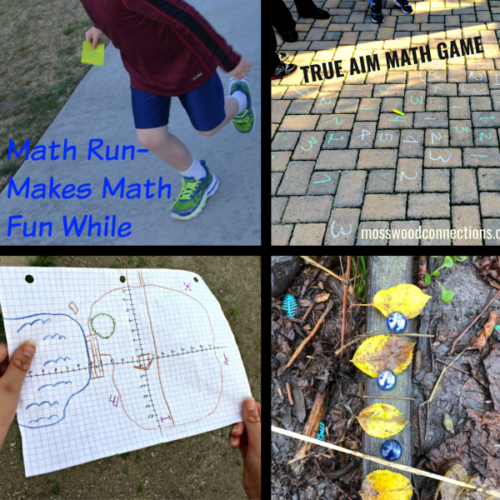 Math and Movement; A Multi-Sensory Approach to Learning
Here are some fun games that incorporate movement and math. Children can practice motor skills while learning about math. By using a multi-sensory approach you help children build a variety of skills with one happy activity. What could be better?
Super Fun Math Activity for Kinesthetic Learners: This activity can be set up for use by an individual or you can set it up "race style" for multiple students. To set it up for an individual, grab the flashcards for the math facts you wish to focus on and create a path for your child to follow. Make it fun!
Snowball Fight Learning: There is nothing better than making learning that involves moving and fun. This snowball fight learning activity is guaranteed to be a hit with your students. They will be having so much fun that they will have no idea that they are learning in the process.
Comparing Numbers: Ping Pong Ball Toss Math Game: Children can practice comparing numbers with this fun and easy to make math game for kids using an egg carton and ping pong balls. This math game can also be adapted for younger children to use for one-to-one counting practice, and it's a great rainy day activity too!
Fishing Math Game for Preschool, Kindergartener, and First Grader: Kids will have fun fishing for numbers and solving equations!
Counting Math Game for Kids: Action Dice: This counting game can easily be adapted to practice math facts by adding the numbers on the dice together.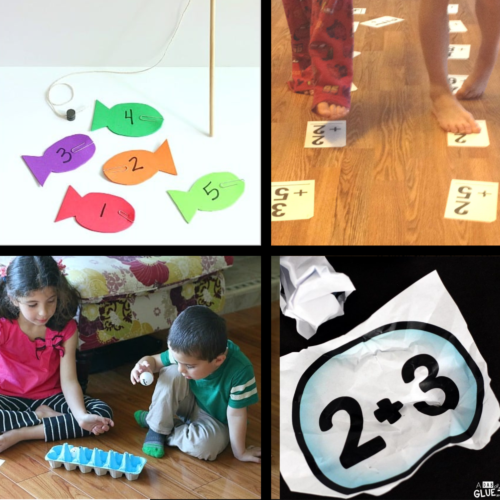 Math Games
Math games are another way to get kids actively involved in learning. Some of our most reluctant learners will happily play a game without balking. Playing games also add social skills into the equation.
Teaching Coin Recognition and Coin Value: Understanding coin values and how to add them up can be tricky for some kids. Playing these games will help children retain what they learn while having a good time.
Number Dash: A Fast-Paced Game for Kids!: Number Dash is a super fast dice game for kids that is easy to learn and easy to play! Roll your dice as fast as you can and match the number you roll with a corresponding number on the card
10+ Card Games for Learning Math Facts: Math card games are a fantastic way for kids to practice math skills; the kids think they are just playing a game but they are learning math facts at the same time.
Pete the Cat Inspired Free Printable Math Game: Kids get excited about their favorite books and characters so this book inspired game is a winner. Print out the bright, attractive math game and you are ready to have fun learning!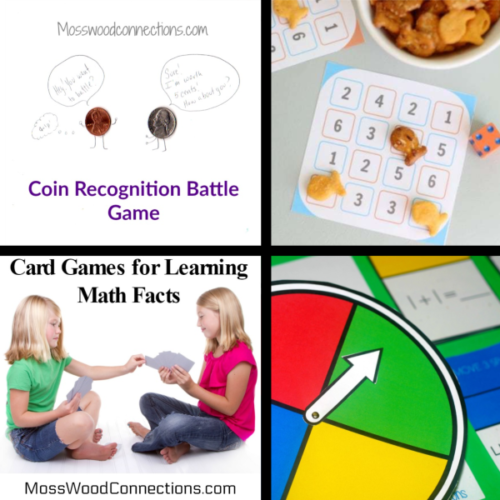 Hands-On Math Activities
Hands-on math activities are another way to take a multi-sensory approach to learn math skills.
Free Ladybird printable math worksheets: This set has a 2 engaging ladybird themed learning pages that will help your little ones with basic math skills – you can practice addition and subtraction together.
Switchgrip Math Game – Mechanical Engineering and Math STEM Challenge:  The goal is to knock over at least two cups. Then you must multiply those numbers together. If you do the math right, you get that many points! You then need to add it to your previous points to keep score.
Subtraction Squish!: Not only is Subtraction Squish a fun way to practice math facts, but it is also a great sensory activity, too!
Nerf Gun Math: Grab the Nerf guns, and have some fun practicing math facts!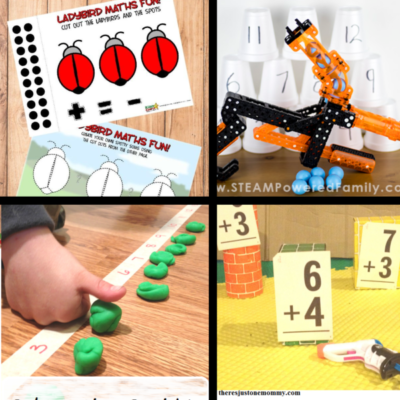 Give these games a try and watch students flourish as they gain confidence in their math abilities. Do you have a favorite math game that you like to play?