10+ Card Games for Learning Math Facts
Education
Many skills can be learned with a simple deck of cards.
Whenever I think of playing cards I get nostalgic. My grandparents were big on playing games, particularly card games and most often card games that they thought would teach us higher order thinking skills. My grandfather was a master. He could count cards and he never let us win by going easy with us. One of their favorite games to play with us was Casino. Now that I am grown I also use cards to make a game out of learning math facts. Math card games are a fantastic way for kids to practice math skills; the kids think they are just playing a game but they are learning math facts at the same time. My go to games are "War" (with a twist) and Casino.
This page contains affiliate links. Please visit our disclosure page for more information.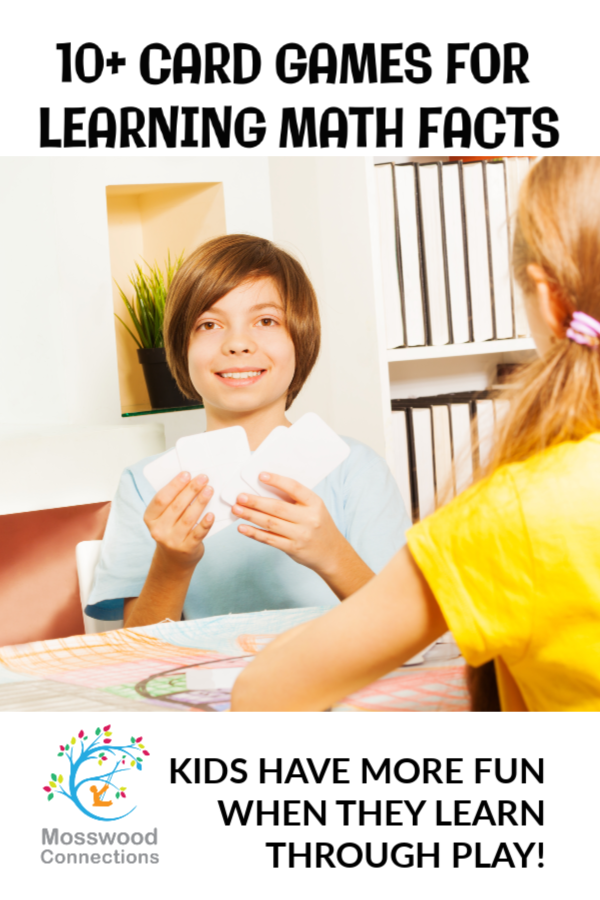 Have fun with these Card Games for Learning Math Facts
.
Learning math facts and concepts can be boring so we like to add some fun when we can, like when we made a dice game to introduce counting and shapes. Or when we made a math facts game out of recycled bottle caps. With just a Deck of Playing Cards
, it's possible to play all sorts of fun math games. It's also handy that it's easy to take the deck of cards with you so you can play anywhere.
Math Facts War
The basic rules for War are to split the deck evenly between two players. Make one pile for each player. Each player turns over their top card. The higher number wins. Keep playing until one player has all the cards. When there is a tie, lay another card face down over the card just played and then turn the third card face up. (as in the picture) Whoever has the highest card wins all the cards just played. Face cards are worth 10.
Beginner Version: Play with the basic rules. Emphasis would be on number recognition, more and fewer.
Addition/Subtraction Version: For this game pull 2 cards at once. Either add or subtract.
Multiplication Version: For this game pull 2 cards at once; then multiply. To add some difficulty, make the aces worth 11.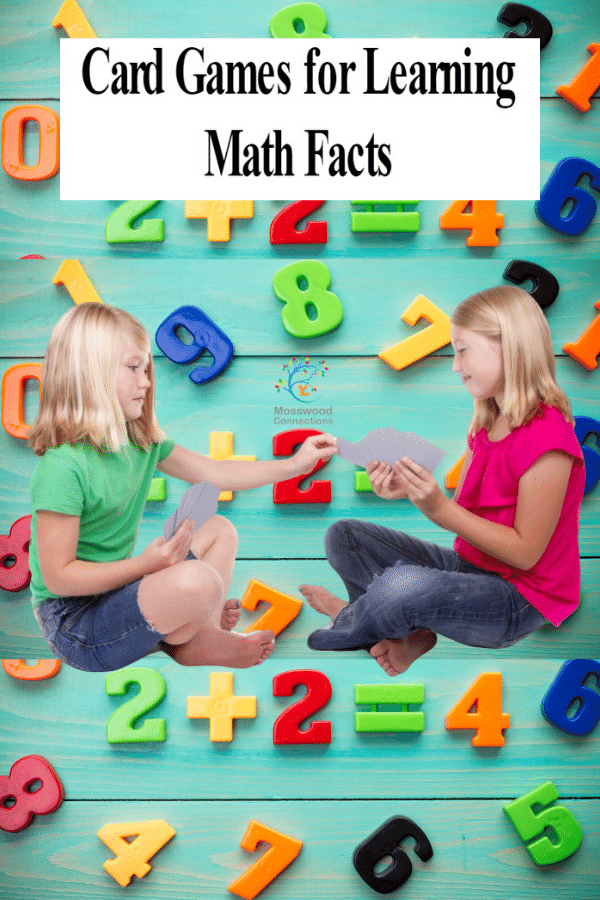 Casino Math Fact Card Game
Deal four cards to each player and deal four cards to the middle and spread them in a line, face-up. The traditional way to deal Casino is two-by-two, to each player and the middle.
The first turn goes to the player to the left of the dealer and continues clockwise. Each player can play one card at a time in an attempt to capture as many cards as possible. The player must turn the card he plays face-up and places it on the table in view of all players before it is used to build or capture. The possible plays are as follows:
Capturing a card by pairing: A card from the player's hand matches the number of a face-up card in the middle. All face cards are considered matching. The player places his card down and then collects the matching pair for counting at the end of the game.
Capturing cards by combining: A player can capture more cards by adding them together. You cannot add face cards. For instance, a player with an 8 could capture a 6 and 2.
Capturing cards by pairing and combining: A player can execute the above two moves simultaneously if the middle cards support the maneuver. For example, if a player has a 9 and the board shows a 5, 4 and 9, then he may take the combination (5 and 4) and the pair (9) at once.
Building: A player may build a combination on a middle pile by adding one of the cards from his hand if he has the card that the new combination will add up to. For example, if there is a 2 in the middle and a player has a 6 and 8 in his hand, he can place the 6 on the 2 and declare, "building eight." The player who does this may not capture the cards from this build until his next turn. If any of the other players has an 8, he may steal this build before it gets back around to the original player. Face cards cannot be part of builds.
Building on builds: A player may build upon another player's build if he has a card that will total the value of the three cards in the build. In the above example, a player with a 9 and Ace could build Ace, 6, and 2 and declare "building nine." Similarly, the player must wait a turn to capture this build if no other player does first.
Trailing: If a player cannot capture any cards, or for strategic reasons wants to lay off a card, he may play a card face-up in the middle. Other players may then capture or utilize this card.
The dealer replenishes the hands of the players after each round, but not the middle cards.
Scoring:
There are multiple ways to score points in Casino. Generally, capturing many cards is a good way to end up with many points. Points are scored for having the following in your card pile:
Majority of cards (27 or more): 3 points
Majority of spades (7 or more): 1 point
Big Casino (the 10♦): 2 points
Little Casino (the 2♠): 1 point
Aces (each): 1 point
More Cards Games that Foster Learning
Card Games for Learning Sorting, Counting
Card Games for Learning Math Facts