WineCraft Process Art Project
Process Art Project
"Dance above the surface of the world. Let your thoughts lift you into creativity that is not hampered by opinion." ― Red Haircrow
WINECRAFT PROCESS ART PROJECT MADE WITH RECYCLED MATERIALS
My son is obsessed with Minecraft and while I agree that there are many benefits to this game, I hate competing with an electronic device for my son's attention. Last Thursday was a very busy day for us. We were in the car running errands all day and I was grateful that Minecraft helped distract L while we ran our errands. The problem with Minecraft is that he can never get enough. L would be perfectly content playing Minecraft all day long. I knew that once I had given in and allowed him to start playing that it would be a struggle to redirect his attention. My mind started to think about how I would avoid an argument when we got home. Perhaps a process art project would do the trick?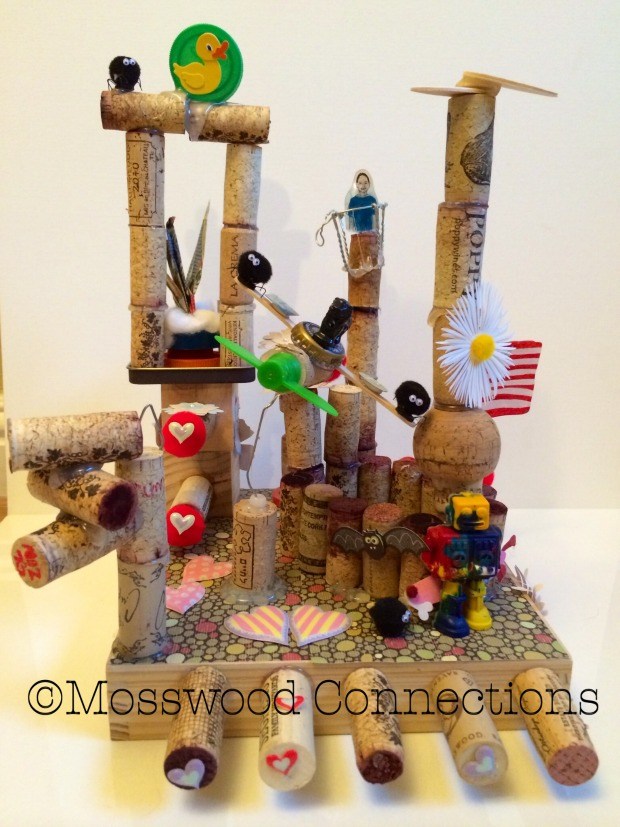 Encouraging creativity through a process art project.
As soon as we got home, I got busy with dinner prep. L saw this as an opportunity to ask for more Minecraft time but I felt that he'd already had plenty of screen time and there were many other options for him to choose from now that we were back home. He pouted, of course, and said he was "bored to death".  I let him sit in deadly boredom for just a little bit to prove to him that boredom won't kill him but as I was cooking I remembered that I'd been collecting random trash items (wine corks, spice containers, lids etc….)meant for a project yet to be determined.
This page contains affiliate links. Please visit our disclosure page for more information.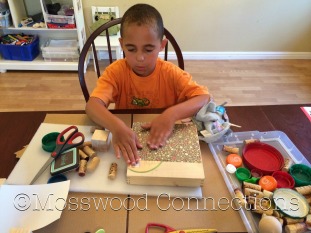 WineCraft
Family Bonding Time
I put them all in a box and gave them to L along with adhesives, stickers, and other embellishments. I told him that he was free to use the material in any way he chose. He sat at the kitchen table for a few minutes taking stock of his inventory and before long he began building his masterpiece which he aptly named 'WineCraft'. It looked so fun that my husband and I joined in on the design and it became a fun bonding activity for the three of us.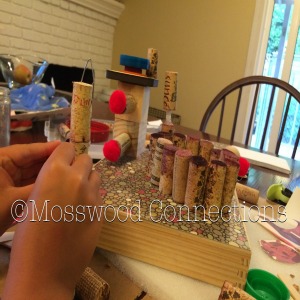 WineCraft
TO MAKE YOUR OWN WINECRAFT ART PROJECT YOU WILL NEED:
Plenty of wine corks (Whole Foods has a wine cork recycling program, they've provided me with wine corks for projects in the past)
Milk cartons
Lids
Medicine containers
Stickers
Adhesives
Embellishments
A platform (we used an old Melissa and Doug box)
Imagination
Instructions
Put everything on a table and let the kids have fun creating art!