Recycled Shapes Process Art
Art and Craft Projects for Kids
At Mosswood Connections, we love to see how process art materials automatically trigger creativity and a desire to be creative. We also like to use recycled items whenever possible. That's how this Recycled Shapes Process Art Project was created.
Recycled Shapes Art; A Process Art Activity for Kids
This post contains affiliate links. Please visit our disclosure page for more information.
We had a lot of fun finding items to make our make Recycled Shapes Process Art Project. When my son paints I like to give him full creative freedom whenever possible. I also like to use that time to introduce him to new techniques and terminology (brush strokes, pointillism, stippling, collage etc.) I see it as an opportunity to help him add to his creative toolbox and thankfully he is always eager and receptive to learning new techniques.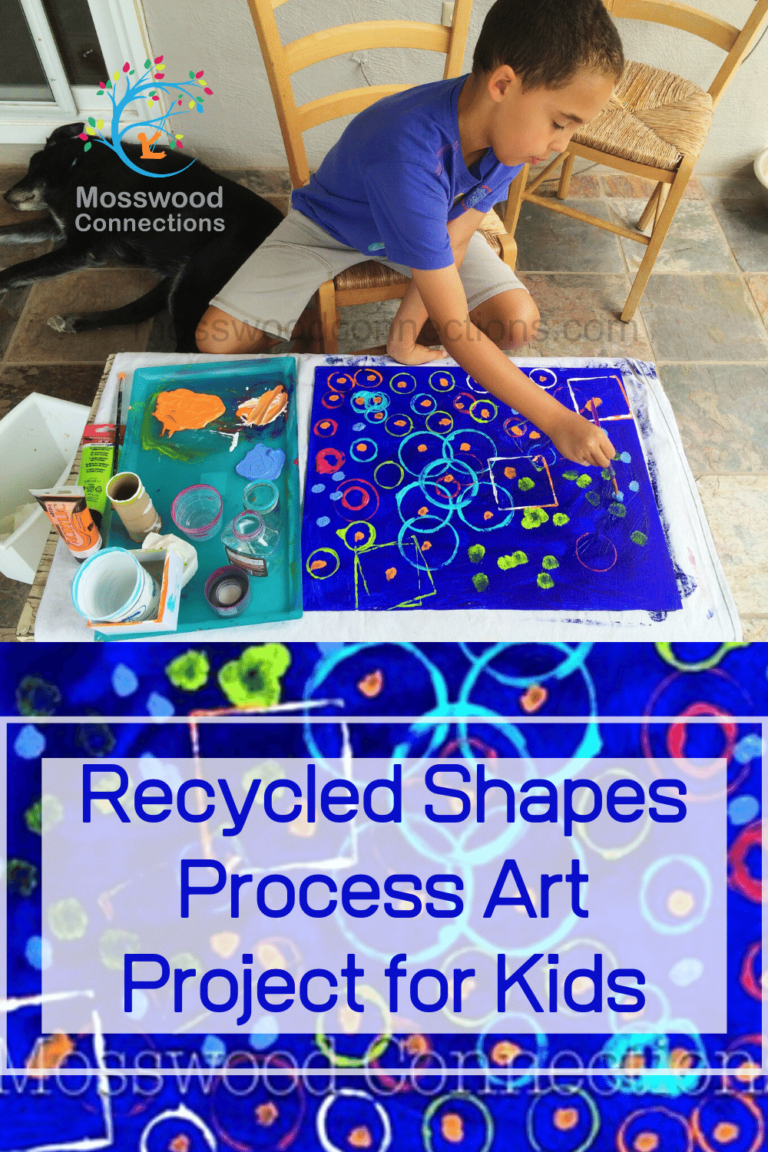 Use Recycled Objects as Stamps
For today's artistic adventure in our Recycled Shapes Process Art Project we decided to take circular objects and one box lid from the drawer and use them to stamp paint circles and squares on the painted canvas board. A simple project that is suitable for all ages.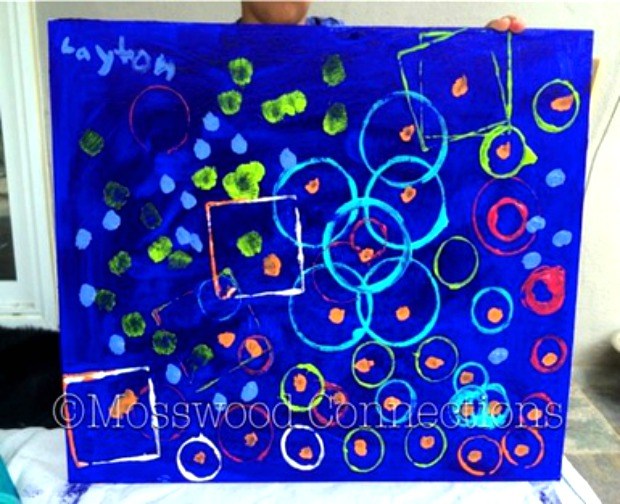 Here's how to Make Your Recycled Shapes Process Art Project!
Supplies for Recycled Shapes Process Art Project:
Canvas board (poster board)
Acrylic Paint in several colors
Paintbrush
Caps, Jars, Cardboard rolls, etc…
Step 1:
Paint the entire surface of your canvas board. Allow it time to dry.
Step 2:
Working with one color at a time, dip the lids, caps and or boxes into the paint and stamp them onto the canvas board. (Keep some paper towels handy so that you can wipe the excess paint off of your stamps before dipping into the next color.)
It's as simple as that and the results are really nice. This one will definitely be on display on our Art Wall. Have Fun creating your own "Recycled Shapes Art".
More crafts and process art projects you're sure to love:
A Tiskit a Tasket a Cloth Woven Basket: Weaving is a wonderful fine motor activity as well as being a valuable way to strengthen pre-reading skills. This weaving project also uses upcycled fabric and makes an awesome gift!
WineCraft Art Project: Use recycled items to create a process art project.
Fabric Bowls: We love this project! We use it in therapy and at home with our own kids. It makes great mother and grandparents gifts while making good use of those extra fabric scraps.
Puzzle Pins: This is a simple, fun art project that reuses old puzzles and transforms them into beautiful jewelry.
STEM Goes Green – 16 Upcycled and Earth Friendly Projects for Kids
Upcycled Recyclables! 34 Recycled Kids Crafts & Activities