Art Museum Activities for Kids
Art and Craft Projects for Kids
Art museum activities are a fabulous way to encourage children to explore art and express their own creativity.
Most children enjoy going to the museum.
Aren't museums wonderful places to explore and learn? These art museum activities will help you get the most out of your next visit to your local art museum. Also, many museums have a free day where you can feel…well, free to explore. Some museums have activity packs for young visitors; be sure to ask. Not only are great artworks inspiring, but they also teach children that there are many different ways to express creativity. Our young friend enjoyed himself so much that when he got home he just wanted to continue doing his artwork!
This post contains affiliate links. Please visit our disclosure page for more information.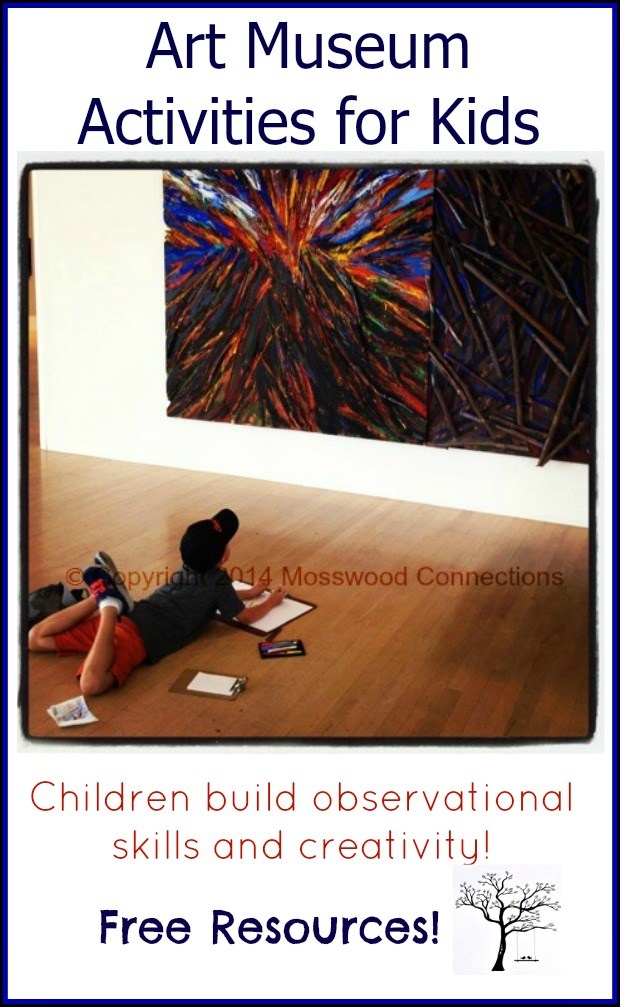 Art Museums are special needs friendly
For our friends with special needs, visits to the museum can be a wonderful play date. The environment is quiet and the activity, while not intensely interactive, does encourage shared enjoyment. Afterward, they can share their creations with each other and practice their social language.
Target Skills for Art Museum Activities:
Observational skills
Fine Motor
Higher Order Emotional Thinking Skills
Color/Shape recognition
Story Telling
Materials for Art Museum Activities:
Sketchbook or paper
Drawing Utensils
Instructions for Art Museum Activities:
Before going to the museum explore what you may see when you go. Most museums have websites with a wealth of information with art museum activity ideas. The Smithsonian has a program called Student Artworks: Artful Connections for seventh graders. There are so many fabulous resources!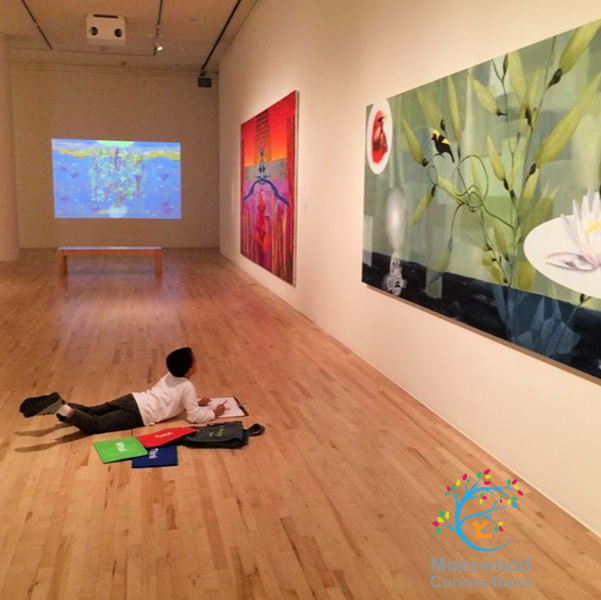 Share with us your child's art museum inspired creations, we would love to see them!
Art Museums offer educational programs for children and students!
The Getty is one of our favorite museums, but it is far away. Fortunately, they have online resources that we all can enjoy.
The Philadelphia Museum of Art offers fun, free worksheets.
The National Gallery has made digital images of the collections of the National Gallery of Art available to view and download.
The Guggenheim has made 200 art books available for download!
Visit the Smithsonian and try their art museum activities for kids without leaving the house.
MetKids is a rich interactive web page just for kids. Be sure to check it out!
Try these Art Museum Activities for Kids:
Take your child to the art museum. First, walk around and look at the artwork. Talk about the different artists. What type of art did they create? What did they use to make their creations? Are they realistic or abstract? What colors did they use? How does the art make you feel like? Which ones do you like and why? What do you think that the artist was feeling when he/she made that piece of art? Go on a scavenger hunt with printable museum scavenger cards.
If you don't live near an art museum you can take a trip to the Louvre with their incredible Virtual Online Tour.
Have your child choose a piece of art that speaks to them. Ask why they chose that piece of art. How does it make them feel? Have the child sit in front that artwork and sketch it. If you are with a group of children, share their pictures and talk about why they chose that particular piece of art.
Have the child or children write or tell a story about their art.