Nebula Art
Art and Craft Projects for Kids
Teach Children New Science Concepts Through Art
This Art Project is fun and simple way for kids to explore nebulae.
Kids seem fascinated by anything related to space. Recently, my son became fascinated with stars, planets, and nebulae. As luck would have it, our family was working on our goal to experience Plentiful Living with a Minimalist Approach to Life. I had decided that it was time to purge my craft supplies. My son had decided to do his science project on outer space. These two goals collided and exploded into a beautiful art project.
This page contains affiliate links. Please visit our disclosure page for more information.
Materials for this science themed art project: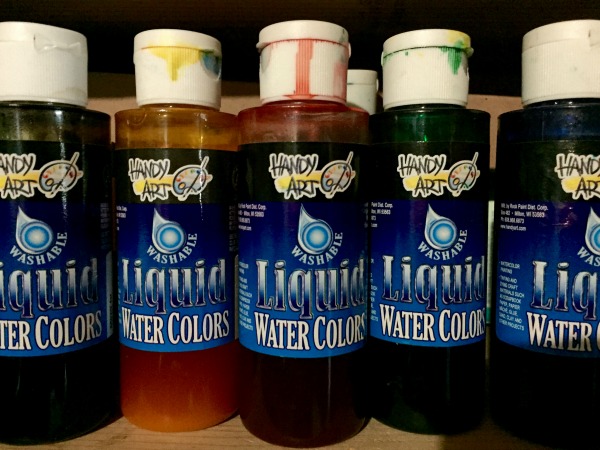 Liquid Water Colors
Instructions for this cool art technique:
Make sure you have a workspace where the children can make their nebula art project without making too big of a mess.
Have them put white glue on canvas
Then use a dropper to add watercolor concentrate on to to the glue.
Take a toothpick and swirl. Be careful not to mix the colors together.
Add glitter and allow to dry. (If you have an aversion to glitter, you can skip this step.  )
Talk about how different materials react differently when combined. What characteristics make them behave the way they do? Does it make a difference is one substance is thicker or more oily?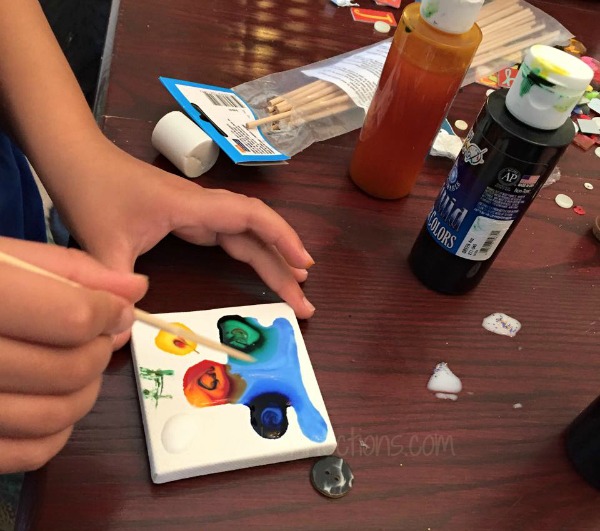 Nebula painting Instructions
More ways that the kids can explore nebulae and astronomy:
Have the kids do some astronomy research.
After the painting was done we went online to discover more about nebulae. Beautiful dust clouds form in space and the materials in the clouds form nebulae. There are different types of nebulae. Did you know that planetary nebulae are made when a star runs out of fuel to burn? What happens next is amazing.
We are fortunate to live near an observatory where we can look through their telescope during their visitor days but if you don't there are many online resources.
We love NASA's Astronomy Picture of the Day. You can go through their archive and find pictures for any of your family's special days or you can peruse the pictures and learn more about astronomy
Learn About Nebulae With Kids Astronomy.
The BBC has more information on Nebulae.
Kid Info has a wealth of resources for discovering more about these beautiful gas clouds.
Harvard-Smithsonian Center for Astrophysics offers a really cool feature where you can choose an astronomical object to observe and they will email you the photo.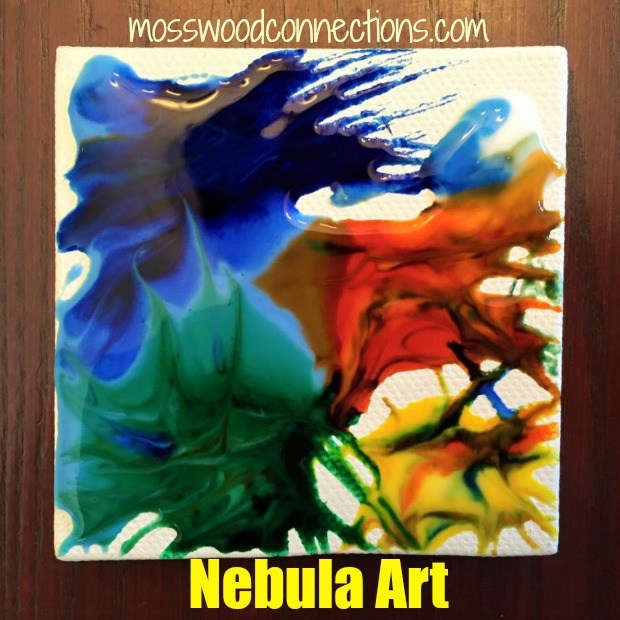 Science and art activities are a great way to teach children new science concepts!