Decorate Dyed Eggs with Natural Food Dye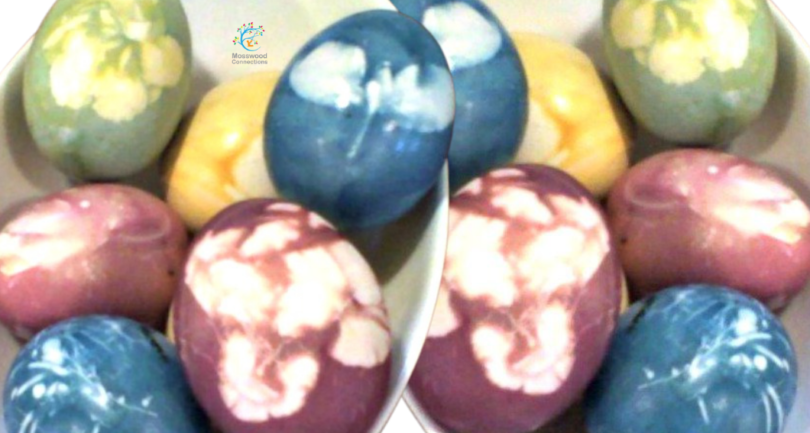 Dyed Eggs Crafts for Kids
Celebrate Spring!
Many years ago, on a bright spring day, I was at a client's house when I noticed this beautiful bowl of dyed eggs. I admired the eggs and I was told that they had used this method of decorating when they were growing up in Korea and they wanted to bring some of the beauty of their homeland with them. I enjoyed doing this activity with my daughter, her cousins, and friends over many years. You may be surprised at how much your children enjoy making their own nature print eggs.
This post contains affiliate links. Please visit our disclosure page for more information.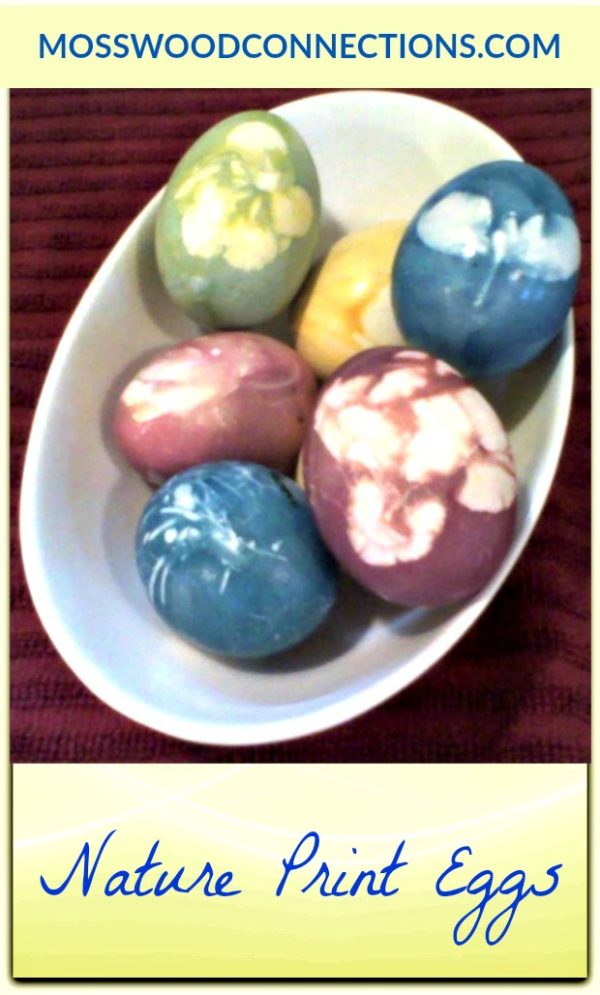 Skills children develop while making Nature Print Eggs:
Fine Motor
Making Observations
Nature Science
Materials you will need to make Nature Print Eggs:
Eggs
Vegetable Dye (Instructions below)
Pantyhose or cheesecloth
Ties or rubber bands
Plant/flower cuttings
Instructions on how to make Nature Print Eggs:
Either boil the eggs or blow the egg out. If you blow the eggs rather than boil them, the eggs will be more fragile but will last much longer.
Collect flowers, leaves, berries, etc.
Cut out square pieces of pantyhose or cheesecloth.
Prepare the vegetable dye and put into bowls.
Take the plant cutting and place them on the eggs. Here is the tricky part: While holding the plant pieces onto the eggs, wrap the pantyhose or cheesecloth firmly around the egg. Tie closed with the twisty ties or rubber bands.
Dip into the dye and let sit for a few minutes – the longer they sit, the deeper the color.
Take out of the dye and allow to dry. If you saved your egg carton this makes a good drying rack. When they are dry release them from their cloth bondage and enjoy.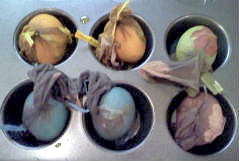 Making the Natural Vegetable Dye:
Yellow: I used 1 Tablespoon of turmeric to 2 cups boiling water.
Bluish/Purple: Boil purple cabbage until soft, let sit, strain the liquid and use it for dying the eggs.
Purplish/Red: Boil red onions until soft, I let mine sit overnight to get a deeper color.
In order to make the dye bright, you will need to reduce the dye solution so boil the solutions until the liquid is reduced and the colors are dense.
Enjoy your Nature Print Eggs and treasure the time connecting with others through art, nature, and creativity. This project is one to do over and over again throughout the years.