Children's Books with Black Main Characters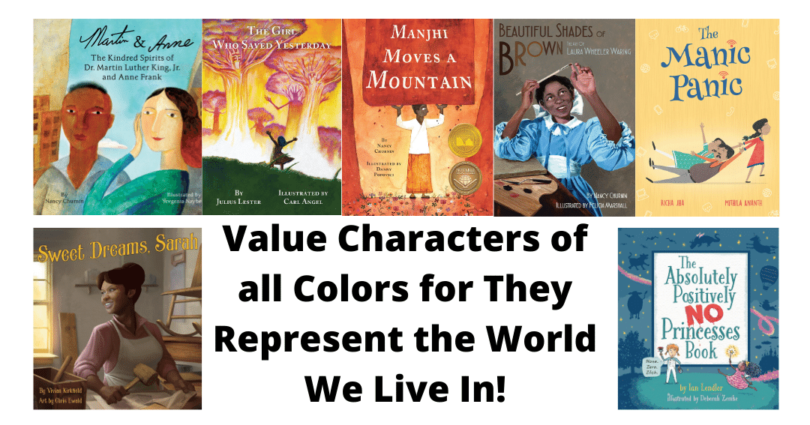 Value Characters of all Colors for They Represent the World We Live In!
"It is time for parents to teach young people early on that in diversity there is beauty and there is strength."—Maya Angelou
Children's Books with Black Main Characters reflect a need for diversity in our children's early education.
Is your heart broken by the recent racial tensions in the United States? Ours are. We are beyond sick and tired of the way that we see black people being treated. Hearing stories of how black families all over the country have the "talk" with their children. No, it's not a conversation about sex, it's a warning about racism. It's a real-life explanation of how black youth may be treated in the community. It's a stark reminder that we live in a country where our children have different advantages based on the color of their skin. We see the result of that racism every time a black person dies because they are black. We can protest, we can donate money, we can vote for leadership that believes in protecting all our citizens.
We can raise a generation of children who see people's character rather than the color of their skin.
This page contains affiliate links. Please visit our disclosure page for more information.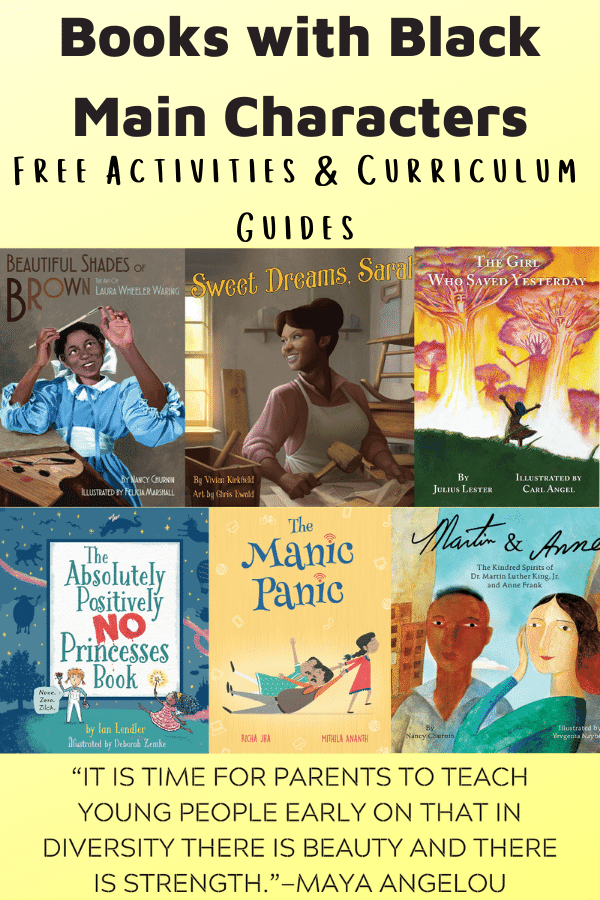 How Children Benefit from Exposure to Diversity
We have made great progress decreasing explicit bias over the years but what about implicit bias? Early research has shown that there is a neurological response when we see the faces of people who are white or black. People who were exposed to diversity as children were more likely to see the faces as individuals rather than as a different group. Their brain activity showed less of an emotional response than those who had less childhood experience with diversity. "If all this research bears out, it will suggest that diversity might have certain self-reinforcing aspects not just at the psychological level — if you grow up with a lot of different sorts of people, both intuition and research suggests you'd be less likely to discriminate against the groups in question — but at the neurological level, too." (What Does Diversity Do to Kids' Brains?)
Diversity Can Lead to More Success
"Exposing children to diversity early on can have an impact on how successful they are as adults. According to a study which recorded youths from seven countries, children between 4 and 15 years old rejected unfair deals that gave others advantages and disadvantages. By learning to work with others regardless of status or race, children will incorporate those attitudes well into adulthood. Fairness and equality can be a matter of common sense versus an area of inexperience." (Why Diversity Exposure Is Important In Early Education Development)
Books Can Provide Children Exposure to Diversity at a Young Age
Children's books have begun to reflect the need of diversity in our children's early education. In 2015 73.3% of all children's books featured white main characters. In 2018 50% of all children's books featured white main characters. (An Updated Look at Diversity in Children's Books) Those numbers don't reflect the quality of the books, though. When we are looking for high-quality books that encourage diversity we turn to Creston Books. Creston Books is a woman-owned small press publishing house that is committed to producing "fine books that were edited and published despite not being blockbusters". Your children will want to read these books over and over again because they are all great stories.
Sweet Dreams, Sarah -By Vivian Kirkfield Illustrated by Chris Ewald
Sweet Dreams, Sarah
is the story of a woman, born into slavery, who moved to Chicago after the Civil War to start a new life of freedom. She took up the trade of furniture making and Sarah becomes one of the first African-American women to receive a patent
    "This story shows everyday hopes and triumphs for an African-American woman with big dreams following the Civil War. Students will love to read about the determination of this real life character and how she overcame the obstacles of the time in which she lived. She is celebrated as a woman, as an African-American and quite simply as a human being who held her own high expectations and met the challenges she set for herself."
    — Kathryn Mullen Reading & Writing Specialist, Cutler Elementary School, Swanzey, New Hampshire
The book's curriculum guide seeks to encourage creative thinking and the idea that all children can become inventors.
Beautiful Shades of Brown: The Art of Laurie Wheeler Waring – By Nancy Churnin Illustrated by Felicia Marshall
Beautiful Shades of Brown: The Art of Laura Wheeler Waring
is a picturebook biography about Laura Wheeler Waring (1887-1948), a female African-American artist who found success exploring all the shades of colors of the people whom she painted.
Growing up in the late 19th century, Laura Wheeler Waring didn't see any artists who looked like her. She didn't see any paintings of people who looked like her, either. So when she was offered a commission to paint portraits of accomplished African Americans, she jumped at the chance. Writers, singers, political activists, and thinkers all posed for her. Now her portraits hang in Washington, D.C.'s National Portrait Gallery, where children of all races can admire the beautiful shades of brown she captured.
We created a curriculum guide for Beautiful Shades of Brown: The Art of Laurie Wheeler Waring with standards, activities, discussion questions, and more!
Martin & Anne: The Kindred Spirits of Dr. Martin Luther King, Jr. and Anne Frank By Nancy Churnin Illustrated by Yevgenia Nayberg
Martin & Anne: The Kindred Spirits of Dr. Martin Luther King, Jr. and Anne Frank
compares the stories of Anne Frank and Martin Luther King Jr. Both faced ugly prejudices and violence, which both answered with words of love and faith in humanity. They seem to be from different worlds, different lifetimes, but they were born the same year, 1929. Across the ocean, they faced similar racial hatred and reacted to that hate with words of love, reaching out to build understanding rather than divisiveness. Martin & Anne tell their inspiring stories, encouraging all of us to choose kindness whenever we can.
Teachers can use the Curriculum/Discussion Guide based upon the picture book written by Nancy Churnin and illustrated by Yevgenia Nayberg to enhance their student's experience.
The Manic Panic – By Richa Jha Illustrated by Mithila Ananth
The Manic Panic
is a hilarious book about what a family does when the internet goes down. Clearly the parents have no solution. Some grown-ups have so much screen time that they just can't cope when the wi-fi goes out. Luckily the grown-ups in Manic Panic live with a smart kid who loves to read and an adventurous grandma who knows how to have fun without the internet. Manic Panic is a wry look at the value of unplugged family time, even when someone is resistant to the real world. The illustrations add depth to the story, helping us to see all the small things we can miss when we're glued to our phones. While the main character is not African American she is a girl of color.
The beauty of this book is that it provides diversity simply by depicting a family who looks like many families in America.
The Absolutely Positively NO Princesses Book – By Ian Lendler Illustrated by Deborah Zemke
The Absolutely, Positively No Princesses Book
is a fun read exploring the world of girls and boys. Some kids like frills and sparkles and bows and a lot of pink. And some don't. The girl who started The Absolutely Positively No Princesses Book is sure that she wants a story full of nature and adventure. But when a princess barges into the pages with her own opinions about what makes for a good story, the two learn that they each have something to offer. Together they make the best story of all.
The Girl Who Saved Yesterday – By Julius Lester Illustrated by Carl Angel
The Girl Who Saved Yesterday
is a powerful, poetic fable that continually erupts from its paper pages of living images and tender, reverent deep thoughts…A thrilling wedding of images and narrative inspires the reader to rise to the powerful visions conveyed in The Girl Who Saved Yesterday. The Girl Who Saved Yesterday breaks barriers, boundaries, and expectations and leaps beyond to a space where all things have meaning and deserve to be loved. It is a soul-enlarging journey."
-Midwest Book Review
When the girl, Silence, is sent by the trees to save Yesterday, she doesn't know what her task is, only that it is important. Returning to the village that cast her out, Silence recognizes her purpose: to join the dead with the living in an act that celebrates their memory.
The Girl Who Saved Yesterday Picture Book Activities Guide includes discussion questions and other ways to explore the story
Manjhi Moves a Mountain – By Nancy Churnin Illustrated by Danny Popovici
Manjhi Moves a Mountain
is the story of Dashrath Manjhi who used a hammer and chisel, grit, determination, and twenty years to carve a path through the mountain separating his poor village from the nearby village with schools, markets, and a hospital. Manjhi Moves a Mountain shows how everyone can make a difference if their heart is big enough.
This story is a folktale from India. We include it here because Manjhi was discriminated against in recent years. A bookseller was going to feature the book in her store until she saw the cover. At that point, she changed her mind saying that it may upset her customers who would see the cover and think that she was promoting Islam or African Americans. She didn't understand that she was being a clear example of explicit bias.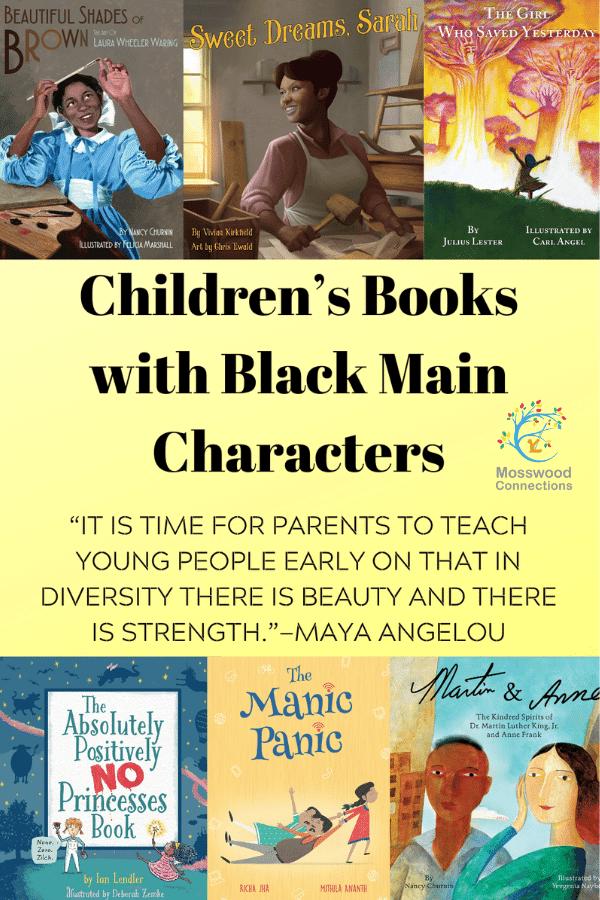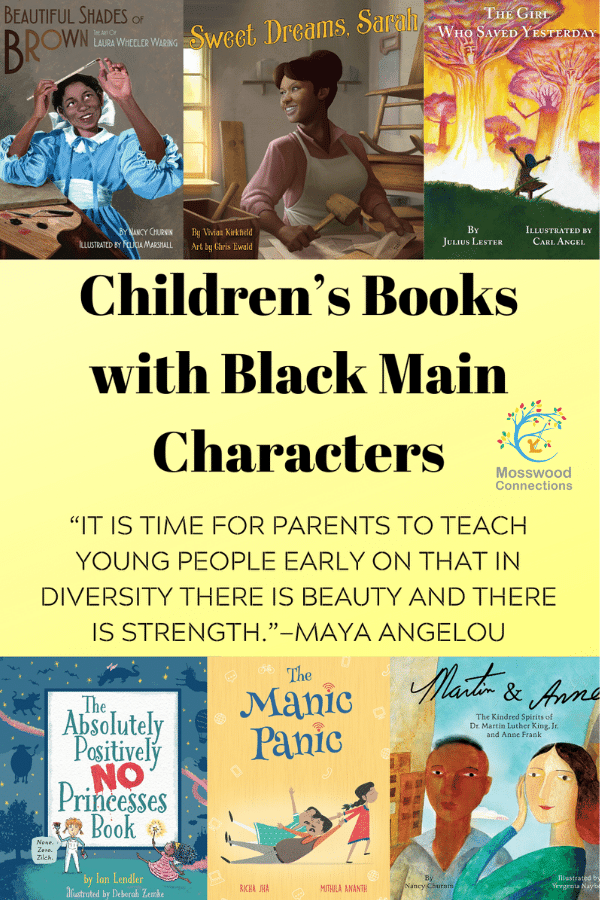 More Children's Books Diversity Resources
Amazing Grace: Vocabulary, discussion questions,  and book activities.