Driftwood Memories
Raising Kids
The making and preservation of memories through art.
Sometimes Mothers Just Need a Break
A few weeks ago, I took a weekend trip to the coast sans my kiddo. As much as I love my role of mother and stay at home wife, it's nice to get away from the daily demands of my regular existence. I went away with a fellow mom and together we decided to let go of any plans and/or expectations; to just allow the magic of spontaneity to drive us. We ended up on the Oregon coast and camped on a site overlooking the Pacific Ocean.
Our first night was pretty chill, our toes hit the sand just as the sun was just beginning to set so we sunk into our seats to watch the sun and sky do their thing. The following morning we drove south into California (home sweet home) and walked along a beautiful empty beach littered with washed up sea stones and driftwood. The driftwood beckoned me so I gathered a few pieces to bring home.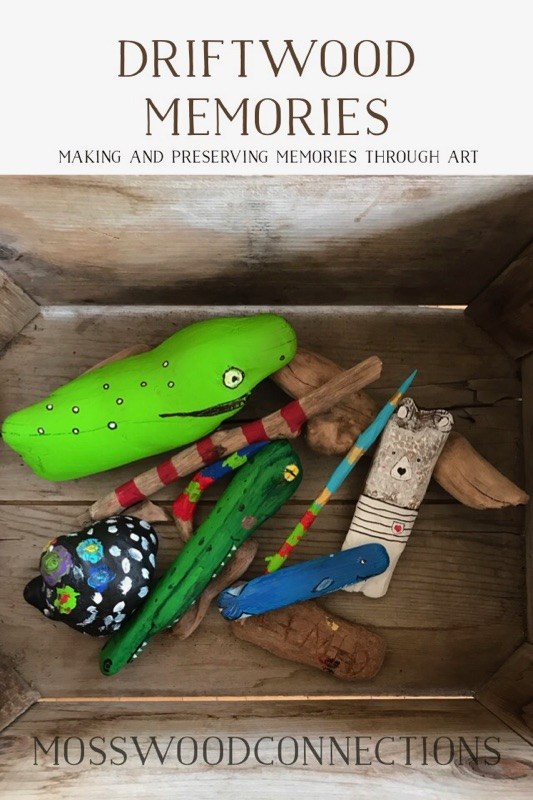 This post contains affiliate links. Please visit our disclosure page for more information.
Travel Mementos Don't Have to Cost a Lot
Anytime I go on a trip without L, I always bring back a little memento from my adventure though it's rarely something store bought. Instead, I like to find things along the way that I find particularly interesting or significant to the place I'm visiting. In the past, I've brought home rocks, sand, bus passes, coins, scraps of fabric..…
L loves these little treasures.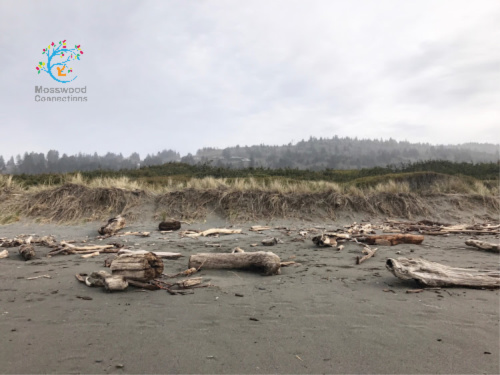 How Driftwood Art Became Driftwood Memories
My son loves to hear the stories behind the treasures that I bring as well, but I think our favorite part of it all is the time we spend together afterward using the materials to create some sort of art.
We tossed around a few ideas and finally decided to paint the driftwood into various sea and land creatures. It was lots of fun to make driftwood art and they turned out great. We haven't yet decided how we are going to display them so in the meantime our driftwood art is sitting inside of a wooden crate.
Yesterday afternoon, when L came home from school, he walked over to the crate and remembered a game we used to play when he was a little bit younger. We would pick up random objects and put them into an empty pillowcase and then take turns pulling out objects that we used to weave collaborative stories from. He suggested we do that with the painted driftwood art which of course I agreed to do. Playing that game led us on a trip down memory lane. We sang and danced to our old pre-school songs, remembered old friends and teachers and just had a lovely time bonding over days gone by.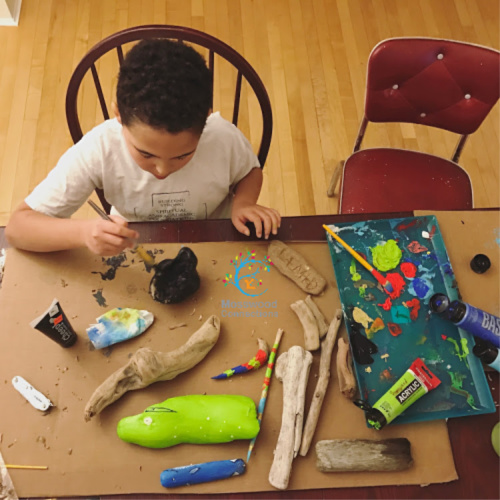 Driftwood Art Gave Us Happy Memories
If you are a regular reader of my posts you've probably come to know that I have a thing about creating and preserving memories. I know that the most meaningful inheritance I can leave for L is a childhood flooded with happy memories. This is not to say that I undervalue the times of struggle, in fact, I think those times are just as important, but when I'm long gone I want L's memory bank to be full of happy times.
Back to the driftwood…..this activity was very special to me in many ways. Not only did I share bits of my journey with L but we also created our own memories. I know that a few years from now when he looks at the painted driftwood he will remember both the story I shared with him and the cozy winter afternoon we spent together bringing the driftwood to life. And I know that when he is older and finds himself walking on a beach littered with driftwood, his heart will feel the warmth of my love, he will smile and then gather a few pieces to bring him to his own children. This is how traditions are born and traditions are the ultimate vessel for passing down cherished memories.