Simple Sewing Projects for Kids
Fine Motor Activities for Kids
Sewing For Fun
It can be challenging to find fun ways to build fine motor skills but most kids will enjoy sewing for fun. This activity can be made with recycled materials which always makes our hearts happy and provides another lesson in ecology for the kids. You can also recycle the project itself by pulling out the threads and reusing the burlap canvas.
This page contains affiliate links. Please visit our disclosure page for more information.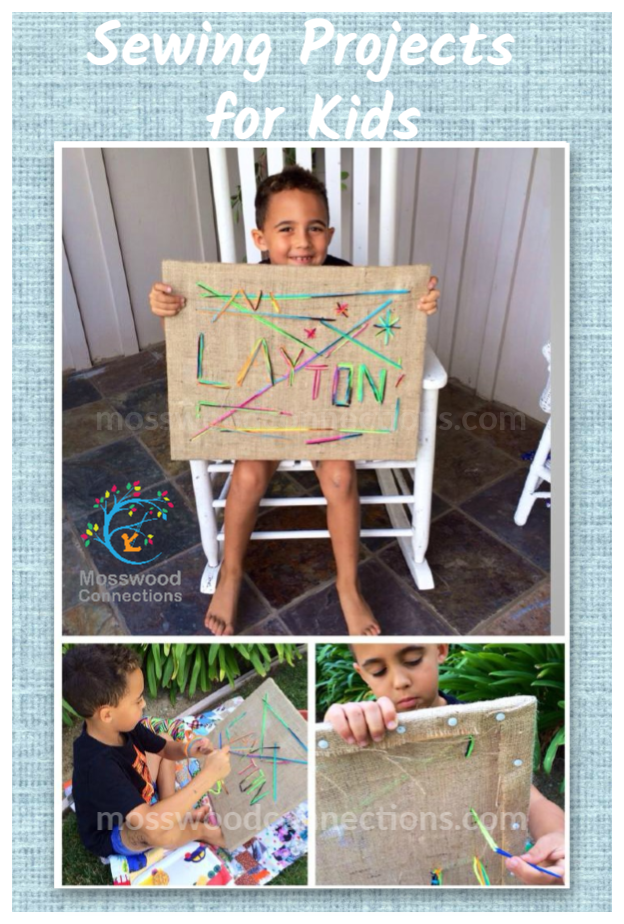 Sewing Helps Children Develop Fine Motor and Pre-Reading Skills!
One summer day when we had lots of time, I found a nice piece of burlap in my craft supplies. It seemed like a nice day for the kids to sit outside and sew. So I took all the materials outside and invited them to start Sewing for Fun. I was actually a little surprised by how long this activity held their attention.
Hand sewing skills not only helps to develop finger dexterity and the development of fine motor skills, but they also develop pre-reading skills. The motion that the eyes have when they are looking at the needle and thread while sewing is visual tracking; a critical skill for reading fluency.
There are many ways that you can enjoy this activity: as a simple sewing project, a way to practice letters or even as a cooperative game!
Target skills for Sewing Fun for Kids:
Fine Motor; Finger Dexterity
Letter Recognition (optional)
Cooperative Play Skills (optional)
Visual Tracking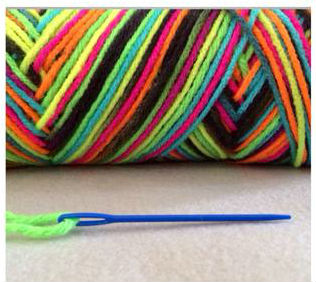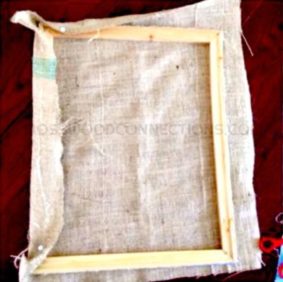 Materials You Need for Your Sewing Fun Project:
Instructions for Sewing Fun:
Take an old canvas or picture frame. Remove either the canvas or the glass.
Take a piece of burlap and stretch it tightly over the frame.
Staple or tack it to the back of the frame.
Sew!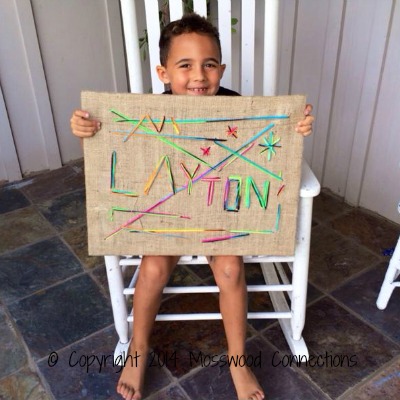 Extending the Learning With A Sewing Fun Activity:
Learning Letters: You can write letters or draw shapes on the burlap for the child to sew over.
Sewing as a Cooperative Art Activity: In a group situation, you can create a cooperative sewing game. Give each child a burlap covered frame. Give each child a different colored yarn. Put a timer on for 4 – 5 minutes. When the timer goes off hand your canvas to the person on your left and then have them sew on that canvas. Repeat until each canvas has been passed to each child.
Fun and Simple Sewing Activities the Kids Will Love: