Help for the Hands
A child's hands are one of their best tools. Building muscles and fine motor coordination in these small muscles is an important piece of their development. There are so many ways to encourage children to use their hands, we will go over some of the ideas that we have used with the kids, that we enjoy. It is important to note that fine motor development follows gross motor and a strong core. That means making sure that your child gets plenty of core strengthening exercise. Core strengthening is important because when the core is weak the body gets fatigued when doing table time activities. You can find core strengthening exercises at The Inspired Treehouse.
This page contains affiliate links. Please visit our disclosure page for more information.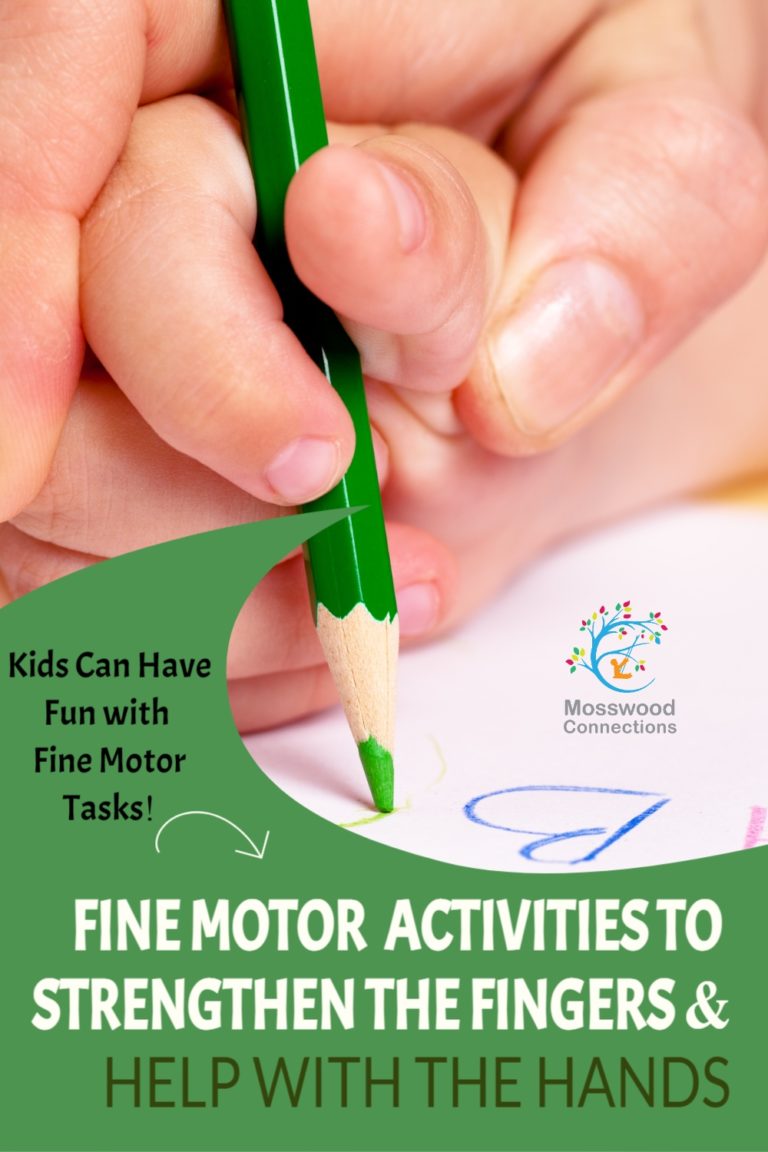 Fine motor exercises and activities to strengthen the fingers and help with the hands.
For young children, it can be helpful to set up good habits right from the start.
One way to do this is to put a large piece of paper on a wall and give them broken pieces of chalk or crayons to color with. When the pieces of chalk or crayons are small this forces a natural tripod grip on the writing utensils. It also helps prevent a wrist curl.
What is a wrist curl?
A wrist curl is when the writing hand is bent rather than straight. When the wrist is curled it often leads to hand fatigue. Another way to help the wrist stay straight is to use a slant board. You can buy a Slant Board
 but a large binder works, too.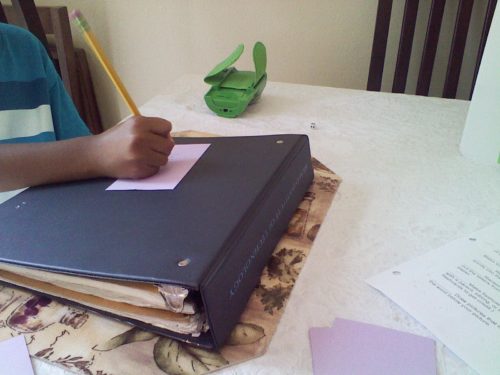 Developing Hand Strength:
There are many ways to develop hand strength. Therapy Putty
is at the top of our list. But there are many amusing ways to foster hand strength:
Play with playdough, biscuit dough or exercise therapy putty – knead, squeeze, roll, cut out using cutters, squeeze playdough through a garlic crusher.
Squeeze soft balls (or squeeze toys) – squeeze 10 times or as many times as you can in one minute to make it fun. Progress to using firmer rubber balls as
strength increases.
Paper scrunch – scrunch up sheets of paper into balls. Once a few balls have been made throw them into a bin or at a target. We used ours to make Crumpled Paper Creations.
You can also find cooking recipes that are fun and develop the hand muscles at the same time.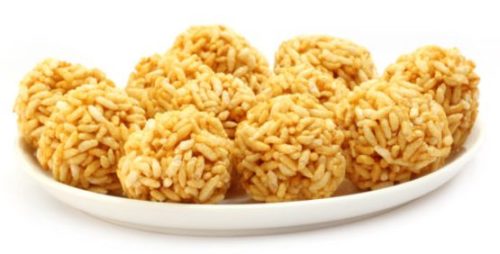 Cooking Helps Fine Motor Skills; Make Some Healthy Rice Crispy Balls
Ingredients:
½ cup Honey
½ cup Peanut Butter
½ teaspoon Chopped Nuts
½ teaspoon Vanilla Extract
½ teaspoon Cinnamon
2 cups Brown Rice Crispies
Mix together the first 5 ingredients. Then add the Rice Crispies. Roll into balls. Put the balls into a casserole dish and chill in the refrigerator until set.
Now you have a gluten-free snack to eat while you do the rest of our hand exercises.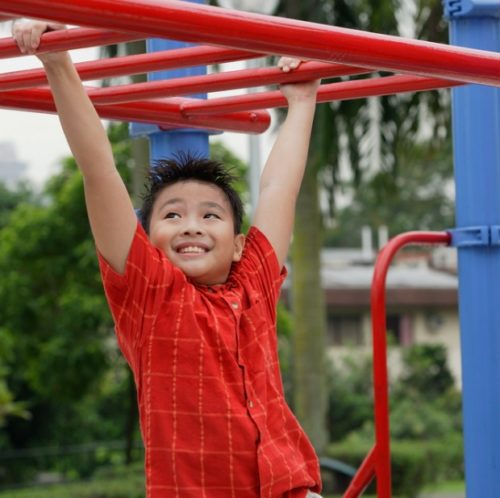 More Fun Ways to Strengthen the Hands
Gross motor activities like hanging from the monkey bars contribute to developing strong hands.
We like playing tug-of-war, not only does it exercise the hands and core, it also uses up some of that indefatigable energy that children have.
Put toys or treats in jars and encourage the child to open the jars by themselves.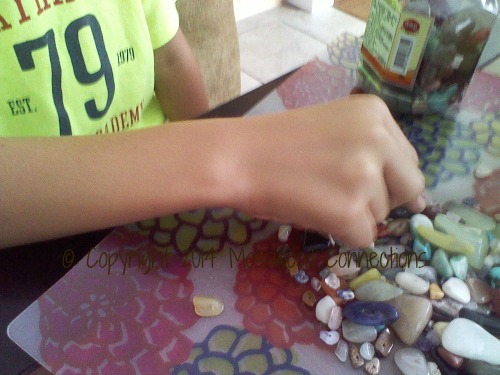 Now it is time to work on the fingers.
Have the kids play a Gathering Game to encourage finger isolation and a pincer grip. To encourage gathering items by using the pincer fingers, I bought a box of shiny rocks from the craft store. Dump them out onto the table and tell the child to gather as many rocks as they can in their hands by using their pincer fingers. Once they have gathered as many rocks as they can fit in their hand, I add some math in by offering them 4 cards with fractions: ¾, ¼, ½, and 1/3rd. The card they choose is the number of rocks that they get to keep. Then I have them put the rocks in a jar to incorporate the larger hand muscles by unscrewing the lid.
Zoo ChopSticks delight children and encourage them to use their pincer grip. You can use them to eat food or you can make a sorting game.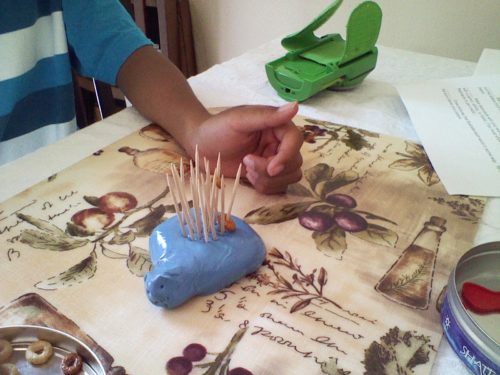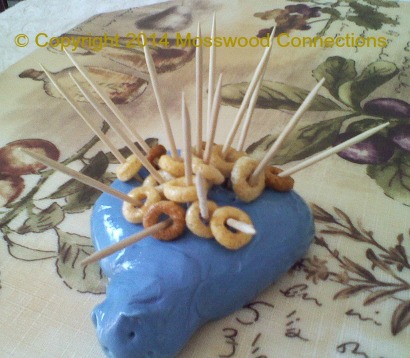 Putty helps build hand strength and finger isolation.
Get creative with putty! You can buy Theraputty in different levels of resistance.
Our last hand activity is the putty porcupine. Shape the TheraPutty into
 a porcupine. Using a pincer grip, stick toothpicks into the putty. Then put cheerios onto the toothpicks.
We hope you find our Help for the Hands: Fine Motor Activities useful. Helping the hands can nurture a happy child.