Scavenger Hunt & Visual Processing Activity
Being out in nature and creating beauty makes a heart happy. When one can combine nature, beauty and learning it is a bonus. With all the beautiful mandalas being shared I was inspired to take the kids out and create our own. This time making the mandala became a cooperative and visual processing activity.
This post contains affiliate links. Please visit our disclosure page for more information.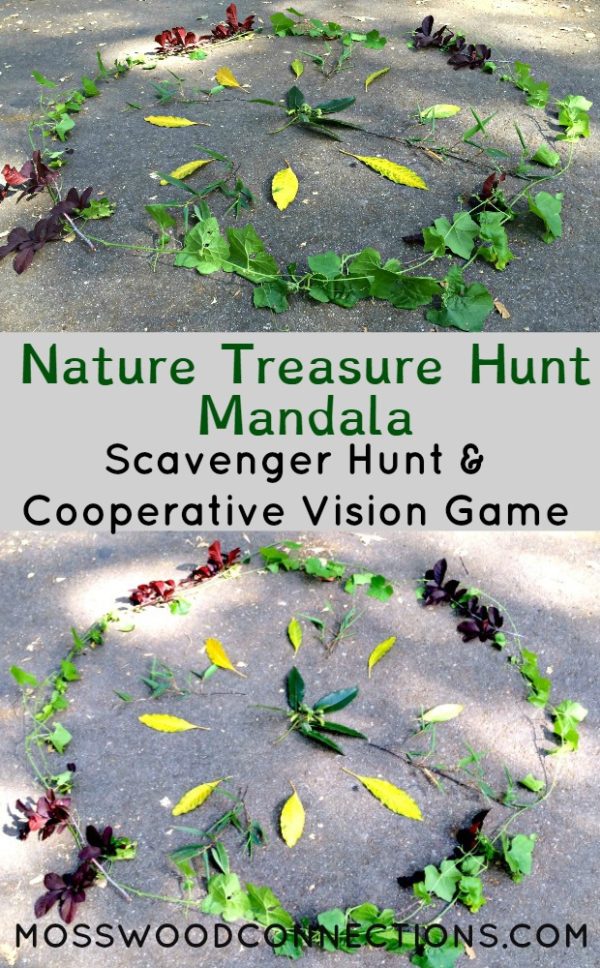 Nature Treasure Hunt Mandala Visual Processing Activity
This visual processing activity involves visual scanning when looking for the nature items, visual figure ground (which means finding shapes and objects in a crowded field of vision) and visual-spatial skills when placing the nature clippings in the mandala pattern.
Target Skills for making a Nature Mandala: 
Visual Scanning, Visual-Spatial Processing, Co-operation, Following Directions
Materials you need to make a nature mandala:
Children and Nature
Instructions on how to turn this nature mandala into a cooperative vision game:
Make teams of 2 children per team.
Divide the area where the mandala will be made into 4 equal quadrants. You can use sticks or chalk to show the areas.
First, have everyone agree on what to place in the center.
Give the children directions on what to find: "Go find something purple." Or "Go find something soft." The kids should go find the items as a team so they both come back with the same item.
When the children return with their items have them take turns placing the item in their quadrant of the mandala.
The other child needs to copy the placement on their own quadrant.
This is much harder than it sounds as the objects may need to be flipped to properly mirror the other quadrant.
Have Fun!
More Visual Processing Activities: