Nature Weaving Art Project
Art and Craft Projects for Kids
"And Spring arose on the garden fair,
Like the Spirit of Love felt everywhere;
And each flower and herb on Earth's dark breast
rose from the dreams of its wintry rest."
This Nature Weaving Art Project is the perfect activity for a relaxing day in the garden.
Memories are made in the garden, on those sunny days spent exploring and creating. One of the joys of play is how much we can teach and learn while connecting with each other and our environment. 
Weaving is a wonderful fine motor activity as well as being a valuable way to strengthen pre-reading skills. The way the eyes track a weaving project mimics the way eyes track words while reading. This weaving project also uses natural items and makes an awesome gift!
This post contains affiliate links. Please visit our disclosure page for more information.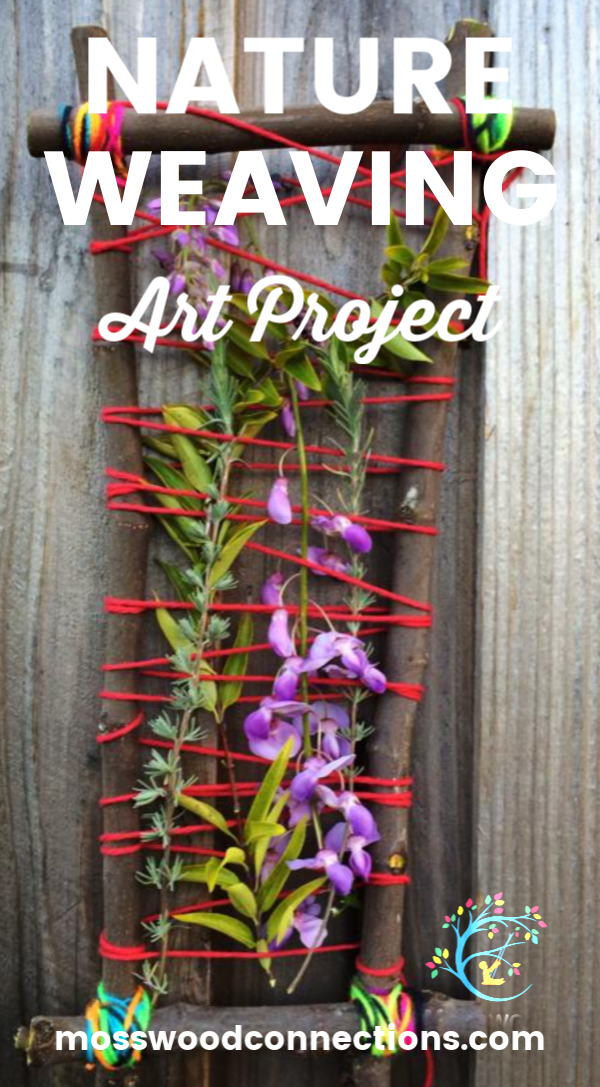 Hang your Nature Weaving Art Project and Enjoy!
Target Skills:                                                               
 Shared Enjoyment
 Exploring our Environment                      
 Fine Motor
Hand to eye coordination
Materials Needed for Nature Weaving:
 Small branches cut into relatively similar sizes
 String or twine
 Flowers and Twigs
Nature Weaving Instructions:
Before you are ready to start your  Nature Weaving Art Project spend some time collecting branches and flowers. encourage the children to make observations about the plants. You can make a scavenger hunt, too. Ask them to collect something green, something yellow, something that smells good, etc. Have the children sort the clippings into categories. Finding branches that are stable enough to make the frame will probably need an adult's help but the children can help sort the branches by size.
Cut branches into similar lengths. There is no need to be exact. Match 2 similar lengths for each set of the sides of the frame. Attach 2 branches at a 90-degree angle by wrapping the twine or string around the branches in a figure 8 pattern. Involve the child in this as much as possible, this action works on crossing mid-line, visual tracking and fine motor all at the same time. Attach all 4 corners the same way. Then simply wrap the string horizontally around the frame. Be sure to tie off the end. Weave the flowers and stems through the strings. For a particularly aromatic version use fresh herbs.
If you want another weaving activity check out our basket weaving craft made with upcycled fabric scraps. It makes a lovely homemade gift!