Bird Study Unit
Studying birds is a great way for kids to connect with nature.
"Anything you can teach in an indoor classroom can be taught outdoors, often in ways that are more enjoyable for children." ~ Cathy James
Birds are not only fascinating animals but they are also one wild animal that just about every child will come into contact with in their life. Studying birds is a great way for kids to connect with nature. We decided to put together the activities and resources that we have used in a Bird Study Unit.
This page contains affiliate links. Please visit our disclosure page for more information.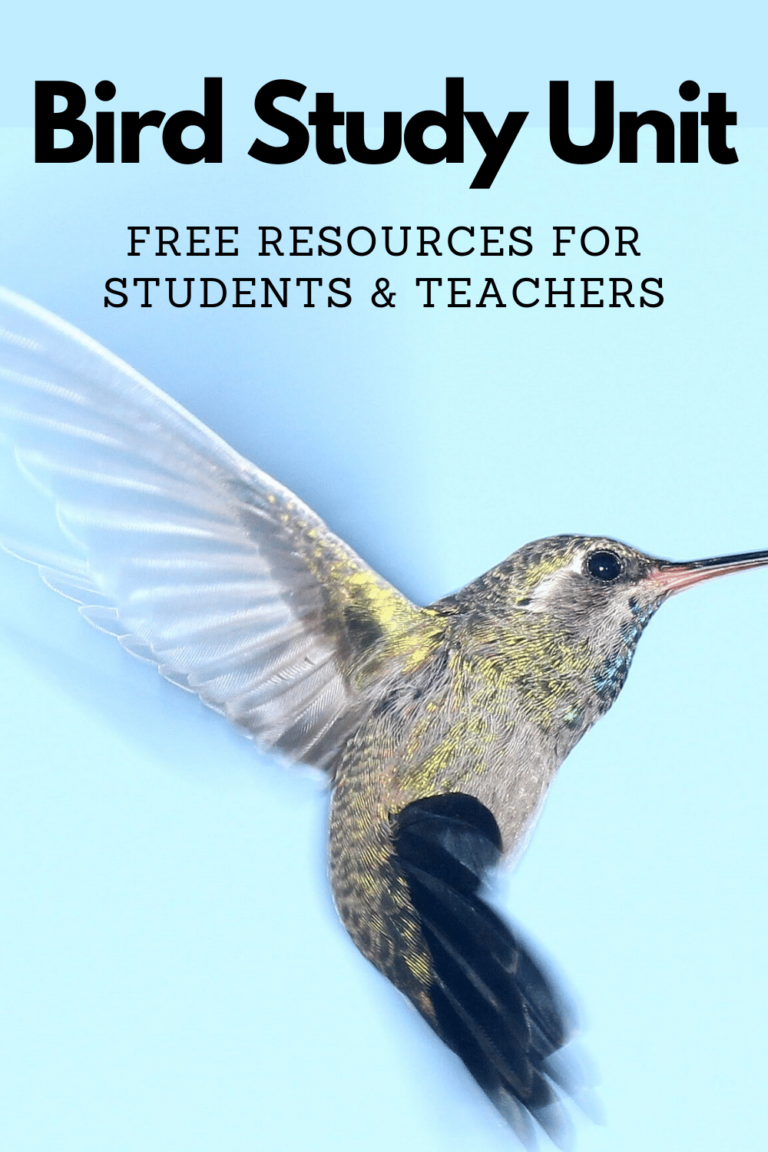 Bird Study Unit; Free Resources and Activities for Elementary Age Students
There are so many ways to explore birds. An easy way to get started is to watch the birds that come to your yard. If you want to entice the birds to come and visit put out a bird feeder. Kids like to make bird feeders and there are some simple ways they can make them at home. Hanging out and watching the birds come to the bird feeder can be a magical experience. Once the birds are attracted to the feeder have the kids observe the birds, draw pictures and identify what types of birds you see.
Take a nature walk and look for birds!
We had fun walking in the woods and identifying the birds we saw. Once we figured out what birds were nearby we used the Audobon Bird App to play the songs of the nearby birds that we had identified. We put the smartphone on the ground and crept away to watch. It was amazing to see the birds come close in response to the birds call we played. If you are interested, you can check out this list of Bird Apps. If you don't want to add yet another app to your smartphone visit Urban Bird Sounds Project for some fun, free resources.
Play a Game about Birds
Then we played Chickadees. Put the children in groups of 3 or 4. If you are in an area with nuts or pine cones around you can collect them for this game. Otherwise, bring a bunch of nuts or small objects that they can collect. These objects represent bird food. Put the bird food around the area where you are playing. Then tell the groups of kids to each make their "home nest". The idea of the game is for one team member to guard the nest while the other team members go out and try to gather or steal bird food to bring back to their nest. If an opposing team member tags you, you must drop any food that you may have collected and return to your nest. The team who collects the most food wins. After the game, talk about how much energy the chickadees used to collect and protect their food.
Explore birds through books!
There are so many great books about birds for the kids, it's a fun way for them to learn about our feathered friends. We like the National Geographic Kids Bird Guide of North America
 for older kids and we like Birds
 by Kevin Henkes for younger children.
Do some research and learn about birds.
Make bird crafts with the kids!