Study Nature Science by Creating a Butterfly Garden
Science for Kids
✿ "Just living is not enough," said the butterfly, "one must have sunshine, freedom and a little flower." ~ Hans Christian Anderson
There's something magical about sunny days sitting in the garden, listening to the birds, and watching butterflies flit by. Sharing that with children warms the heart and adds joy to the soul.
A few years ago, one of our clients re-landscaped their house. When they did the landscaping they added a vegetable garden and around that vegetable garden was a large space of freshly tilled dirt. We were studying plant science so I decided that freshly tilled dirt would make the perfect space for a butterfly garden.
Planting a butterfly garden is a wonderful way to explore plant science and how butterflies interact with the environment. It also is a promise of days in the future spent sitting in the sunny, fragrant garden watching butterflies with the children.
This post contains affiliate links. Please visit our disclosure page for more information.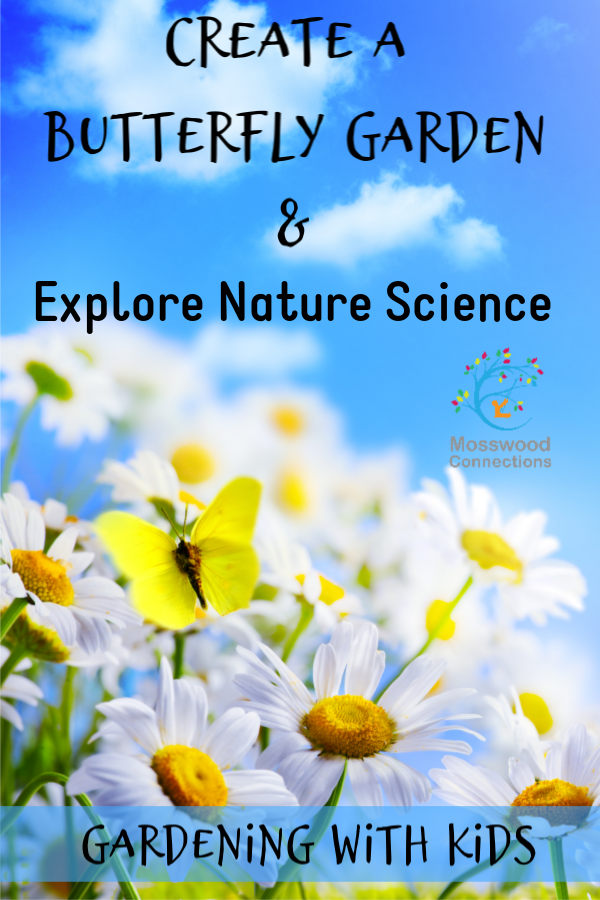 Learning About Butterflies
Butterflies have been having a tough time. Their numbers have dropped dramatically over the past decade. We can help them by planting butterfly-friendly plants in our yards. Along the way, there are many lessons we can learn.
First, we researched what native plants encouraged butterfly activity. Check out our Research for Kids page for suggestions on how to get the kids researching. We learned that not only do the butterflies enjoy sunny areas, they also need both host plants to lay their eggs and support the caterpillars. When planting your garden try to include plants that nourish both the caterpillars and the adult butterflies.
I had the kids keep a nature journal that included what they had researched.
We made a printable version for you to download.
Planning the Butterfly Garden
Once we had researched what plants would attract butterflies in our area I had the kids measure the area and make a map.
Then it was time to plant! The kids had the most fun with that part of the project. We had the kids read their maps and then lay out the plants before digging. We compared the maps to how the plants looked in their places and adjusted as necessary.
Here is the list of butterfly-friendly plants that we came up with:
Plants that attract butterflies
Alyssum
Aster
Bee balm
Butterfly bush
Calendula
Cosmos
Daylily
Delphinium
Dianthus
Fennel
Globe thistle
Goldenrod
Hollyhock
Lavender
Liatris
Marigold
Musk mallow
Nasturtium
Oregano
Phlox
Purple coneflower
Queen Anne's lace
Sage
Scabiosa
Shasta daisy
Stonecrop
Verbena
Yarrow
Zinnia
Borage
Fennel
Grasses
Hollyhocks
Lupine
Milkweed
Nettle
Thistle
Willow
Sites with information on what plants to use for a butterfly garden:
Planting for Birds and Butterflies (includes climate zones)
Grow a Year-Round Wildlife Habitat Garden (Zone 3-5)
If you don't have a lot of space for a butterfly garden consider a few potted plants that will attract butterflies.
The first year we attracted a lot of moths.  The kids had magically expected droves of butterflies to flood the garden so this activity is also a lesson in patience. It took us 2 years to attract many butterflies. We did attract more hummingbirds into the yard, which is an added bonus for us.
You can raise your own butterflies and release them into the garden. We released ladybugs and praying mantis' which gave us another opportunity to talk about beneficial insects.
More Resources for Learning About Butterflies