Balloon Painting
Art and Craft Projects for Kids
Balloon Painting is a Super Sensory Messy Art Activity!
Balloon painting is a fun way to get kids involved in creating art. By using balloons you have a fun way to apply paint that can make some beautiful textures and patterns. Did I say it was fun? Actually painting with balloons is an appealing sensory activity. It has the benefits of the feeling of squeezing paint filled balloons without getting paint all over your hands.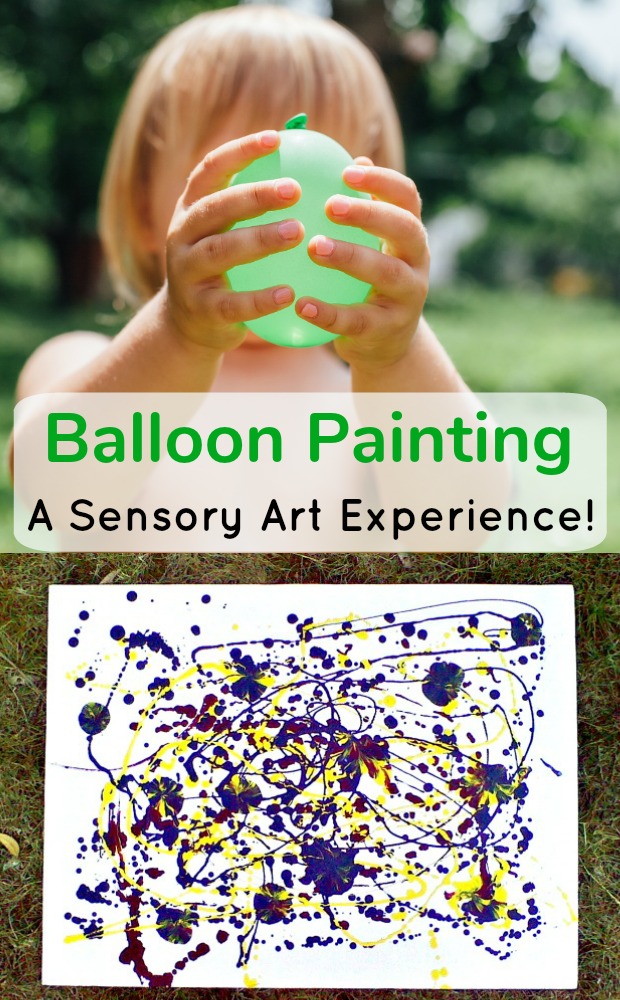 Balloon Painting; A Sensory Art Experience
This page contains affiliate links. Please visit our disclosure page for more information.
I actually think that I had more fun with this activity than the kids did. There is something so satisfying about squirting the paint out of the balloon. It's great stress relief. 
 Prepping this activity is relatively easy and the materials are all very affordable. The best part is the reaction from the kids when they realize they get to squeeze paint all over the paper! Balloon painting is one of my favorite art projects for when I want to take the art project outside.
Target Skills of Balloon Painting (AKA "Why am I doing this messy art project?"):
Fine Motor and Hand Strength
Sensory Processing
Creativity
Materials for this sensory art experience:
• Balloons

• Child-Friendly Paint

• Cardboard or Large Pieces of Paper
.
• Large Safety Pins

• Funnel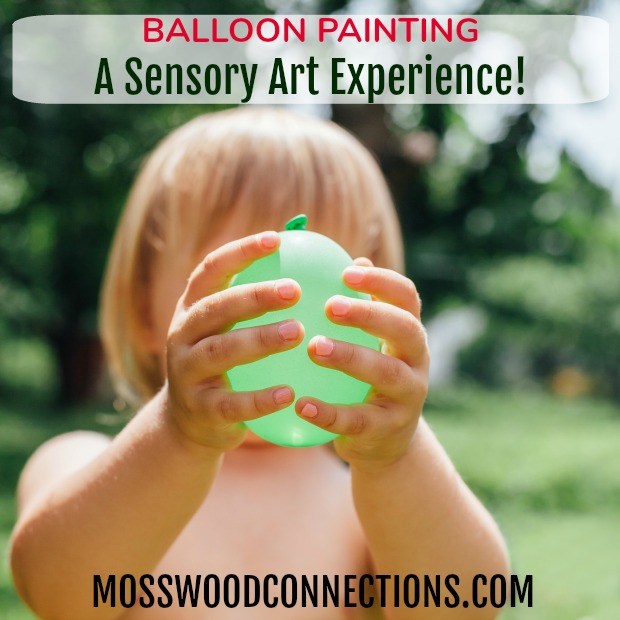 Balloon Painting; A Sensory Art Experience
Instructions on how to make your balloon painting with the kids:
Warning: This project can get very messy!
• Make sure that you have a large work area where there is lots of room to be messy. I will only do this art project outside
• Put the cardboard or large piece of paper on a work area on the ground.
• Use the funnels to pour paint into the balloons. (I didn't use a funnel, I just poured in the paint but I don't mind getting messy.)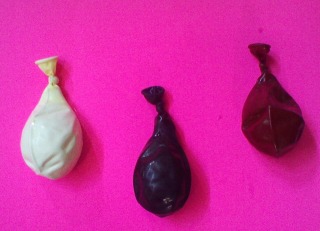 Balloon Painting
Tie off the balloons then turn them over and use the pin to poke a hole in the balloon.
• Have the kids squeeze the balloons to apply the paint.
• After we squeezed the paint on, one of the balloons dropped onto the picture. The effect was certainly a happy accident and we had fun plopping the balloons onto the wet paint.
• This would be a great co-operative activity. Lay out a bunch of "canvases", give each child one color of paint and have the kids take turns squeezing their color onto all the different pictures.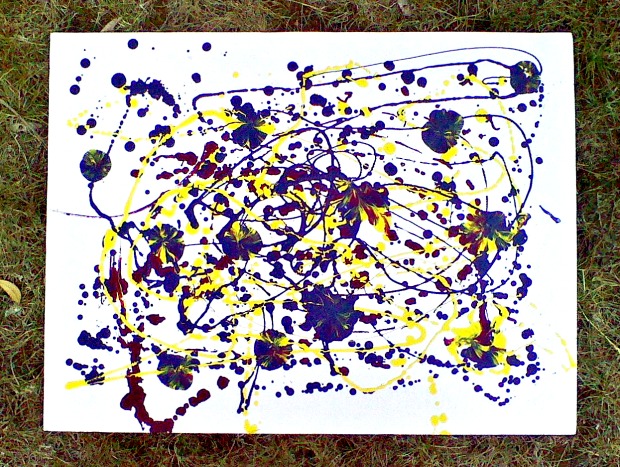 Balloon Painting Art Work
Other ways to paint with balloons: