A Giraffe and a Half Rhyming Kit
Picture Books
Any book that helps a child to form a habit of reading, to make reading one of his needs, is good for him. —Maya Angelou
We are excited to be invited to take part in Emma Owl's Book + Craft – Read it then Make it! event. Be sure to stop by and check out all the fun book inspired art and craft activities. We hope you enjoy our A Giraffe and a Half Rhyming Kit.
Books That Celebrate Poetry
Since April is also Poetry Month we decided to pick a book that celebrates poetry and rhymes. Shel Silverstein is one of our favorite authors so we chose to create A Giraffe and a Half Rhyming Kit based on the book A Giraffe and a Half
. The book is full of engaging rhymes and silly pictures.
This page contains affiliate links. Please visit our disclosure page for more information.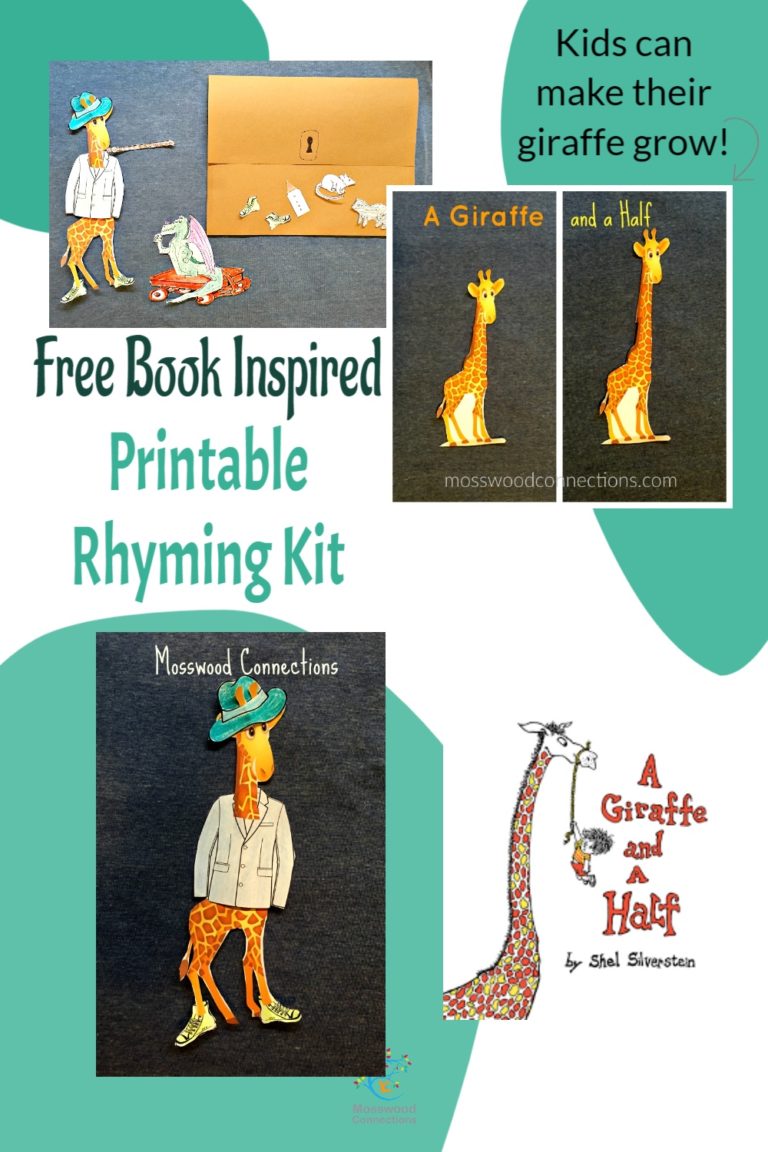 A Giraffe and a Half Rhyming Kit
Heavy Weight or Stiff Paper
Construction Paper
Crayons or Markers
Popsicle Stick
Glue
Tape
We made some coloring pages with pictures of things that rhyme. You can download our PDF or have the kids make their own.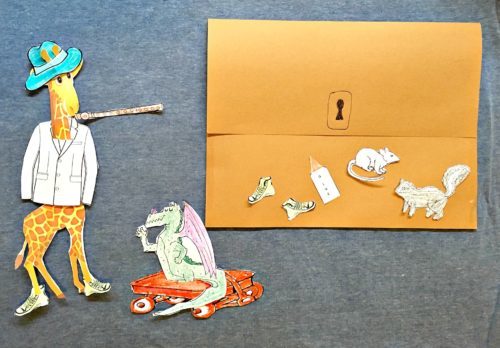 Instructions for A Giraffe and A Half Rhyming Kit:
In the book, the giraffe is stretched and that is how you get a giraffe and a half. We made our giraffe with a neck that can get longer or shorter. Draw a giraffe or print out ours. Cut out the giraffe and glue a small strip of paper on the back of the giraffe body and glue a popsicle stick to the back of the neck. We used a popsicle stick to make sure that we positioned the paper flap correctly. When dry slip the popsicle stick into the flap created by the strip of paper.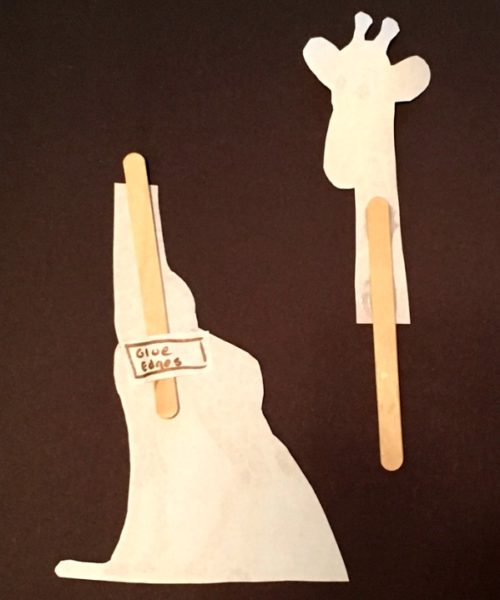 We had the kids color and cut out the rhyming words. To make it more fun we cut slits in the shoes, the suit, and the wagon so the kids could have the giraffe wear his clothes and go for a ride in the wagon. We made a trunk (to rhyme with the skunk) that could also be used as a place to store the different parts of the Giraffe and a Half Rhyming Kit. We made the trunk by taping two pieces of construction paper together edge to edge and another piece half down one of the pieces to make a lid. Then we folded it up and taped the sides.
While you read the book have the kids choose the pictures that rhyme. Make some more pictures that rhyme and add them to the kit.
More Book Inspired Activities:
One: an award-winning book that teaches tolerance and acceptance.
Piggie and Elephant Sharing Shapes Activity: This book captures what it means to be a good friend and sharing with others.
The Pea Patch Jig: Introduce children to gardening, adventure, humor and more, while connecting to literature.
Lola Goes to School: introduces students to what it might feel like the first time they go to school, how to deal with feeling nervous and making new friends.