4 DIY Busy Box Matching Games
Active Educational Activities
Board games are a great way to build skills while having fun.
4 DIY Busy Box Matching Games packed full of skills!
Matching, numbers, counting, sight words, gross motor, categories and more!
This fall we are working with children of different ages with a wide variety of skill levels. We wanted to create a game that can be adjusted for each child's interests and needs. In the past, we have used Thomas the Tank Engine and Star Wars characters to get kids interested in matching, reading, and counting. We can't include those games here because of copyright laws, but you can take the concept of this game and make your own version. We also did a category matching game that was lots of fun.
This page contains affiliate links. Please visit our disclosure page for more information.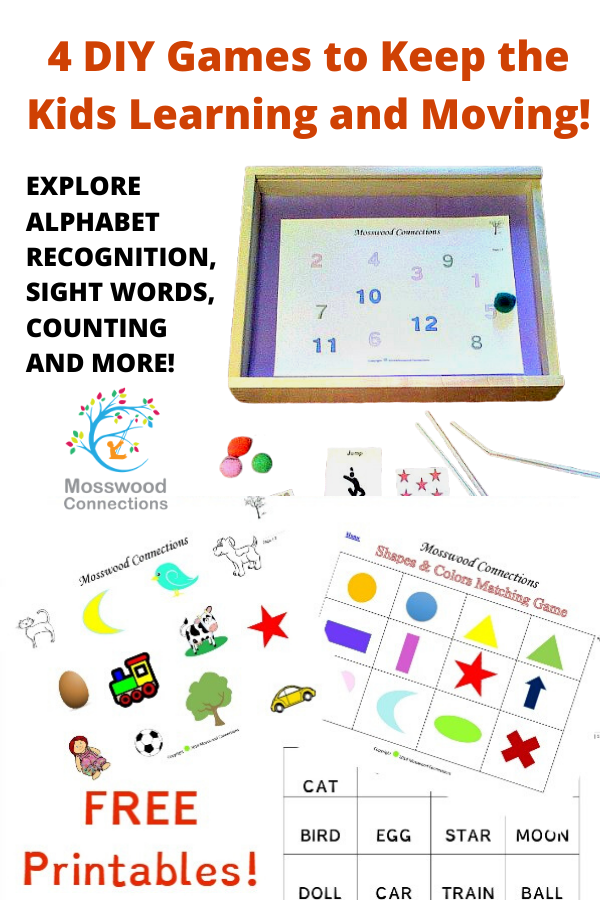 You can explore alphabet recognition, sight words, counting and more!
The idea behind this game was to pack as many skills in while the kids have fun. This game incorporates oral motor (blowing through a straw), gross motor, and cognitive skills like matching, recognizing shapes and numbers and reading skills. Best of all, you can play with mixed ages and skill levels!
Materials for our DIY Busy Box Matching Games:
Free Printable Games:
Instructions for our DIY Busy Box Matching Games:
Place a game board on the bottom of the box. You can use our printable versions or make your own. They are easy to make, the kids can even help with this part of making the game.
Cut out the matching cards. Again you can make your own cards or use toys and objects that match the targets on the game board.
Spread the cards out around your play space. You can make it easy or difficult to find depending on the skill level of the kids.
Cut out the action cards.
First, have the child pick an action card.
Have the children use the straws to blow the pom in the game box. Whatever the pom lands on is what the child has to go and get while doing the action on the card they chose.
Variations: Instead of pom poms you can use a marble, small ball or a crumpled up piece of paper. Instead of using a straw and blowing, you can use a wind-up toy or spin a top to incorporate fine motor skills.
The game is over when all the cards have been collected.
There are so many ways this game can be adapted. What are some of your ideas?