Teaching Our Children About Diversity and Compassion
Connecting and Collaborating Against Hate
We wrote this post a while ago. It seems that we have a lot more work to do. As early educators, we hope that families everywhere will embrace this cause.
Sarah and I have been good friends for over a decade and a half. What brought us together was our work with autistic children. What has kept our friendship strong over the years is our shared values. When we created this website our motto was "Connect, Collaborate, Create!" because that is how we approach the world. We love to make connections with all sorts of people collaborate by learning from each other and use that connection and collaboration to create ways for all children to grow, to develop, to find happiness.
This post contains affiliate links. Please visit our disclosure page for more information.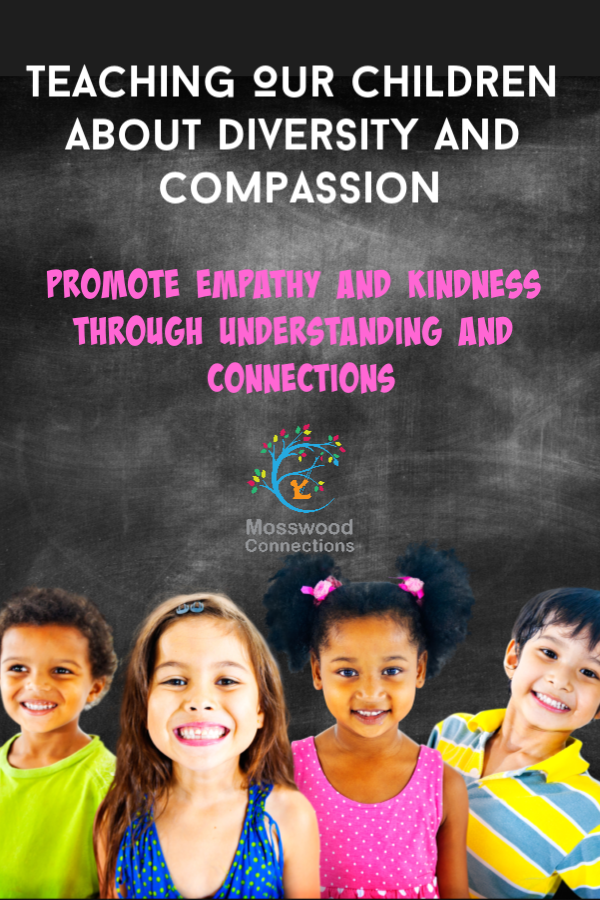 Different and Yet the Same
Sarah and I come from very different backgrounds and yet we have some shared experiences. Sarah was born to a privileged life in Nicaragua. However, a civil war soon forced her family out of their home and they came to the United States as refugees. My family came from a humble background immigrating to the United States from Russia and Poland. We have very different backgrounds. Where we are similar is that we have both faced discrimination.
As a Hispanic American people would sometimes make snap judgments about Sarah. They see her brown skin and assume that perhaps she came here illegally, perhaps she is not as educated as her white counterparts. Growing up as a Jew in America I also faced discrimination. My synagogue was firebombed by white supremacists when I was four. When I was five other children threw rocks at my siblings and I as we walked home from school, calling us Christ killers and yelling for us to get out of "their country".
Appreciating Diversity
Sarah and I ended up living in a progressive area in California where diversity is appreciated. We had our own children and we both felt grateful that my daughter, an American Jew and her son, a bi-racial American (He is adopted) could grow up without discrimination and racial bias. That they could be appreciated for "the content of their character rather than the color of their skin".
Then the mood of our country began to change. Fueled by the racist diatribes spewed out during our last election people seemed to feel more comfortable being "real", "telling it like it is". Hate crimes began to increase, racist bullying has become more common on the playgrounds and Sarah and I began to worry more about the safety of our children. We realized that we needed to do more to be teaching children about diversity and acceptance.
Speaking Out Against Bigotry, Anti-Semitism, and Misogyny
We have no desire to turn this website into a political forum but we also know that when good people see evil being cultured and nourished that we must speak out. We must help our own children and the children we know and love to face this rise in racism, anti-Semitism, and misogyny. That is what led Sarah to create her first anti-hate activity and this is what she has to say: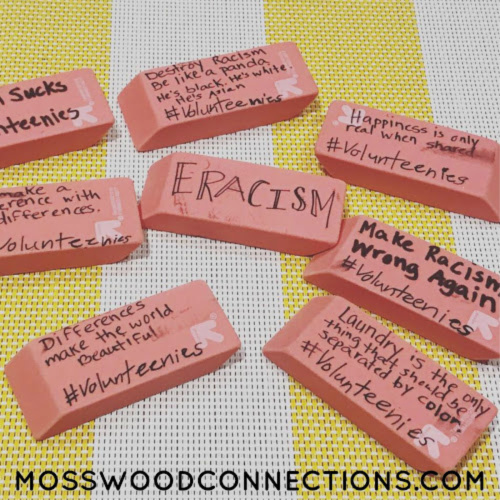 Wanna know what I hate? I HATE HATE. And I hate that my bi-racial child worries about his safety in this skin color-obsessed world. I'm not one to feed into fears, but my child's concerns are valid. The world is changing, and not for the better. While I stand firmly against racism, anti-Semitism, and inequality, I also refuse to be part of the problem: I will not engage in violence, I will not participate in verbal antagonism, I will not teach my child to hate those with different value systems. However, I will teach him to love all of humanity, to stick up for the disenfranchised, to be a world citizen and an ambassador of peace. In peaceful protest and armed with erasers my boy and I are spreading our message today.
My son and I made Eracism erasers today. We thought carefully about what message we wanted to send and then wrote them on the erasers. We will pass them out to counteract other negative messages. We would like to start our own movement. A peaceful movement where we hope to create a safe place for all of our children to grow and thrive.
Won't you join us in our efforts to Eracism?
Resources for Teaching Children About Diversity
Children's Books with Black Main Characters
Teaching Children About Diversity by Christopher J. Metzler, Ph.D.
"The challenge for parents is ensuring that children learn to accept and respect differences, thus making them more productive adults. But, where do we start?"
10 Ways to Teach Young Children About Diversity
"Have your kids ever wondered why people look different, or talk with an accent, or celebrate different holidays? Mighty Mommy has 10 tips on teaching your kids about cultural diversity."
We are different, we are the same: Teaching young children about diversity
"Diversity activities teach young children to respect and celebrate the differences in all people. Learning about different cultural aspects offers new experiences for children. It also helps them realize that we're all humans, despite differences in how we look or dress, or what we eat or celebrate."
Teaching Young Children About Bias, Diversity, and Social Justice
Five strategies to help children understand bias and social justice.
25 Resources for Teaching Kids about Diversity
Multicultural Kids Blog has compiled an amazing list of resources for parents and children.