Plentiful Living with a Minimalist Approach to Life
Raising Kids
Simplifying life by having more experiences and less stuff.
Each year my family adopts a theme to live by….last year our theme was 'Living with a Grateful Heart'. We made it a daily practice to take inventory of all of the love and goodness around us, and before long we began to realize how abundantly blessed we are. Through this process, I also began to realize that there were too many distractions in our lives, both physical and emotional and that it was time to employ a minimalist approach to life by eliminating the excess and the unnecessary 'clutter'. This would allow us to focus on what we really care about.
This page contains affiliate links. Please visit our disclosure page for more information.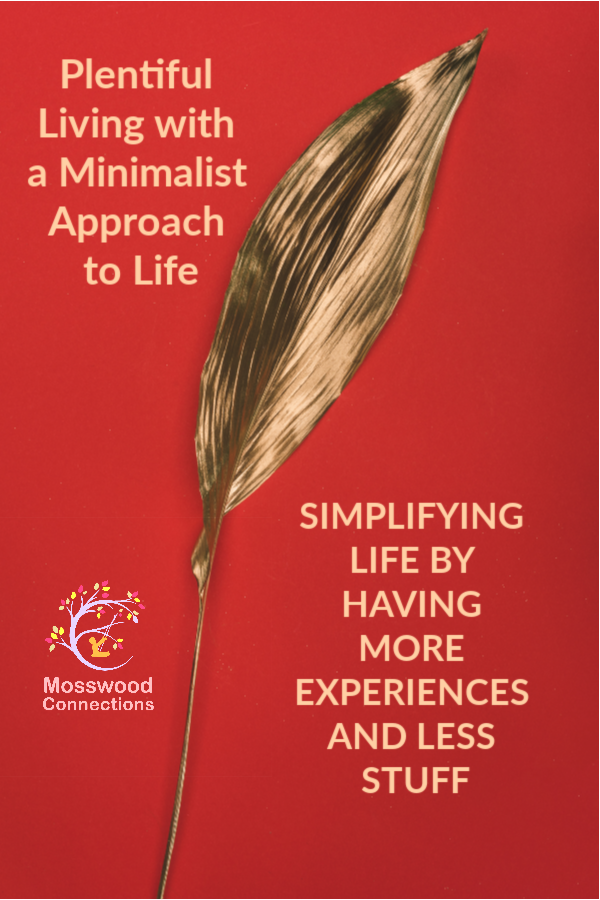 Plentiful Living with a Minimalist Approach to Life.
A minimalist approach to life doesn't mean engaging in a spartan existence of deprivation and barren white walls. What it does mean is that we make sure that we are living each and every day with purposeful intent and that we remove anything that interferes with our most important pursuits. During the next 12 months, my family is going to embark on an adventure that may be difficult to encompass, but that will ultimately lead to a richer more fulfilling existence. We will work to completely shift gears, and leave behind our consumer-driven lifestyle and embrace a way of life that will help us discover our resourcefulness and ingenuity while giving us more time and space to deepen our relationships with each other and ourselves. It will be an ever-evolving pursuit without concrete rules, but the intention will remain simple and constant: Focus on what matters and remove anything that creates clutter within that plan.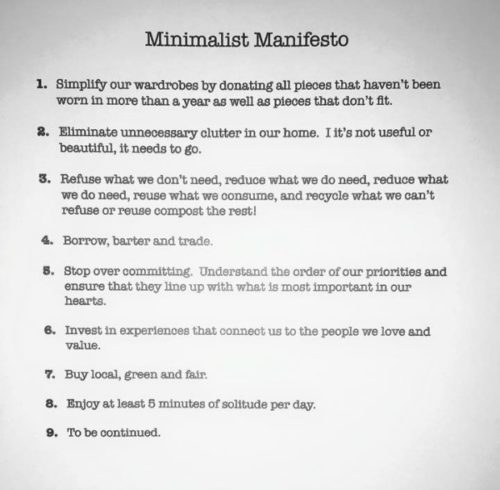 Simplifying your life can take time.
I have spent some time piecing together this minimalist manifesto, but it's just the beginning and I'm sure that as the days go by I will make some amendments. In the meantime, these are the guidelines we will live by, and I welcome you to embark on this journey as well.
Day 1:  Cleaning out the closet
The first day of our minimal approach to life has come to an end and I've managed to remove 2 large bags of clothing out of my wardrobe. I didn't expect to feel emotional about my process of elimination but some of my pieces have been with me for over 20 years. It's funny how many memories I've attached to articles of clothing. Alas, I did it and I'm ready to tackle more clutter tomorrow.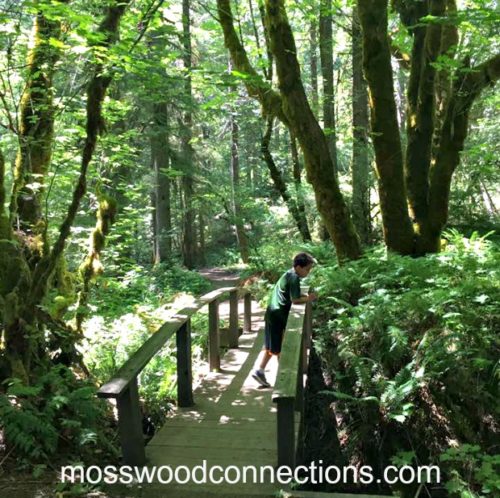 Day 2: Our minimalist approach led us out into nature.
Today we got out of the house and into nature.  We regularly play in the forest but I usually pack shovels, compasses, rope and just about anything that you can think of to facilitate L's imagination.  I decided to leave it all behind and allow him to find pleasure in the gifts of the forest.  We went with another family and hiked deep into the woods and all the way to a beautiful riverside beach. The kids had a blast making sand castles and using whatever they could find on the forest floor to embellish their designs.  They climbed trees and played in the hollows of the redwoods and mimicked the call of coyotes. The lack of structure and equipment allowed their minds to creatively engage with each other and the environment. It was a beautiful day.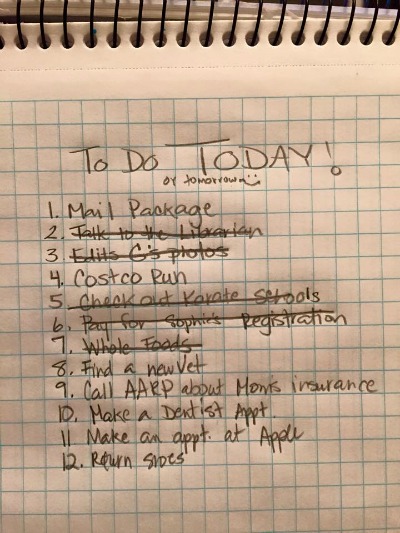 Day 3: Crossing things off my list.
L went back to school today which gives me several hours to work on #1 and #2 but I decided that today I will work on the clutter that weighs heavy on my mind.  I've had items on my to-do list that I've been putting off forever.  Tedious things like making medical appointments, mailing packages etc….  Today my goal is to eliminate at least 5 of those items.  Wish me luck!
Day 4: A minimalist approach is difficult at Costco
I went to Costco which is synonymous with Anti-Minimalism but I managed to get in and out without making any impulsive acquisitions. I wasn't even tempted. I did, however, notice the carts around me overflowing with goods and sundries and I wondered what percentage of the purchases in that store come from impulsive consumerism. That led to my next thought which was "aside from consumables, can I survive 2 weeks without purchasing anything new? That means no art supplies!"
It'll be hard, but I think I can do it.
Day 5: Our clutter is someone else's treasure
It was a busy day. I attempted to sell a few of my party dresses at Crossroads Trading company. I waited for the buyer for over 30 minutes and then she only bought one dress for $4.15! I will never do that again. I would much rather it go to someone in need. Afterward, my Mom and I headed over to Sacred Heart and donated several bags of L's clothes as well as a few pieces from my husband's closet. Our final stop was at St. James Park where I handed out the last of our surplus blankets as well as a couple of bags of warm clothing that my friend Ann donated. (Thank you, Ann.) While we were at the park I encouraged a gentleman to take as much as he wanted and he said "thanks but I don't like to have more than I need."
Thank you, Mom, for helping me today.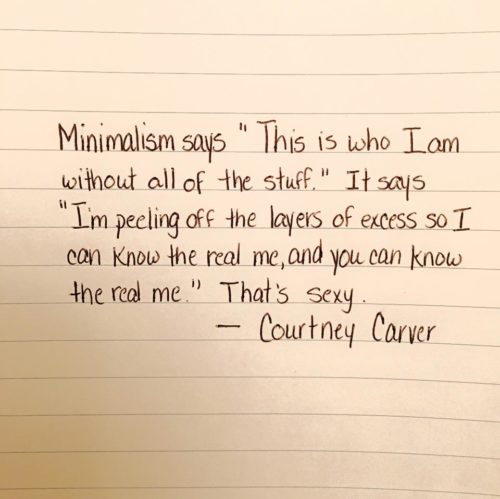 Day 6- The Toy Closet, Getting Rid of Kid Clutter
Today was a hard day.
Over the last 7.5 years, we have acquired quite the lot of toys. I've given much of it away to friends and neighbors but there were a few items that I kept in case another baby came into our lives.
The idea of giving away the last of the toddler toys broke my heart. Not because I'm sentimentally attached to these things but because giving them away is like giving up hope on having another baby. I don't think I'm ready to give up hope for another baby but I am ready to give up the toys and if a baby does come into our lives, we'll be too busy exploring meadows, splashing in puddles and making mud pies to play with toys.
Tonight my heart is at ease knowing that while I'd love to have another baby my family is already complete.
Day 7: One Week of Minimalism
I survived the first week! I'm looking forward to peeling away more layers in the upcoming weeks and months. I'm so excited that some of you are interested in taking the two weeks shopping free challenge! I look forward to hearing your stories and you can follow my updates on Plentiful Living with a Minimalist Approach to Life Continued and on my other Facebook page Plentiful Living with a Minimalist Approach!