Mixed Media Art Project
Art and Craft Projects for Kids
Combining Natural and Recycled Materials with Process Art
This Mixed Media art project was created by experimenting with paint on paper and playing with mixed materials. We think the results are beautiful but the process was the most valuable part of the whole project. We had fun collecting nature items and recycling old art projects to make this nature-inspired process art activity. Part of the magic of this activity was watching flowers bloom out of a bunch of random items that we collected. The creativity of children always astounds and inspires us.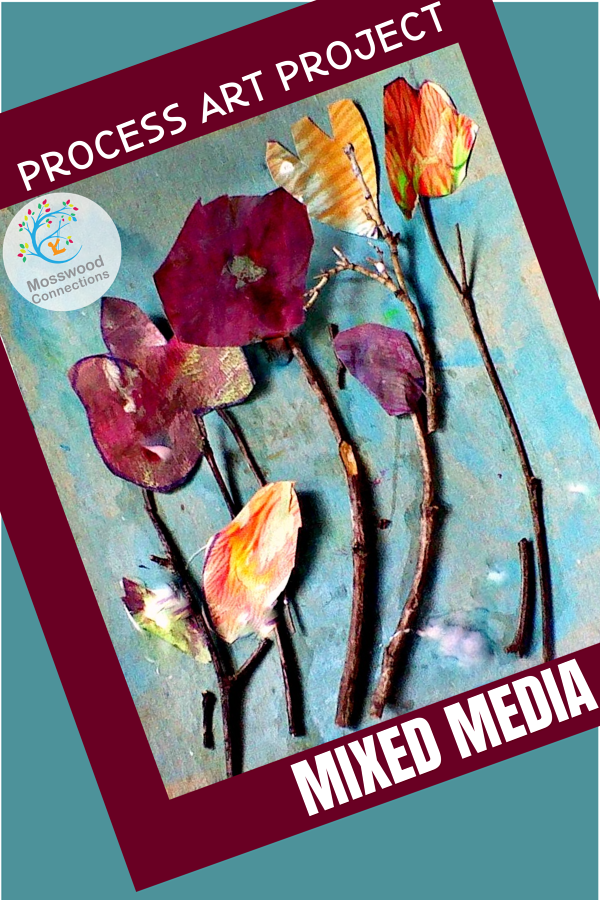 Make art projects more meaningful by adding in skills and experiences!
I have been enjoying a young friend's joy of painting. This girl just loves any project involving colors. But when she paints, the activity is not very interactive and there are no real skills being practiced, so my challenge was to come up with a way to honor her enjoyment of coloring while building in skills. While she was painting I made up a painting song to encourage her to be more interactive. I encouraged her to enjoy the sensory feel of the paint. To add in some fine motor skills we took some of those well-loved abstract art paintings, cut them up and added some natural materials to do some mixed media art projects together.
Materials for a Mixed media Art Project
This post contains affiliate links. Please visit our disclosure page for more information.
Process Art Activity Instructions
First, she painted a canvas. I used a canvas only because it can take a lot of paint and can be reused. We talked about the colors and she had fun applying paint. A lot of paint. She also had fun exploring textures with the paint by crumpling a paper towel and blotting it on the paint.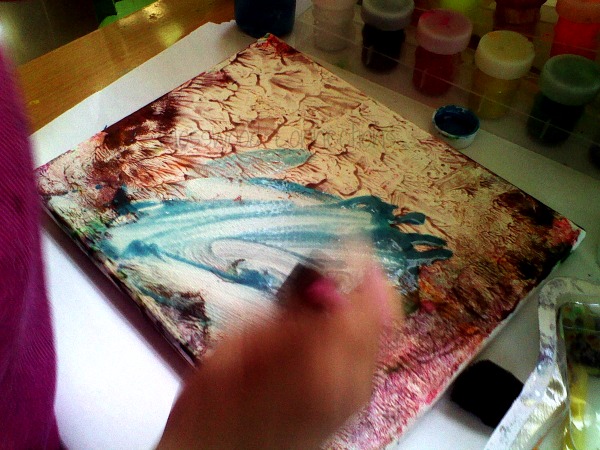 Mixed Media Painting Fun
Then, we took another piece of paper and pressed it on top of the canvas. She seemed to enjoy the feel of mushing the paint underneath the paper and it ended up making a cool marbleized effect.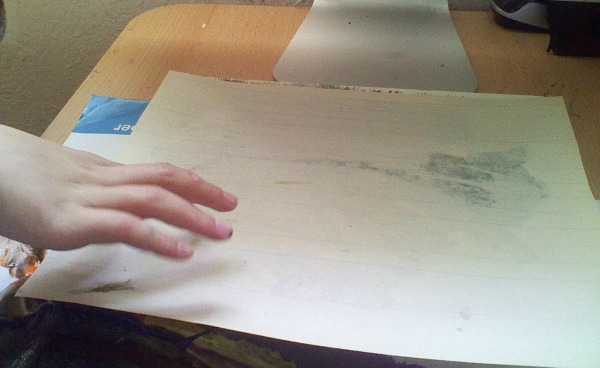 Mixed Media Art Project Instructions
Go out to the garden and observe a natural environment.
While the paint was drying on the pressed papers we went out to the garden. We looked at the flowers and I pointed out the different shaped blossoms. While we were taking our time making observations in the garden we collected some sticks.
By this time, the canvas and painted papers were dry enough and we were ready to finish the mixed media art project. She chose one of her pressed papers to use for the flowers. She cut them out into leaf and flower shapes. We glued the sticks that she had collected onto the background.
(Be aware that the sticks require a lot of glue and we use our "Kindergarten Art Press" when we glue. The Kindergarten Art Press is when the child presses down on the object to make sure it adheres to the paper while we count to 10. We had fun making silly faces at each other while we counted.)
Create a Garden on a Canvas!
Then, she chose one of her pressed papers to use for the flowers. She cut them out into leaf and flower shapes and glued them onto the sticks and a garden was created! If you have visited our website before you will know that we often combine nature and art. We combined weaving and flowers with our 
Nature Weaving Project
 and another time we focused on sensory fun with our
 Sensory Autumn Art Project
. We found a way to build in vision skills with our 
Nature Mandala activity
 and had fun with number correspondence while making 
art out of rocks and leaves
. All of these activities have the beauty of nature, spending time together, and building skills wrapped up in fantastic fun creating art. We really enjoyed making our Mixed Media art project and we hope you do, too!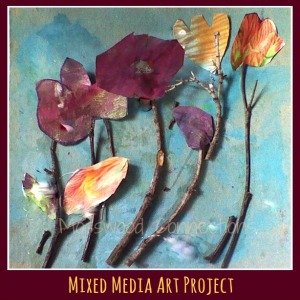 Garden of Love and Flowers