Social Skills - Connecting Children by Writing Letters
"Friendship is born at that moment when one person says to another: 'What! You too? I thought I was the only one." -C.S. Lewis
Having special needs can be lonely. To help the kids that we work with feel connected and supported we will set up kids as pen pals and encourage letter writing for kids so they can share their feelings and get some help from a friend.  We were working with two girls and the younger girl was having a hard time. We decided to spend some time introducing her to letter writing for kids and we had the two girls write letters back and forth, This helped the younger child feel like she had a friend to support her and it helped the older girl feel more confident.
This page contains affiliate links. Please visit our disclosure page for more information.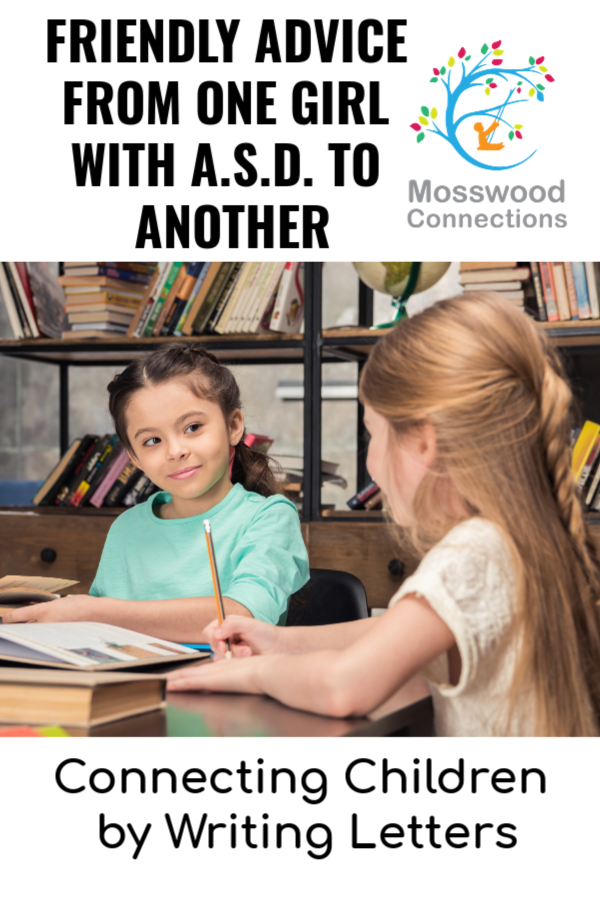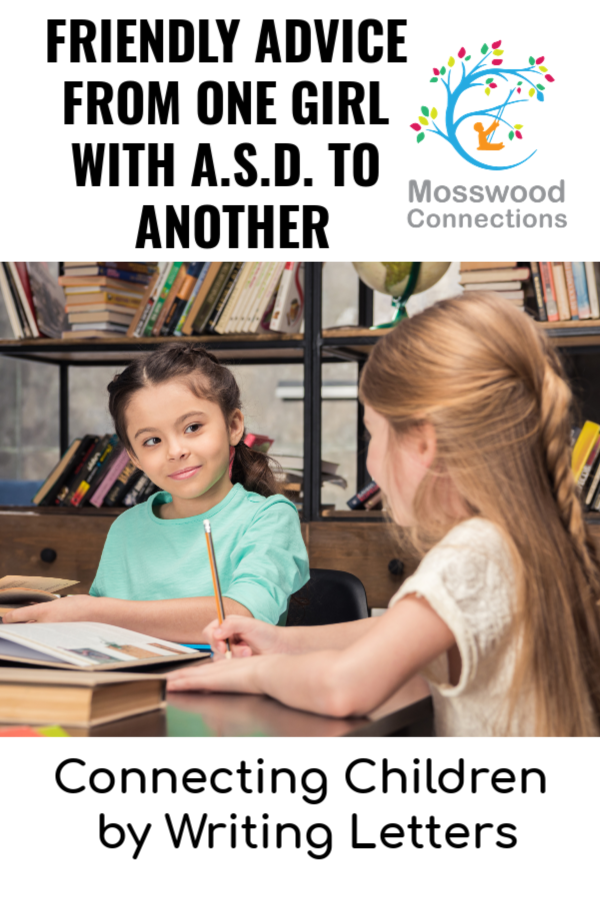 Letter writing for kids can help develop social skills and bolster self-esteem!
Our Friend, Florida Frenz wrote this letter when she was twelve. A younger girl wrote letters to Florida, asking her for advice. Florida's views on friendship reflect her perspective as a girl with autism. We thought that the advice Florida gave her was so good that we wanted to share it with you.
Everyone should read her book: How to Be Human: Diary of an Autistic Girl
.
Here is Florida's advice on friendship. (I am happy to report that Florida is now a thriving college student with a wonderful circle of friends.):
Rachel-
Some friends aren't meant to have a ton of friends. When I was your age I became quite sad when I just couldn't figure out how to be the popular girl in my group. Having a few good friends wasn't enough. Also, I wanted a very close girlfriend A.K.A a best friend, forever. Since then, I've found neither but I'm still happy. Why? With being popular there would be a sacrifice of your personal space and free time. Instead it would be filled with playdates and phone calls which in small quantities are fun, but in the quantities popular girls get are overwhelming. As for best friends forever, it's sooo nice to have a few close friends but 1 best friend forever could get boring. If you think about people as stories than you'd want a few great stories you know well, a lot of good stories you don't know as well, mixed in occasionally with a new, unknown story. If you had just 1 best friend forever than it would be like knowing 1 story so well that you could chant it in your sleep. Yet if your to popular than you hear too many stories and forget them all. It's good to have the perfect balance in the middle of those where you may not be the most popular, but you're happy.
– Florida
(Update: Since Florida wrote this letter she has made many close friendships including that elusive BFF.)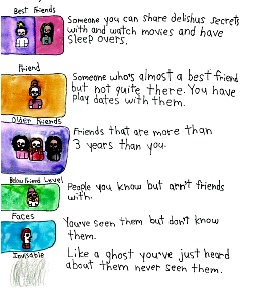 When a younger child with special needs started writing to Florida for advice on how to handle "otherness", Florida responded with some priceless recommendations based on her own experiences: 
"Dear Rachel,
When I learned I was Autistic, I cried about it for many months. It was good to know why I was different and why I had adults helping me and not other children around. Still it was sad knowing that I possessed a disability that I hadn't asked anyone for and that would make me unable to do some things for the rest of my life. It's so unfair to have to work so much harder on so many things!
Grrr! That still makes me sad and frustrated now.
The good thing is most of the time, I really don't think about having Autism now, because I realized that constantly grieving wouldn't get me anywhere and that our strengths are more important to making us successful than most of our weaknesses. Be sure to work on your weaknesses, too, though."
— Florida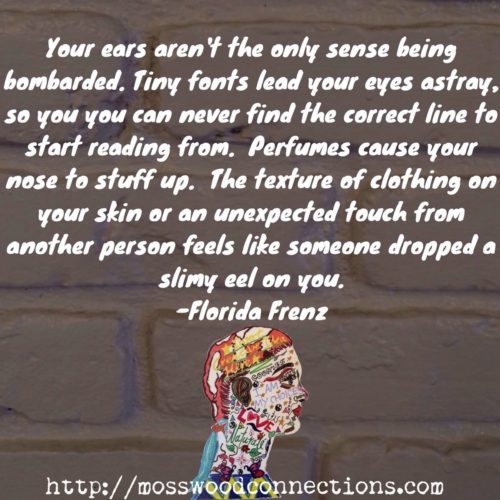 Florida gives advice on handling hurt feelings:
"Dear Rachel,
I used to get hurt feelings from people around me, but not understand they were hurt or why. Later (hours, days, weeks, even months afterwards), I would suddenly explode about something I usually could handle, and Shelah (my therapist) would guess something was up. When you're upset over something, it's even harder to process your feelings and put words to your emotions. Shelah often had to let me explain the full story and then suggest many different feelings I could have before I could say how I felt and why.
Eventually, I learned to do this for myself. The key was constantly being open and honest with myself.
Being like that takes practice, but if you work on constantly processing your feelings, then one day, you'll be able to do it on your own."
— Florida
And my personal favorite- How to distract teachers:
"Dear Rachel,
Since you asked, here's my list of Slick Tricks for Distracting Teachers:
1) THIS IS THE MOST IMPORTANT ONE!
THE CHAT BOMB!
This can work miracles when applied right. Often we use this in my English class and reduce the work period to a half hour or less! Here's how to do it.
Ask the person a complicated question, not one like, "What's your favorite color?" Because that has a simple answer. If you ask a complicated question, you'll get a complicated answer, which might inspire more questions from you which will get a conversation going. Once that happens, the chat bomb has been released.
2) THE BATHROOM
It isn't uncommon for people to spend as much as ten minutes in the bathroom, so if you just need a little break, just lie, saying you need to go. This should give you a safe ten to fifteen minutes. However, if you take twenty in the "bathroom," people will get suspicious and you'll get into trouble. Also, you can't just spend that time wandering around randomly. You need to literally walk to the bathroom and shut the stall door. People will get suspicious if they see a random kid wandering around during class time and you'll be in trouble. The bathroom technique is best used when you're upset and you don't want others to see you cry. Simply excuse yourself for the bathroom and cry behind a closed stall.
3) LOSING OR DROPPING SOMETHING
Pretend to lose something and spend a bit of time searching for it. This isn't the best or the funnest, but will still work. Also you can purposefully-accidentally-on-purpose drop your pencil and pretend that you can't reach it, no matter how hard you try. Eventually someone will come along and help you, but it's still worth a try.
Remember, these tricks are precious. Use them sparingly. You MAY get into trouble using any of the tricks above too much.
Try the Chat Bomb first."
— Florida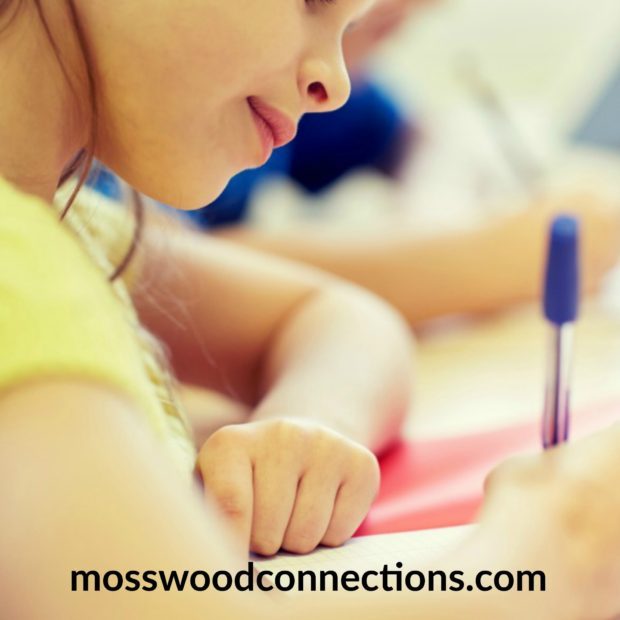 We hope your children find letter writing for kids to be a lot of fun and that it helps them to feel connected. If you need some help getting started you can visit ABCya for a Friendly Letter Writing Tool or if your kids are Arthur fans PBSKids has an Arthur themed letter writing activity.
For more information on services and resources for families affected by autism visit our Resource page.