Egg Shell Sensory Art Project
Art and Craft Projects for Kids
Using Recycled Items for Art Projects
We use a lot of eggs in our house. Most of the eggshells end up in the compost but every once in a while I put some aside to use for crafts. I was thinking of doing an art project with one of "my kids". I wanted to combine sensory and fine motor and fun. I had gone through lots of different sensory materials with this child but I hadn't explored crunching eggshells yet so I figured that I would give this a try. I was happily surprised by how well it went.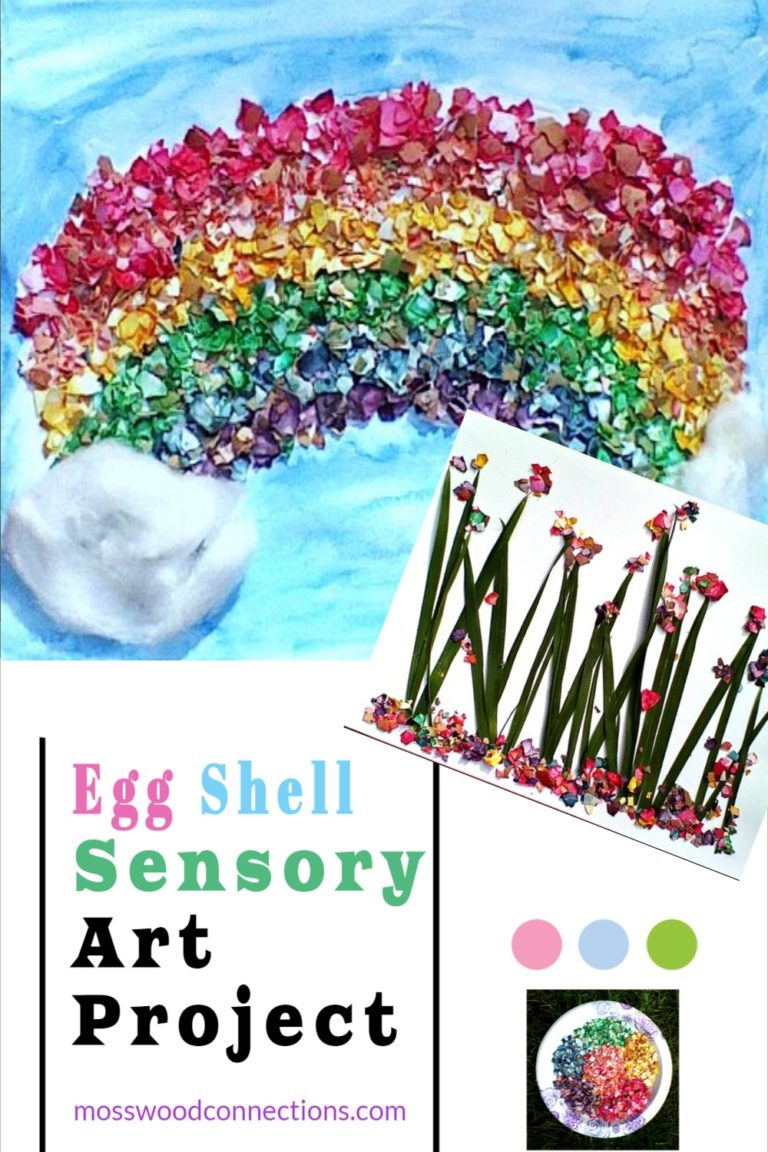 This Egg Shell Sensory Art Project turned out to be even more fun than I thought it would be.
Crunching up the eggshells turned out to be a fabulous new sensory experience. I think that the dyed eggshells are prettier than sequins and a much more natural art material. The other benefit of this art project is that it is completely compostable. We had a few pictures that we did not want to keep so we buried them in the compost heap.
This page contains affiliate links. Please visit our disclosure page for more information.
Target Skills for the Egg Shell Sensory Art Project:
Sensory
Hand-eye coordination
Fine Motor
Color recognition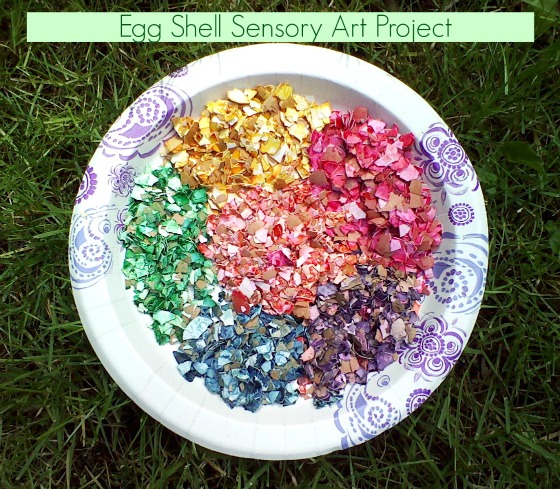 Materials You Will Need for the Egg Shell Sensory Art Project:
Egg Shells (We saved all our eggshells but in the future, I would save just the white ones.)
Ziploc Bags
 Glue
Sturdy Paper
Food Colors & Egg Dye
Embellishments or decorations. We used grass for the flower stems and cotton balls for the clouds.
Instructions for Egg Shell Sensory Art Project:
Save all your broken eggshells. A couple of dozen eggshells will do the trick, but more is better.
This step is optional: dye your eggshells different colors by soaking them in food coloring. Allow the eggshells time to dry.
Put the eggshells into the Ziploc bags and have the kids crunch them up. Warning: this can be addicting; it feels really cool to crunch the shells. It's a super sensory activity!
Take the eggshells, put them in a bowl, give your child glue and paper and let them create their own eggshell sensory art project.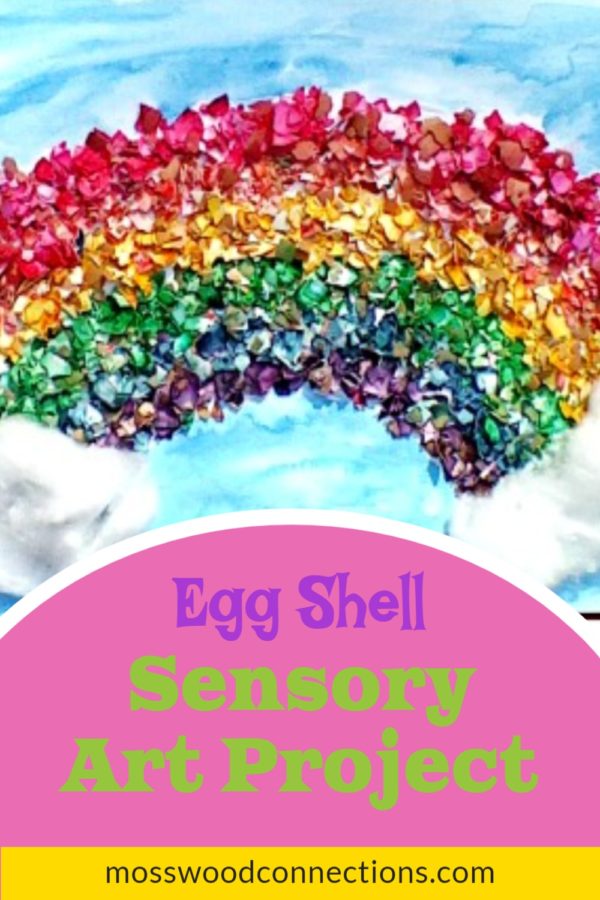 Ideas to extend this sensory art activity:
Draw colors on the paper have the child match the colors with the colored shells.
Draw a figure, heart, circle, house, etc. and have your child fill it with the egg shells.
Draw some letters and fill the letters with the crushed shells. Trace the eggshell letters for a sensory learning experience.