Decorated Gift Jars Kid-Made DIY Gift
Art and Craft Projects for Kids
People love receiving homemade gifts!
We love making this Kid-made DIY gift for so many reasons.
Anytime that we can hang out with kids joyfully creating and learning is a happy time for us. The bonus at the end of this craft project is that the children will have beautiful Decorated Gift Jars for someone in their life. The decorated gift jars are easy to personalize for those special people in your life.
This page contains affiliate links. Please visit our disclosure page for more information.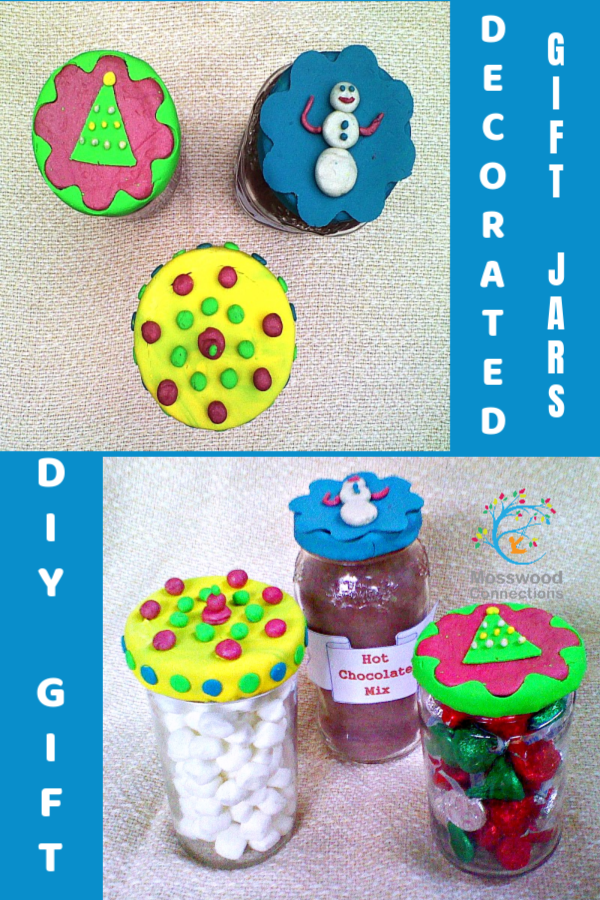 Target Skills for Decorated Gift Jars:
Fine Motor
Perspective Taking (Thinking of others)
Creativity
Materials Decorated Gift Jars:
Oven Bake Clay (We used Sculpey) If you want to make your own clay, here are 3 recipes.
Play Dough or Pottery tools like shape cutters, roller, etc.
Jars with Lids
Baking Tray lined with Foil or Waxed Paper.
Treats or Objects to Fill the Jar.
Instructions for Decorated Gift Jars:
Remove the lids from the jars.
Roll out a sheet of the clay to cover the outside of the lid. Make sure not to wrap any of the clay on the inside of the lid as it may not be able to fit back onto the jar if you do. Cut off excess clay.
Decorate with different colors and shapes.
Make sure that when you add another piece of clay that it adheres to the first layer, otherwise it may fall off after cooking.
For 3-D structures, you can use a toothpick stuck through the middle of the shapes to make sure they are stable.
Bake in the oven at 225° Fahrenheit or 107° Celsius for 20 minutes. If you prefer not to bake the clay you can allow the clay to air dry in a warm place for 24 hours.
Fill the decorated gift jars with objects or treats.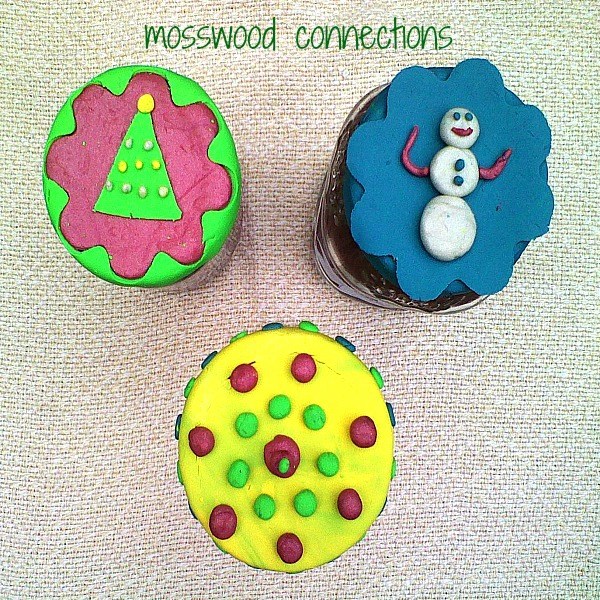 Teaching Children to Think About Others by making an Easy Kid-made DIY gift
This is where perspective taking comes in. Have the children talk about the person who will receive the gift. What would they like? Honestly, the teacher probably does not need more candy but perhaps they would like a jar of specialty coffee.
Here are some ideas for what you could fill your decorated gift jars with:
Paperclips. Aren't they always handy to have around?
Chia Seeds for that person who likes healthy treats.
Wildflower Seeds for the person who likes to garden.
Love Notes.
Ingredients for a Treat. For example, you could fill a jar with the dry ingredients needed for making pancakes and put maple syrup in another jar.
Potpourri.  How to Make Potpourri.