Back to Back and Ear to Ear
Auditory Processing
A Language and Listening Game
Want to help children hone their listening and following directions skills? Well, grab some kids and have fun with this language and listening game. We are always looking for ways to build language and listening skills and this simple game has a bunch of skills packed into it.
This post contains affiliate links. Please visit our disclosure page for more information.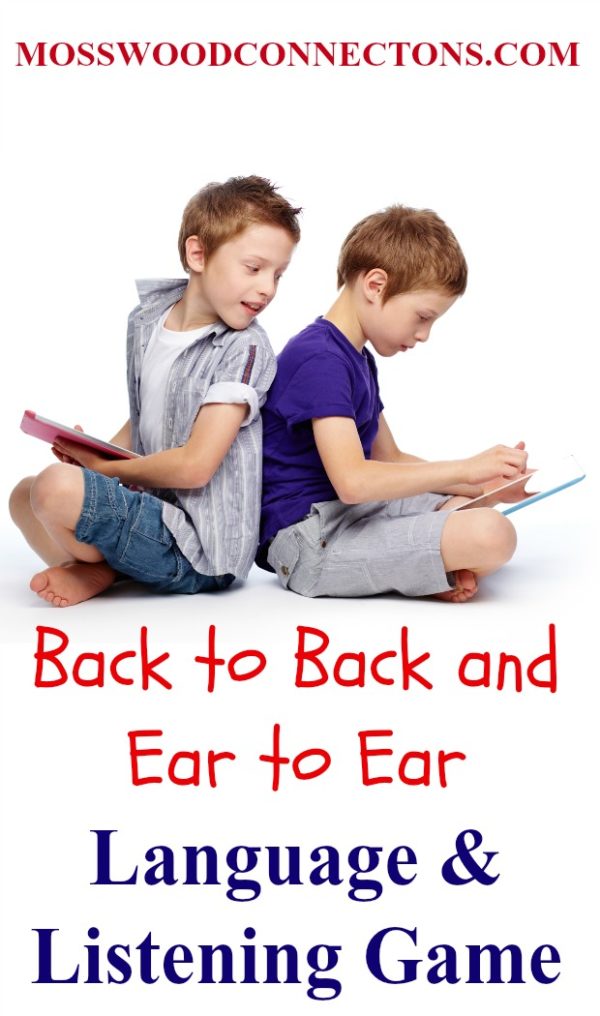 Back to Back, Ear to Ear; Language and Listening Game
We have shared this language and listening game with a few parents and therapists and they have all reported back that not only was it fun, but it was also effective in helping the children make progress with the target skills. It is easy to modify to work on a variety of skills.
Target Skills for Back to Back, Ear to Ear; Language and Listening Game:
Following directions
Fine motor (Drawing and cutting)
Directionality
Prepositions
Communication skills
Joint Attention
Auditory Processing
Materials for Back to Back, Ear to Ear; Language and Listening Game:
2 sheets of paper
Pairs of geometric shapes in different colors.
Scissors
Crayons or markers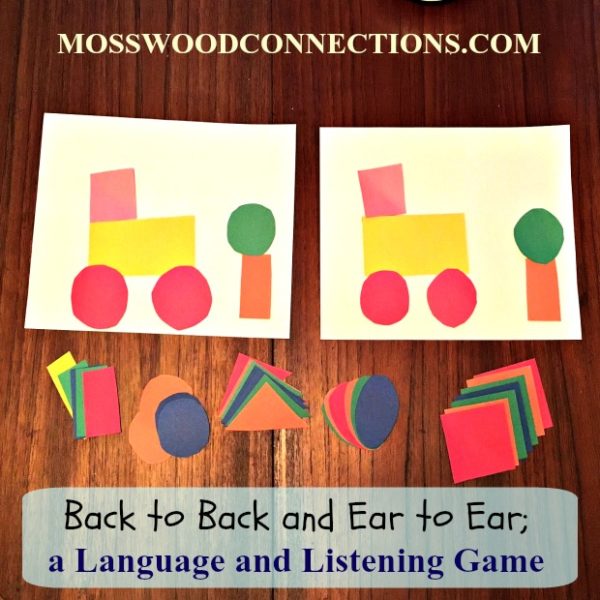 Instructions for Back to Back, Ear to Ear; Language and Listening Game:
Players sit back to back for this game, facing away from each other.
Place a sheet of paper on the ground in front of each player as well as a set of shapes. The first player places a shape somewhere on the page and calls out the location for the other player. For example: "Put a small red square in the upper right-hand corner."
Now it's the other players turn to choose and call out instructions.
After a few turns, players compare their masterpieces to see how well they match up.
Seeing how the kids processed directions will give you good information. You can see if they are understanding or struggling with auditory processing, prepositions, descriptive words, or directionality. Here is an example where one child was having a difficult time with directionality.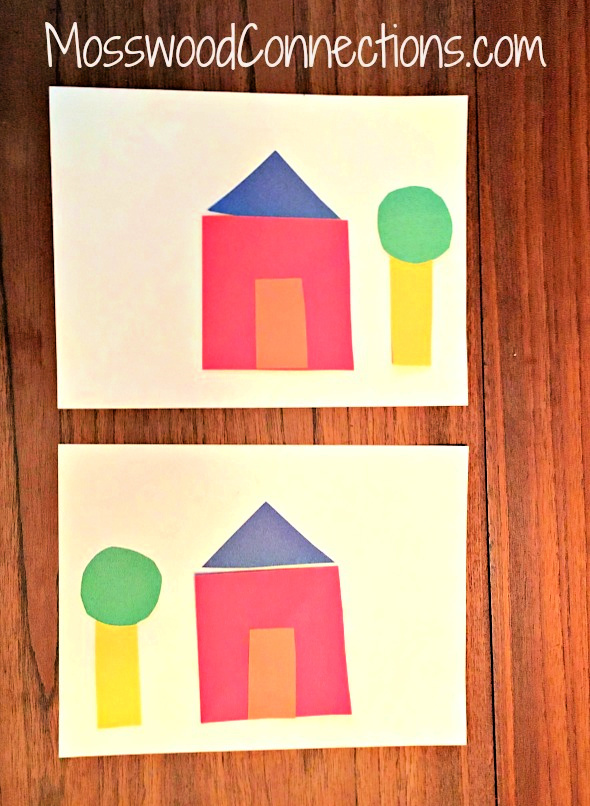 Variations for more listening and language practice:
Use the same shape but with different attributes so that the players need to use adjectives to recognize and describe the correct shape. For example, place the BIG RED square on the bottom right corner.
Make the object of the game to create a picture with the shapes. That way it brings cooperation into the game.
Give 2 – 3 directions at a time.
Take turns telling a story about the picture that was made.
Have the child draw and cut out the shapes for more fine motor practice.
More Fun activities for practicing language and listening!