Aromatic Ornaments Project
Sensory Activities for Kids
This Aromatic Ornaments project is a sensory experience for the hands and the nose.
Kids will love to mush, pound, and roll the dough. It is even better when what they are mushing, pounding, and rolling also smells good. These Aromatic Ornaments keep their perfume for quite a while.
If you are sensitive to smell, then the salt dough ornaments would be the project for you. But if you love walking into your home and being greeted by the smell of apples and cinnamon then this is the perfect project for you.
This post contains affiliate links. Please visit our disclosure page for more information.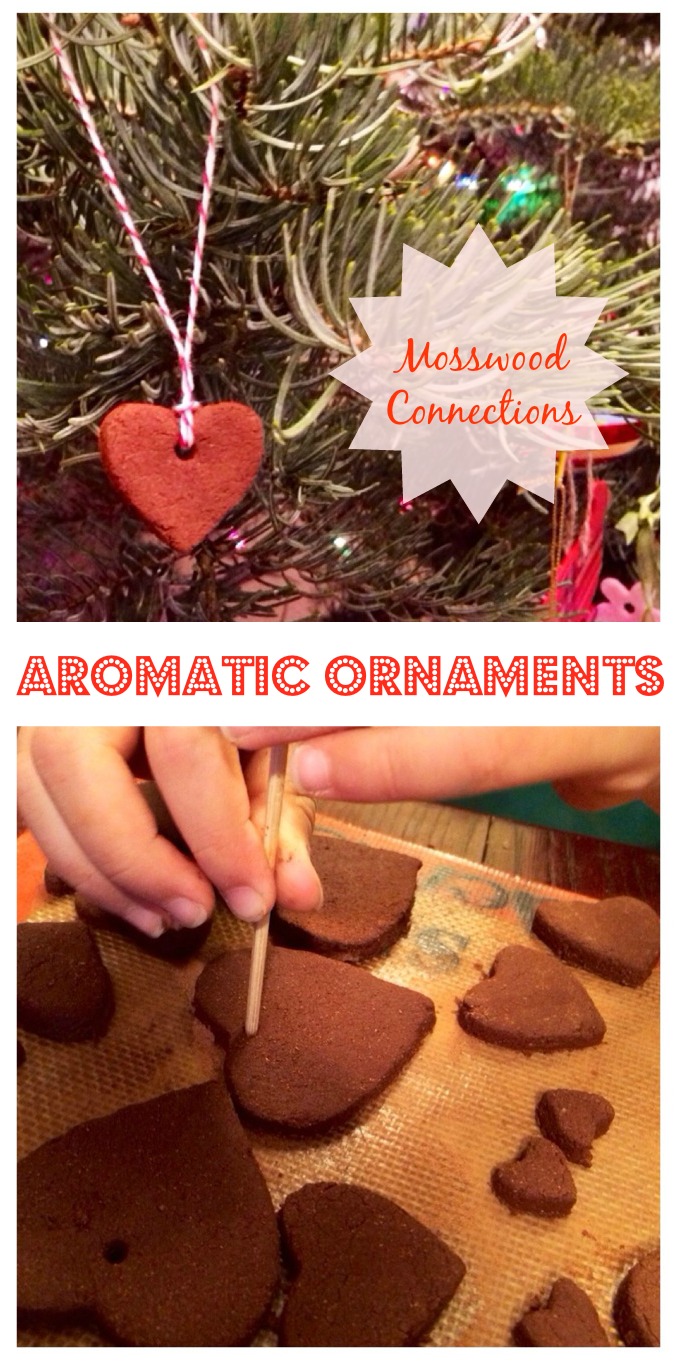 What You Need to Make Aromatic Ornaments:
Materials for Aromatic Ornaments:
2 cups applesauce
2 cups cinnamon (We get ours from the bulk store.)
Baking sheet
Cookie Cutters
Skewer or straw
1 TBS Glue (Optional)
Instructions for Aromatic Ornaments:
Preheat oven to 200°F.
Mix applesauce, cinnamon, and glue in a small bowl until a smooth ball of dough is formed. (That's the real fun part for the kids!)
Using about 1/4 of the dough at a time, roll dough to 1/4–inch to 1/3–inch thickness between two sheets of plastic wrap. Peel off top sheet of plastic wrap.
Cut dough into desired shapes with 2–to 3–inch cookie cutters.
Make a hole at top of ornament with a drinking straw or skewer.
Place ornaments gently onto a baking sheet
Bake 2 1/2 hours. Cool ornaments on a wire rack. (Or, to dry ornaments at room temperature, carefully place them on a wire rack. Let stand 1 to 2 days or until thoroughly dry, turning occasionally.)
Insert ribbon through holes and tie to hang.
Decorate the Aromatic Ornaments with opaque paint markers, found in arts and crafts stores, if desired.
While these aromatic ornaments make me think of the holidays there are so many other times that you can use them. Tie them on to give your wrapped gift a finishing touch. Use letter-shaped cookie cutters to spell names. Give them to people to use as car fresheners.