Make a Paper Salad
Art and Craft Projects for Kids
Practice Fine Motor and Scissor Skills
The other day, while I was making dinner, my little one asked if he could help. Normally, I like to involve the kids in cooking but this evening we had a lot to do and I knew that his "help" might slow down the process. So I gave him some paper, scissors and asked him to make us a salad. Watching him tear, cut and create, I realized how much fun he was having using these basic skills. So of course, I used it in a therapy session to work on fine motor skills and creativity. It would also be a fun way to use up paper scraps in a preschool.
Make a Paper Salad & Practice Fine Motor and Scissor Skills
I am always amazed at how the simplest things can interest and enchant children. Because I presented this fine motor and scissor skills activity as a way to spend time with me while I was cooking in the kitchen it helped my son feel included in what I was doing.
This page contains affiliate links. Please visit our disclosure page for more information.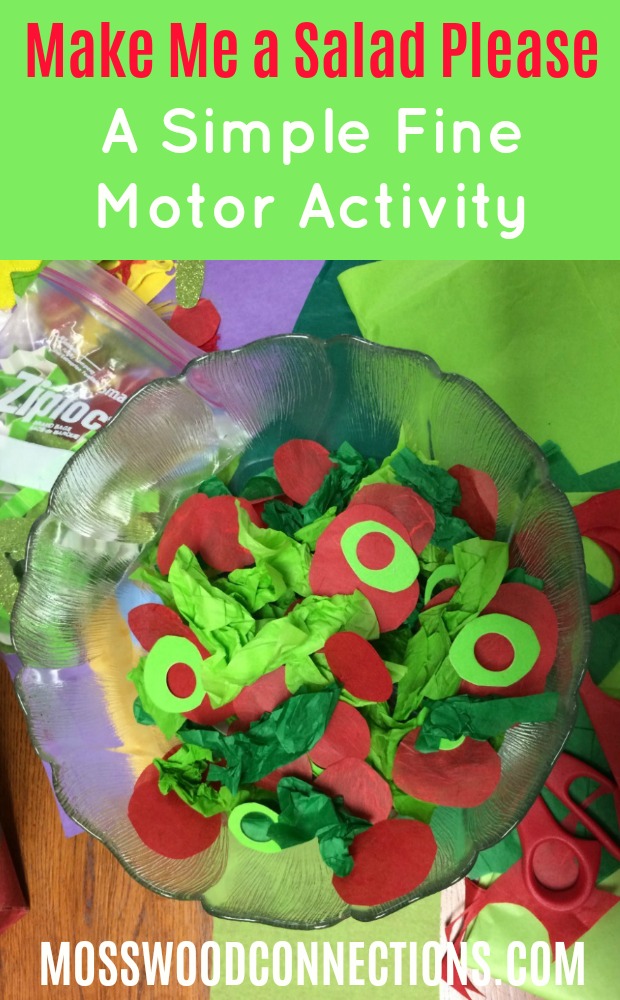 What can children learn with this fine motor and scissor skills activity?
The more exposure children have to age-appropriate art or craft projects the more they integrate and generalize skills. As children's fine motor and scissor skills improve they become more comfortable with making things with their hands. As they create and construct they learn visual-spatial skills, they begin to connect what they have learned and use it to solve problems. A simple activity like making a paper salad can become a complex chain of learning for a child.
Materials You Need to make a Paper Salad:
Bowl
Construction and Tissue Paper
Scissors
Instructions for this simple fine motor and scissor skills:
Give each child their own bowl. Have them cut out the shapes of the vegetable that they want in their salad. Tear pieces of tissue paper and crumple them up for the lettuce. To extend the activity: Ask them what letters the vegetables start with. Suggest unexpected items for their salads. Have them serve their salads to each other. Have them make each other salads based on what the other person likes.