Magnet Stencils
Art and Craft Projects for Kids
An Easy Drawing Activity for Fine Motor Fun
Make some Magnet Stencils and watch the kids create refrigerator art with this easy drawing activity!!
Recently I started working with four-year-old twins. Now, raising one four-year-old is consuming, raising twins requires even more energy, but when you add on a diagnosis of autism, keeping up with the needs of twins becomes challenging. (To put it lightly.) Early intervention is critical for children with special needs and exposure to learning through play benefits all children. I am trying to think of activities that can be available for the twins while the mother is busy doing her mother things. The idea for this easy drawing activity came to mind because I want to encourage the twins to draw.
This page contains affiliate links. Please visit our disclosure page for more information.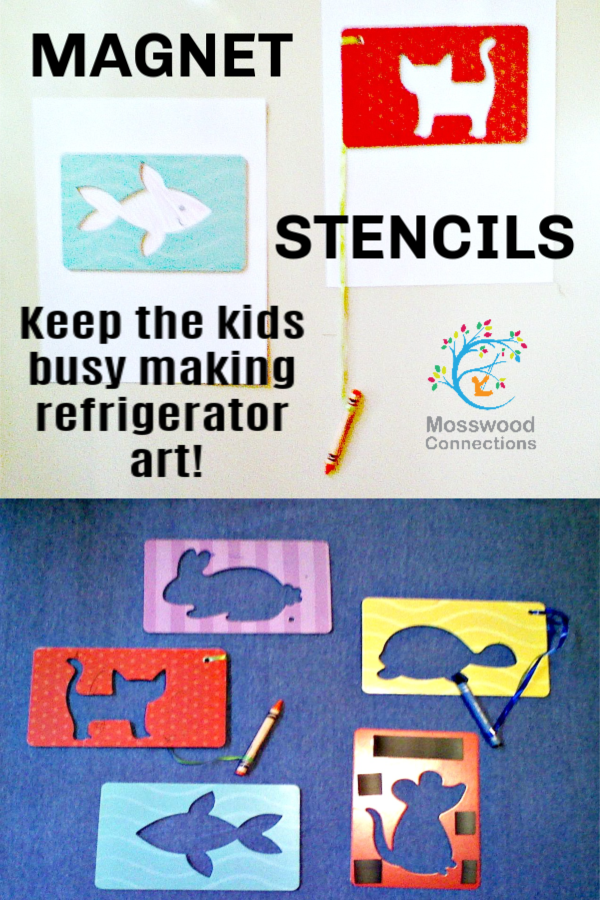 MAGNET STENCILS: An Easy Drawing Activity for Fine Motor Fun
Materials for Magnet Stencils:
With the magnets on the stencils, you can use them on any magnetic surface. This will help keep the stencils in place. When you put them on a vertical surface like the refrigerator you naturally force the child's hand and arm to be held in a proper writing position. That is why having young kids draw on easels is a great way to introduce drawing and writing.
By putting the magnet stencils on the refrigerator you are literally enticing children to keep busy drawing while you are busy cooking or cleaning. It gives a whole new meaning to the term "Refrigerator Art".
Instructions for Magnet Stencils:
You can cut out your own stencils from a stiff piece of cardstock. We found a great pack of stencils from the dollar store so we used those.
We used magnet tape and taped it onto the back of the stencils but you can use any magnets that you have available and glue them on the back of the stencil.
Since this easy drawing activity is designed for busy parents I punched a hole through the stencils and tied a crayon to the stencil. I also taped the ribbon on for extra security. That way tots can't take the crayons and color on the wall as soon as mom or dad's back is turned.
Simply take a piece of paper, hold it on to a magnetic surface. Put the stencil on top of the paper and it's ready for the budding artists.
Extending this easy drawing activity:
Have the child tell stories about their picture.
Use some stencils of simple shapes and have them combine the shapes to make simple pictures.
Use stencils of letters and matching pictures. For example, have a "D" stencil and a dog stencil paired together.