Does Your Child Want to be Published?
Writing!
"If there's a book that you want to read, but it hasn't been written yet, then you must write it." – Toni Morrison
Is your child a budding writer? Are they looking for Literary Magazines and Publications Where Children and Teens can Submit Their Writing? Here is a resource for the young authors in your family or classroom.
This post contains affiliate links. Please visit our disclosure page for more information.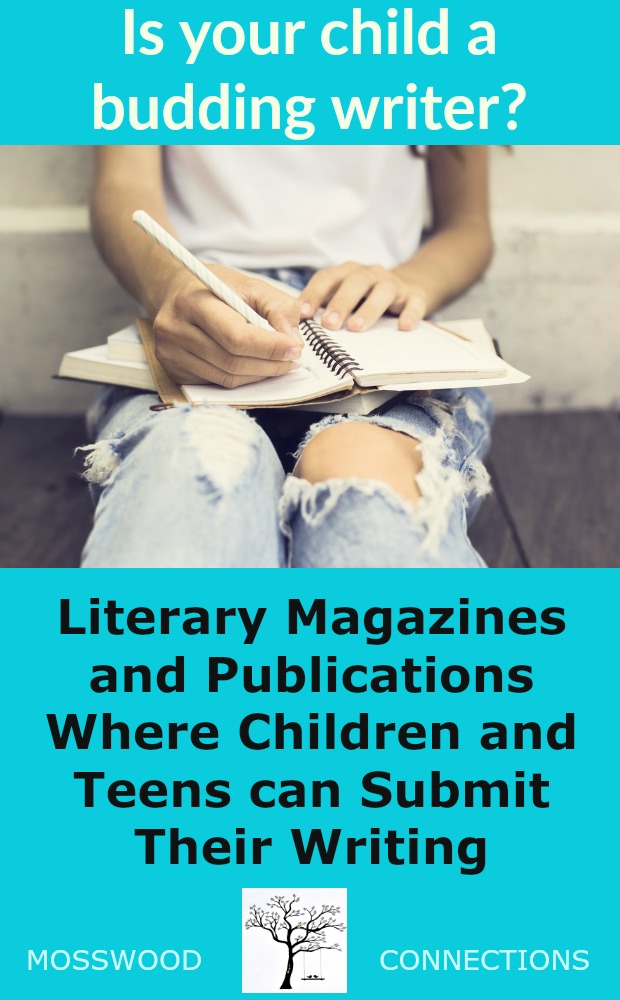 What Students Should Know About Publications Where Children and Teens can Submit Their Writing
It's always a good idea to familiarize yourself with the publications where children and teens can submit their writing first. Some publications will have a feel to them that may appeal to you and your style of writing. Other publications have a certain demographic they are looking for, like a magazine for girls or a publication that focuses on fantasy or science fiction. It's a lot of work to write something and submit it for publication so it's a good idea to explore whether the site you are submitting to is a good fit for your work.
Edit! Edit! Edit! Many beginning writers may not realize just how much editing is needed before publishing. It's a good idea to read and re-read your work. Use all the writing and editing strategies that you have learned. Ask people of different ages to read your work and listen to their feedback.
Be Strong and Confident! Realize that most publications have plenty of submissions and they cannot accept everyone. Rejection is common, but don't let that stop you. A rejection does not mean that you are a bad writer. Learn from it. And keep creating.
The List of Where Children and Teens can Submit Their Writing
Canvas Literary Journal is an online publication run by teens and for teens. They accept submissions for writing and art.
Cicada Magazine is an online publication that features young writers. "CICADA is a YA lit/comics magazine fascinated with the lyric and strange and committed to work that speaks to teens' truths. We publish poetry, realistic and genre fic, essay, and comics by adults and teens."
The Clairemont Review is an international publication that accepts submissions from teens ages 13-19.
Launch Pad Magazine publishes stories, art, poetry, nonfiction, and book reviews by kids ages 6 – 14. One of the benefits of Launch Pad is that they will match authors and artists together to collaborate. Their publication is truly vibrant and fun.
Magic Dragon Magazine is a quarterly publication for kids and teens. "Magic Dragon, a quarterly publication, presents writing and art created by children in the elementary school grades in a magazine of quality four-color printing and graphic display."
New Moon Girls is a girl's magazine and online community for girls. They have themes for their submission periods where girls 8-19 can submit their work.
One Teen Story is a quarterly magazine that is both online and in print. They accept submissions from teens 13-19.
Skipping Stones accepts submissions from both youth and adults. They are a multicultural, eco-friendly publication. In fact, their magazine is printed on a soy based paper product. They say this: "Awakening to our global interdependence challenges us to understand and appreciate differences, realizing the potential inherent in diversity."
Stone Soup is a popular magazine that has been around for 40 years or more and is a favorite among kids all over the world. This magazine is geared for younger children and accepts submissions from children up to 13 years of age.
Teen Ink has a magazine, website, & books written by teens. They are one of the few publications that also accepts video submissions. It has a slicker profile than many of the other sites and is sure to appeal to teens.
More resources where you can find contests and publications where children and teens can submit their writing.
AeroGramme Writer's Studio has a list of 10 Publication Opportunities for Young Writers
Karen Krossing has a list that was updated in February 2017 of places where young authors can submit their writing for a contest or publication.
National Writing Project has a collection of online publishing opportunities for student writing.
New Pages Young Authors Guide has a list of places where young writers can find print and online literary magazines to publish their own works as well as contests for young writers and artists.