Forest Wreath
Art and Craft Projects for Kids
A Simple Nature Art Project
Anytime that we can combine nature, art and skill building we feel happy. Being out in nature clears the mind and bringing nature into the home reminds us of that feeling. This forest wreath is a simple art project that kids can be proud to hang on the wall to enjoy for many years.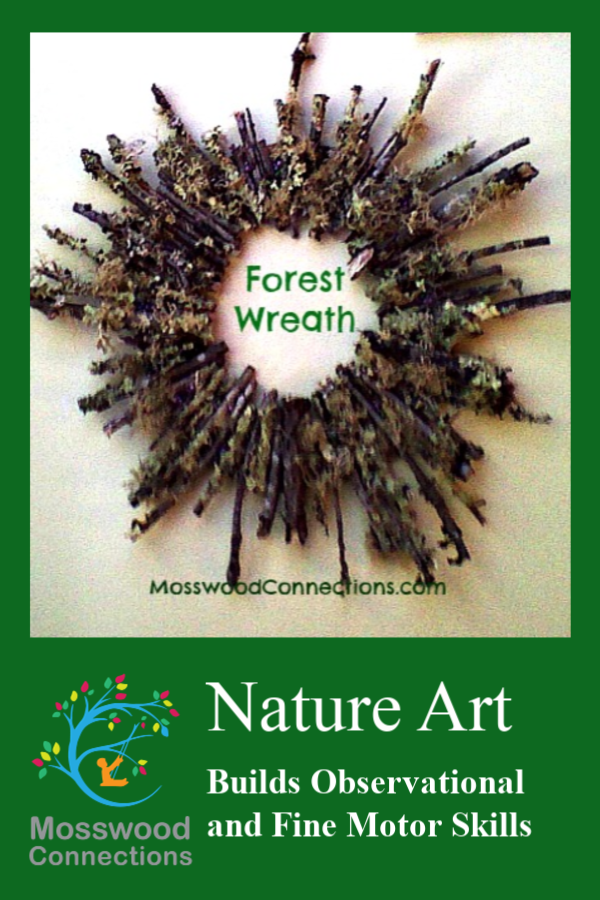 Forest Wreath; A Simple Nature Art Project
This page contains affiliate links. Please visit our disclosure page for more information.
This deceptively simple nature art activity is packed with skills. Gathering and collecting the sticks exercises hand strength and finger isolation. Arranging the sticks in a circle will actually help to encourage neurological development. Being able to draw or make a radius around a circle is a developmental milestone. One of the ways that we determine how a child is developing is to see how they draw the sun. If the rays are all squished on one side that tells us that we need to work on crossing midline. It is not a cause for worry, every child develops at their own pace, rather it is just another way to learn more information at what stage your child is at. There are four stages of drawing and writing that you may see as your child grows from 15 months to 3 years old. By offering children fun experiences with a variety of art and writing materials, you will see them progress over time.
Instructions on to Make a Forest Wreath:
1) If you do not have a wreath ring you can cut one out of stiff cardboard.
2) Go for a nature walk and collect sticks. This is a good time to tell a story to enhance language skills. You can also turn collecting sticks into a vision game. Have one person be the "spotter" and direct the other person where to go to collect the stick. Use it as a math game by working on counting skills or working on simple division: "If we break one stick into 4 pieces, how many pieces would 2 sticks make?
3) Break the sticks into smaller pieces. You can sort the pieces by size to work on categories. You can work on patterning by gluing the sticks in order of size, then repeat.
4) Apply a good amount of glue onto the cardboard circle. Apply the sticks and allow to dry.
. . .and Tadah! You have made a beautiful Forest Wreath art project. Simple and beautiful.