CHALKBOARD CROWNS
Fine Motor
HANDWRITING ACTIVITY
This is a fun handwriting activity that incorporates fine motor skills with creativity while re-purposing otherwise forgotten items.
Yesterday was a magical day at a pumpkin patch deep in the agricultural region of our area. The kids had a great time exploring the corn maze, feeding goats and catapulting rotten pumpkins. But alas, all great things must come to an end. On our hour-long journey back home, my little one announced that he needed to make a restroom stop. We stopped at Burger King and although I avoid processed foods, I gave in and got L an order of fries. The cashier gave L a couple of those cool cardboard crowns to which he responded, "Cool!". After the kids were done wearing their crowns for a couple of hours I was ready to throw them into the trash and then thought better of it and decided to create a fun handwriting activity. So we spray painted the crowns with chalk paint and decorated them with wet chalk markers.
This post contains affiliate links. Please visit our disclosure page for more information.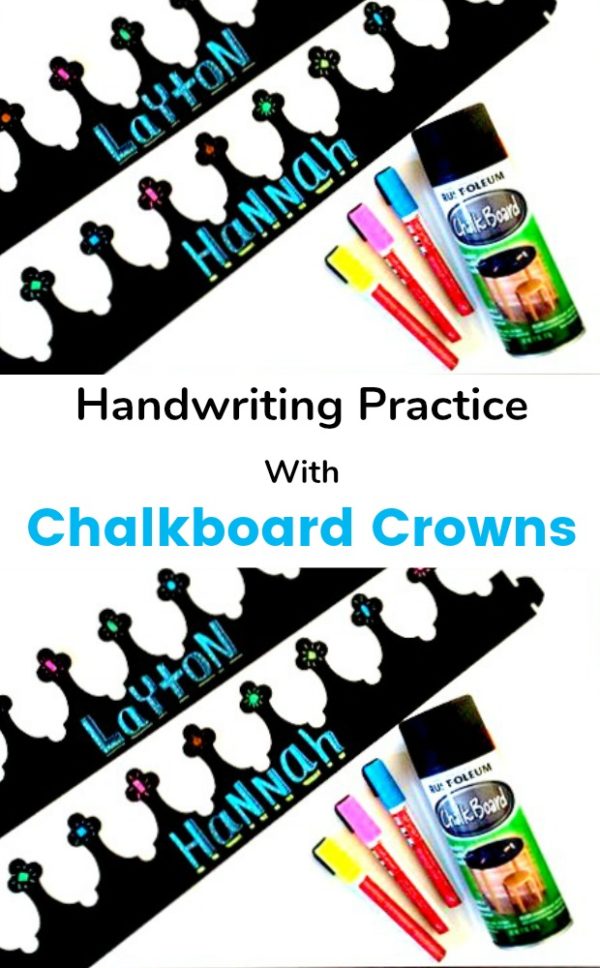 Materials You Need to Repurpose Crown into a Handwriting Activity:
Objectives: Repurposing items, Encouraging Creativity, Handwriting Practice
Easy Instructions:
Spray the Paper Crowns
 with the Chalkboard Spray Paint
, allow time for them to dry. Decorate with the Liquid Chalk Markers
.
Games to Play With Your Chalkboard Crowns:
Make your own "Hedbandz" game. Make a few crowns. Have the kids draw a picture or write a word on the crown. Then mix up the crowns and pass them out. Have the kids give clues to each other about what they see on each other's crowns.
Pair two kids together and have them sit across from each other. Without telling what they see have them duplicate the word or drawing they see on their partners crown on a piece of paper.
Rhyme time: Have the kids write a word on their crown and then come up with rhyming words.
Sentence Time: Write words on each crown that together would make a sentence. Have the kids arrange themselves in a line to make a proper sentence.
Categories: If you have a group of kids have them write a word or draw a picture. Then put on the crowns and have them group together in their categories.
I think they came out great and I'm excited to see where L's imagination will take him with the new and improved Burger King crowns. He had lots of fun writing and drawing on them with chalk. He thought he was playing. There was no need to tell him that this is a handwriting activity. 

What forgotten treasure do you have in your house waiting to be repurposed?