Exploring Owls Art Project and Learning Unit
Art and Craft Projects for Kids
We have been having fun exploring owls and creating an owl art project and a learning unit for young children.
This page contains affiliate links. Please visit our disclosure page for more information.
Owls are a favorite animal with the younger set. After all, they are pretty cute and the way they silently fly and rotate their heads is amazing. Since the kids were interested in owls we decided to have fun learning all about them and making an owl art project.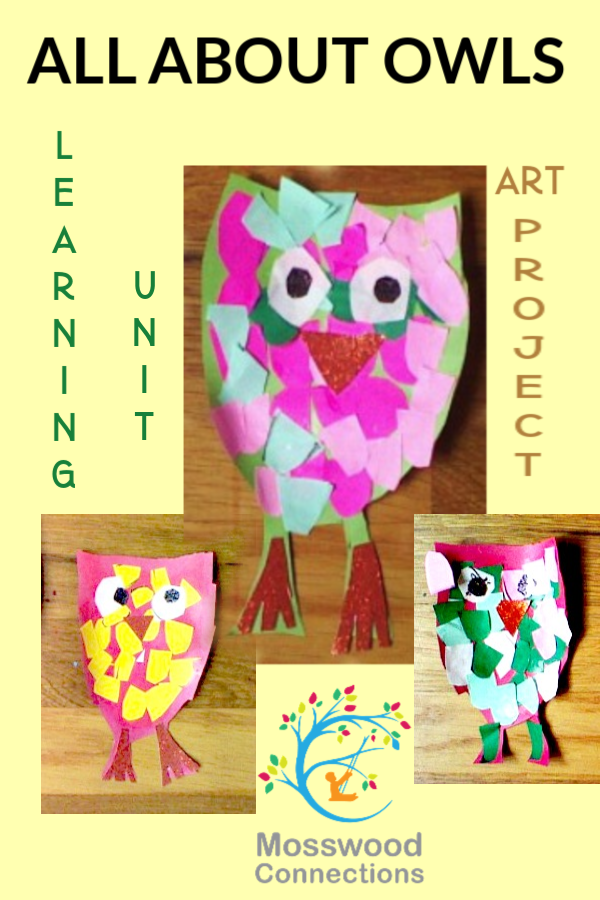 Read some books about owls!
First, we read some books. Some of our favorites are
The Littlest Owl
- "...the perfect story for any child who is a little nervous about venturing too far from home."
Owl Babies
- "A tender tale to remind the youngest of children that Mommy always comes back."
Owl Moon
by Jane Yolan - "a gentle, poetic story that lovingly depicts the special companionship of a young child and her father as well as humankind's close relationship to the natural world."
Dissect Owl Pellets
When my daughter was in third grade her teacher had the children dissect owl pellets. It was an amazing (it seems gross, but the pellets are sanitized first) experience for her and she learned so much from this hands-on learning activity. Kid World Citizen created a fantastic hands-on learning unit all about owls that explains how your kids can learn from dissecting owl pellets.
More Ways to Explore Owls
Introduce the children to doing research.
We also did some Research for Kids online. We found some great sites for exploring owls. We learned about the Great Horned Library at the San Diego Zoo. We found some great information on Snowy Owls at National Geographic. But my favorite virtual field trip was to was to the Barn Owl Trust. They have a wealth of information about Barn Owls and a variety of activities and resources for kids. They inspired us to look into having our own owl nesting box. Then it was time to do an owl art project.
Make an Owl Art Project!
Paint the canvas. Try to stick with monochromatic colors. We used green and white to make different shades of green. Allow the canvas time to dry.
Draw an owl on the colored paper or download our Owl Template and have the kids trace that.
Have the kids cut out the owl body and the different owl body parts.
Glue the feathers, beaks, wings, eyes onto the owl body. Extend the activity by putting numbers on the feathers and have the kids glue them on in order, make the feathers different colors and have the kids make a pattern. Allow time for the art project to dry.
Use the Modge Podge to adhere the owls to the canvas. Cover the surface with the mod podge to make a "lacquered" finish. We used white glue because we didn't have mod podge around.
Tell a story about your owl art project! Act it out!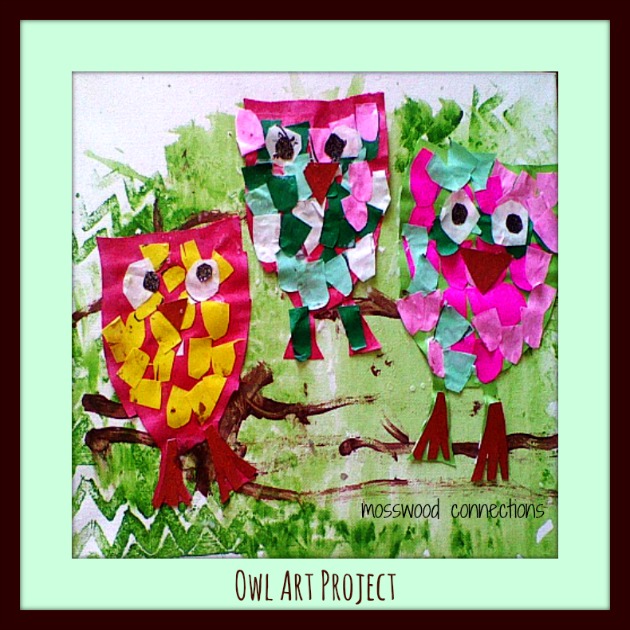 Owl Art Project