Edible Art
Art and Craft Projects for Kids
Who says that you shouldn't play with your food?
Not us! We love coming up with fun snack ideas and using our imagination.
This an easy, fun snack idea for kids. If you want, you can use green frosting and read the book Green Eggs and Ham.
This page contains affiliate links. Please visit our disclosure page for more information.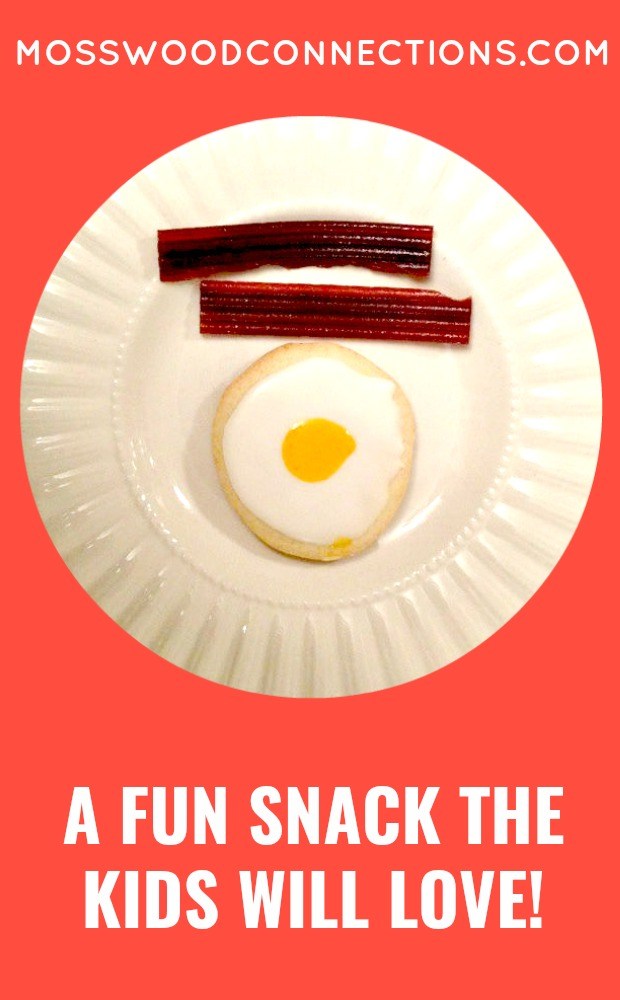 Ingredients you need to make this fun snack for kids:
Fruit Leather
Sugar Cookies (Gluten free recipe below)
White Frosting
Yellow Frosting
Easy Instructions on How to Make Our Eggs and Bacon Sweet Treat
First, make the sugar cookies. We included a gluten-free recipe for our food allergy sensitive friends.
Then, spread the white frosting on the cookie. Apply a circle of the yellow frosting for the yolk. Put a few strips of fruit leather on the side and Ta-Da! You have made edible art!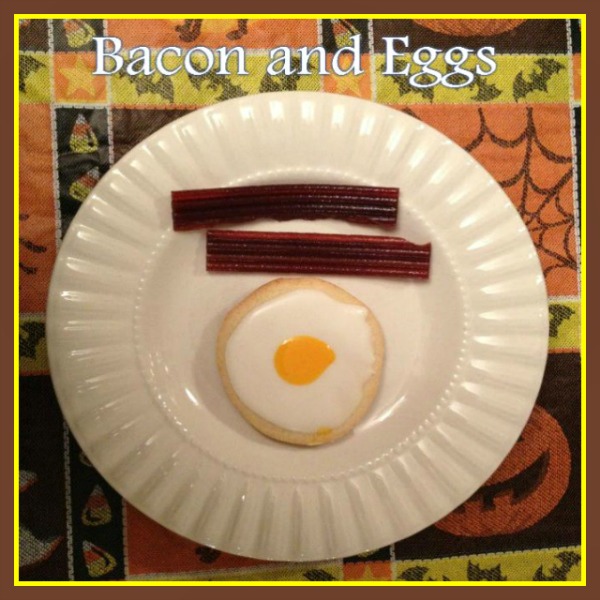 Bacon-and-Egg Cookie-Snack
Gluten Free Sugar Cookie Recipe
Yields: about two dozen cookies depending on the size of cutters used.
Ingredients
1 cup of sugar
½ cup of butter softened
1 large egg
1 tablespoon water or milk
1½ teaspoons vanilla
¼ teaspoon salt
¼ teaspoon of cinnamon (optional)
½ teaspoon of xanthan gum (omit if your all-purpose flour has it)
2 cups of gluten-free all-purpose flour (Plus a little bit more for rolling/dusting)
Instructions
In a large bowl, cream butter & sugar at medium speed.
Add egg, water or milk, vanilla, salt, and cinnamon (optional). Blend until mixed well.
Add xanthan gum and flour. Mix at a low speed until well combined.
Cover and refrigerate for at least one hour.
Preheat oven to 350 degrees.
Roll out dough onto a lightly floured surface, about ¼" thick.
Cut out with selected cookie cutters and place on baking sheet. Make sure cookies are not touching.
Reform and roll out scrap dough, then continue cutting more cookies.
Bake 10-12 minutes. Remove from oven and let cookies cool five minutes on cookie sheet before removing to a cooling rack. Cool completely before decorating.
Store in an airtight container for up to 5 days.
Not all gluten-free flours are the same. Refrigeration is a must, otherwise, your dough will be too sticky to roll and cookies will spread. If you roll out your dough and it's too sticky to "pick up", put it back in the fridge prior to cutting.
You will get a great reaction to this Fun Snack idea for kids!