Easy Tie Dye T-Shirts
Art and Craft Projects for Kids
Easy Tie Dye T-Shirts make us think of summer camp. Tying string or rubber bands on a t-shirt. Then we would dip them into buckets of dye. Then the camp counselors would hang them up to dry. A plethora of t-shirts flying in the wind was a cheery sight. Now we have another method to get the same effect of tie-dye without the mess and bother.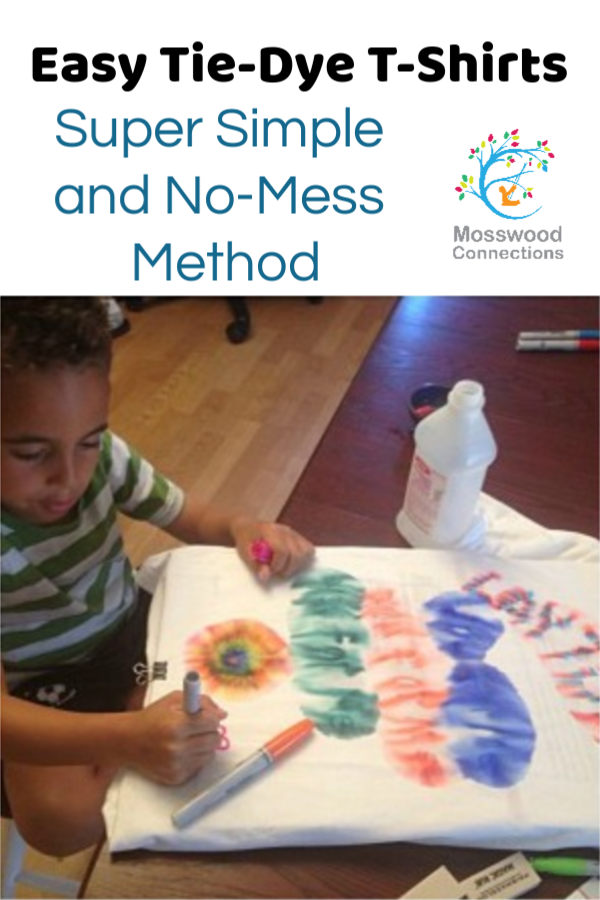 Easy Tie-Dye T-Shirts; Super Simple and No-Mess Method
Easy Tie Dye T-shirts are a fun and easy group art project. One of the most important things to instill in our children is a feeling of social connection. Once your child has learned to communicate, to take turns and to co-regulate, it is important to experience shared enjoyment. Play dates are a wonderful way to build social connections. For the child that is easily overwhelmed, you can keep the group small and the length of time short. This activity is fun for most kids and easy to do. After they have made their creations they can wear them and remember how fun it was to be with their friends. This activity has the added benefit of working on fine motor skills,
This page contains affiliate links. Please visit our disclosure page for more information.
Target Skills for Easy Tie Dye T-Shirts:
Shared enjoyment
Fine motor
Materials You Need to Make Your Own Awesome Tie Dye T-Shirts:
Easy, No- Mess Instructions for an Easy Tie Dye T-Shirt:
1. Stretch the t-shirt over the piece of cardboard. You can use clips to keep the t-shirt from moving.
2. With the permanent markers make dots to outline whatever shape or letter that you want to make or design.
3. Use the eye droppers to drop the rubbing alcohol on the permanent marker dots. Watch the colors spread! The more alcohol that you use the more the colors will spread.
4. Let the t-shirt dry thoroughly. You can soak it in vinegar to set the colors but we did not bother with that step. Then wash and dry as you normally would.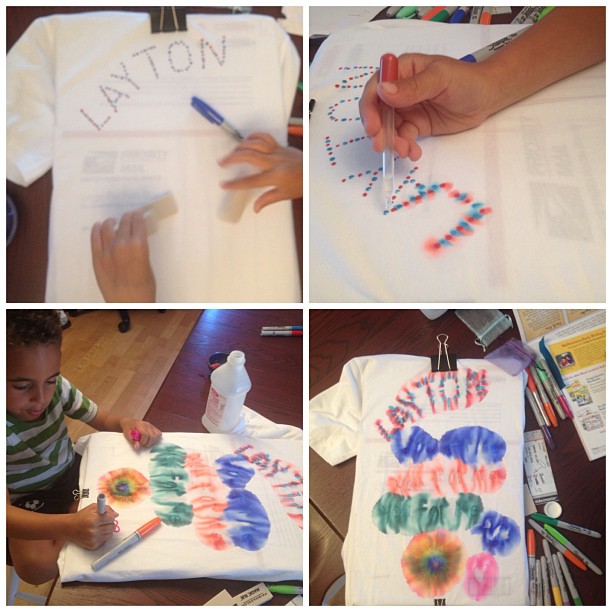 Enjoy your unique Easy DIY Tie Dye T-shirts!
More DIY T-Shirt Decorating Craft Projects: