Crumpled Creations
Art and Craft Projects for Kids
We hope that you enjoy this upcycled craft with your kids!
Crumpled Creations; Fine Motor, Hand Strength, and Emotional Control Skills
This page contains affiliate links. Please visit our disclosure page for more information.
Crumpling paper is extremely satisfying. One day I was working in a preschool when one of the tots was having a difficult time controlling his emotions. So I took him to the recycled paper pile and we started crumpling paper. Crumpling paper not only relieves stress it is a great hand strengthening activity. Once he had crumpled up a bunch of paper I had him throw his crumpled paper into the recycling bin. By the time he was done he was laughing instead of yelling. It really is cathartic, try it next time you are having a bad day.
But then I was left with a bunch of crumpled paper. First, we decided to have a crumpled paper ball fight. That was fun for two minutes. We wanted to find a more productive way to spend our time. What to do with a bunch of crumpled paper? Make an upcycled craft, of course!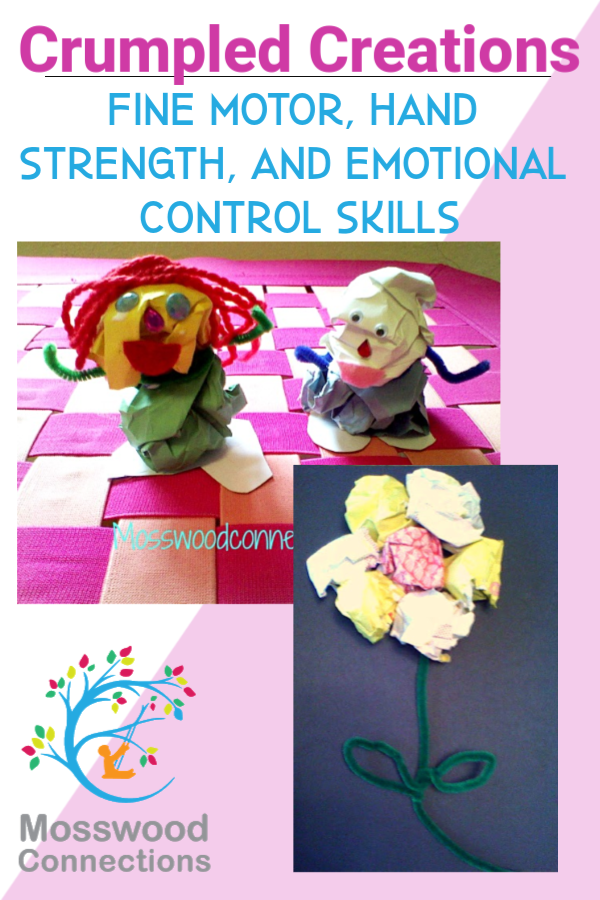 Materials for your Crumpled Paper Open-Ended Upcycled Craft:
Crumpled paper
Glue
Scrap Paper
Embellishments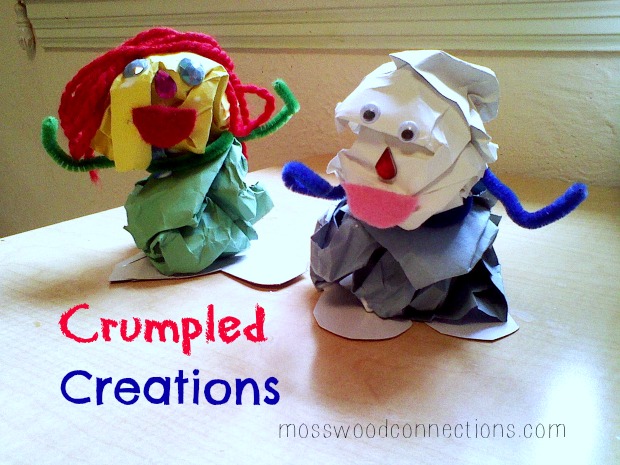 Crumpled Creations Upcycled Craft for Kids
Instructions for your Crumpled Paper Upcycled Craft:
This is a pretty open-ended upcycled craft project. Put the materials on the table and let the children create their own crumpled critters. Some ideas for you: people, flowers, insects. The crumpled paper balls would make a great caterpillar to along with the book The Hungry Caterpillar.
After each piece is added be sure to have the kids use their "kindergarten press". That is when you gently press down on the piece that you are gluing down and count to ten. Not only does this help the pieces stick together, it teaches patience and counting.
Your creations are likely to be quite fragile. This craft project is more about the process than the product.
That's it! See what the kids create!
More Upcycled Crafts for You
A Tiskit a Tasket a Cloth Woven Basket: Weaving is a wonderful fine motor activity as well as being a valuable way to strengthen pre-reading skills. This weaving project also uses upcycled fabric and makes an awesome gift!
WineCraft Art Project: Use recycled items to create a process art project.
Fabric Bowls: We love this project! We use it in therapy and at home with our own kids. It makes great mother and grandparents gifts while making good use of those extra fabric scraps.
Puzzle Pins: This is a simple, fun art project that reuses old puzzles and transforms them into beautiful jewelry.
STEM Goes Green – 16 Upcycled and Earth Friendly Projects for Kids
Upcycled Recyclables! 34 Recycled Kids Crafts & Activities