Rainbow Game: DIY Shapes and Colors Board Game
A DIY Rainbow Game the Kids Will Love!
"Games give you a chance to excel, and if you're playing in good company you don't even mind if you lose because you had the enjoyment of the company during the course of the game." ― Gary Gygax
Rainbows, colors and cooperation. What could be better? This DIY rainbow game has all these things. Use your creativity to add whatever you can imagine. Kids love being involved in the creation of the games they will play. Target this game towards the interests of the children who will be playing. We chose rainbows but you could easily change the theme to transportation, animals, alphabet, whatever fits who will be playing and what skills you wish to focus on.
This post contains affiliate links. Please visit our disclosure page for more information.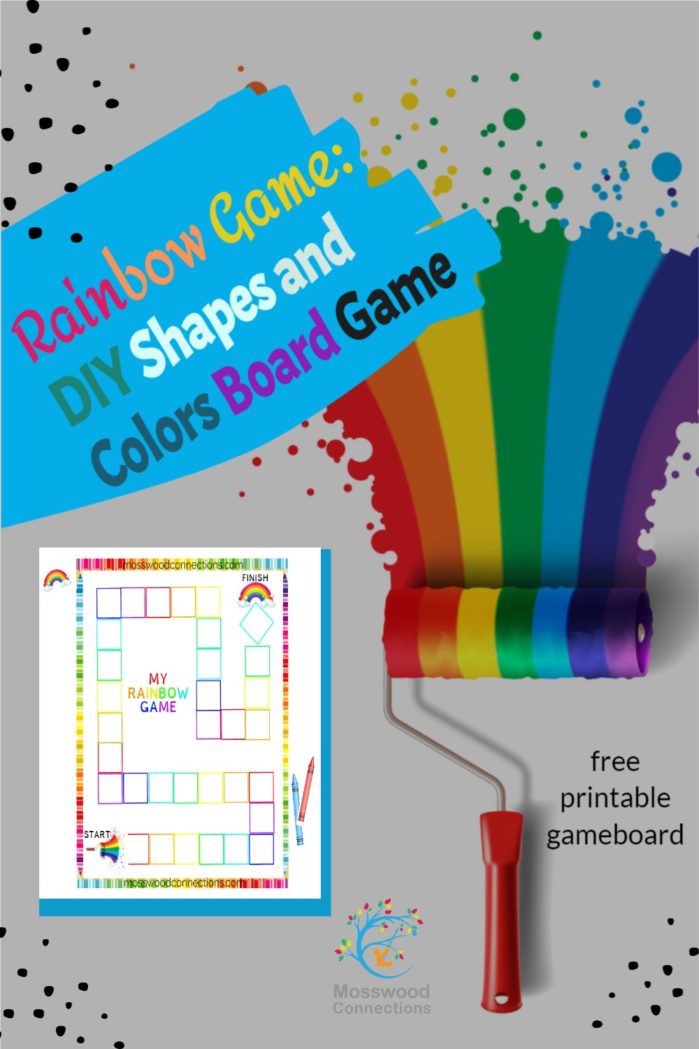 The Rainbow Game: A DIY Board Game that is easy to make and a fun way to incorporate learning new skills through play.
Target Skills:
Color recognition
Turn-taking
Coloring and Drawing Skills
Counting (optional)
Materials For a DIY Board Game:
(Printable Templates for a board game, markers and dice are available for download.)
Large Paper
Dice
Crayon  Markers
Crayons
Tape
Instructions for your own DIY boardgame:
The rainbow has lost it colors. Move the crayons across the path to the rainbow and give it back its colors! Get the kids involved and have them make the game board. Cut out the dice and crayon templates below. Color the crayons different colors of the rainbow. If you are working on color recognition color the dice different colors to match the colors of the game squares. If you are working on counting put numbers on the dice. Take turns rolling the dice and moving the crayons across the path to the rainbow. Draw a picture with the color that you landed on. For example, you landed on yellow square draw a yellow flower. When your crayon gets across to the rainbow, color in one strip of the rainbow with your color. When everybody gets to the rainbow and adds their color, you all win!