Bedtime Buddies
Sensory Friends
The only thing worth stealing is a kiss from a sleeping child.- Joe Houldsworth
While reading the deliciously sweet Don't Turn the Page by Rachelle Burk, illustrated by Julie Downing, I was reminded of our own bedtime routine with our daughter. I became inspired to make some of our own Bedtime Buddies for our nighttime routine. Our bedtime routine is full of cuddles and books. Once she finally makes it to her own bed she needs all her favorite "friends" surrounding her. She loves all her stuffed friends but there is always that one special buddy that needs to be held close.
This page contains affiliate links. Please visit our disclosure page for more information.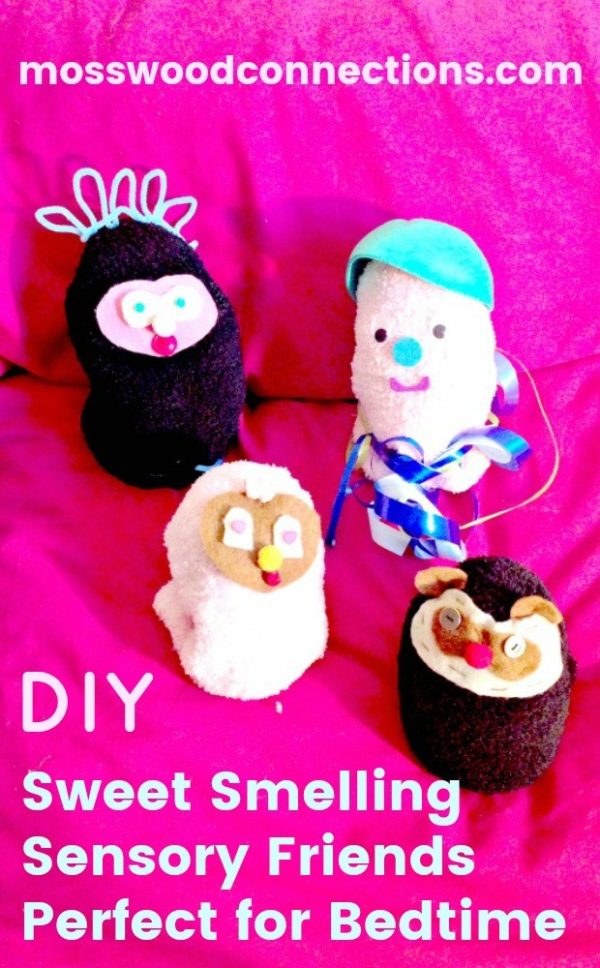 Make your own sweet smelling Bedtime Buddy and it will soon be your child's favorite stuffed friend!
Materials for your DIY stuffed Bedtime Buddy:
o Socks – we prefer to use Fuzzy Socks
.
o Assorted Color Felt 

o Children's Plastic Needles for Sewing
 & Thread
o Scissors
o Beans or Stuffing (not pictured)
o Pom poms, buttons or other decorations.
o Lavender Essential Oil 
 (not pictured)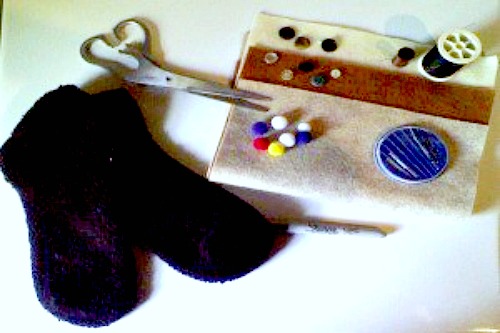 Instructions on how to make your DIY stuffed Bedtime Buddy:
Warning: This project contains small parts and is not recommended for children under the age of three.
• Trace the outline of the eyes, nose, smile or whatever you want on your Bedtime Buddy.
• Cut out the felt pieces.
• Layer them on the sock and sew them on. You can use hot glue but it might be bumpy and not so fun to cuddle.
• Add any of decorations such as the buttons for eyes.
• Once you have finished with the decorations fill the sock with your beans or stuffing. Beans will more satisfying than stuffing. If you don't have beans you can substitute with something else; I used black eye peas.
• Add a few drops of the lavender oil.
• I used a rubber band to hold the sock closed and then sewed up the opening. Remember to remove the rubber band.
• You can warm the Bedtime Buddy in the microwave (if you haven't added anything metallic) by heating for 15 seconds.
• You can also keep your Bedtime Buddy in the refrigerator and use it as a cool compress for when your child gets hurt.
These Bedtime Buddies would also make great fidget toys. You can substitute mint oil for the lavender oil if you want to "wake up" the children.