A Bunch of Balloon Activities
Gross Motor and Sensory Activities
Fun Learning Games with Balloons!
We are crazy about balloons. They are inexpensive, kids love them and the ideas on ways to use them are endless. These balloon activities incorporate gross motor, fine motor, visual processing, and social-emotional skills while children think they are "just playing". You can even use balloons to learn about colors, numbers, storytelling, and science. The possibilities of active learning will have the kids laughing as they learn! Before you play, you may want to learn more about the history of party balloons. It's pretty interesting.
This page contains affiliate links. Please visit our disclosure page for more information.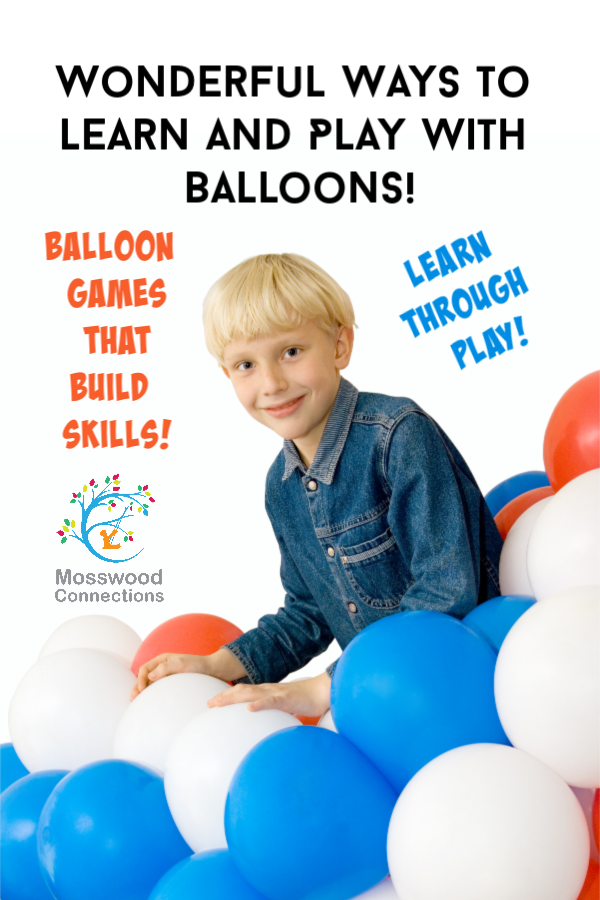 Here are Some of Our Favorite Fun Learning Activities with Balloons!
Why not use balloons to learn about science?
Kids' Activity Blog has a cool idea for the kids to explore science by discovering static electricity with balloons.
Try this ingenious activity from Learning with Play at Home to discover the properties of air pressure by making a balloon water fountain.
The Crafty Mummy has an activity that will introduce children to STEM by making a balloon-powered LEGO vehicle. Combining LEGO and balloons? Awesome!
You can use balloons for sensory and social skills games
Balloon Pass: A Tactile Sensory Processing and Directionality Activity. It is a fun game where the children have to think quickly, pay attention and respond to what they feel or hear.
Balloon People Help Children Learn about Feelings. Use balloons to help children develop emotional intelligence. These balloon people help children explore and identify their emotions in a fun and playful way. Don't be surprised if a tribe of balloon people invades your house.