Ball In A Bag: Gross Motor Activity
Gross Motor
"Imagine that your child is born with wings." ― Carolyn Parkhurst, Harmony
Here is a fun, simple gross motor activity to work on visual tracking, ball skills, and proprioception motor skills. It's simple to set up and it promises to engage the children in play.
This page contains affiliate links. Please visit our disclosure page for more information.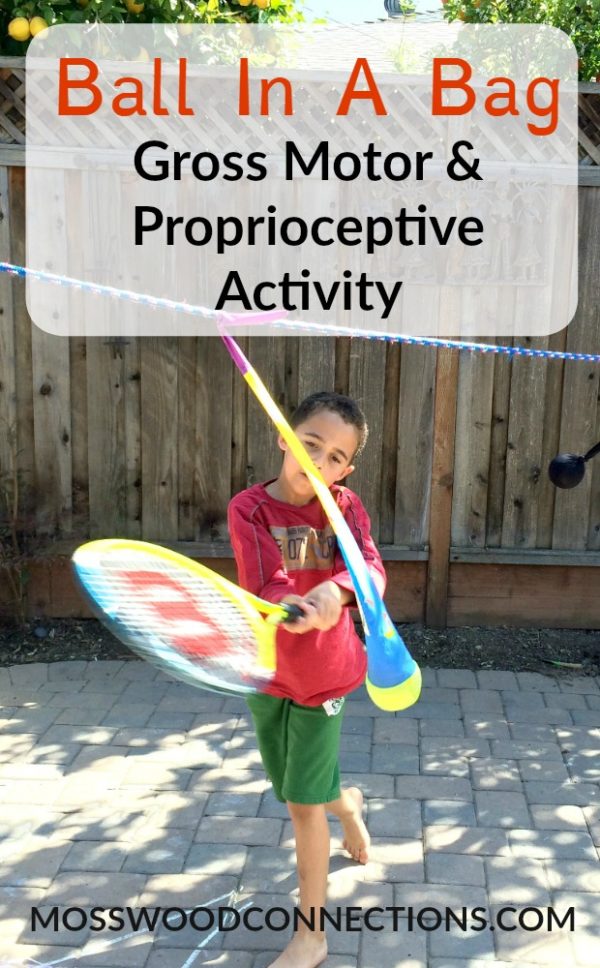 Why is the Proprioceptive System important for our children's development?
"Proprioception motor skills help us judge how far away or how close things are, as well as how much force is needed to move an object. "The term proprioception is used to describe the sensory information that contributes to the sense of the position of self and movement. Sir Charles Bell named the "sixth sense" as the sense of the positions and actions of the limbs (McCloskey 1978). Sherrington (1906) first used the term proprioception to define the sense of body position. Body position is perceived both at the conscious and unconscious levels. The information of conscious proprioception is utilized to facilitate complex motor activity, while unconscious proprioception is important to coordinate basic posturing during sitting, standing, and simple gait activities. Defects in the conscious proprioception system manifest as stumbling, although gait and posture may be normal. Defects anywhere along the unconscious proprioceptive pathways may be manifest as postural deficits or ataxia." (International Encyclopedia of Rehabilitation)
Target skills:                                                                                  
Visual Tracking
Upper Body Strength
Proprioception motor skills
Ball Skills
Materials:
Balls of various sizes
Rope and someplace to hang the ball
Pantyhose, net, spandex, or a mesh bag
Various bats, paddles, and rackets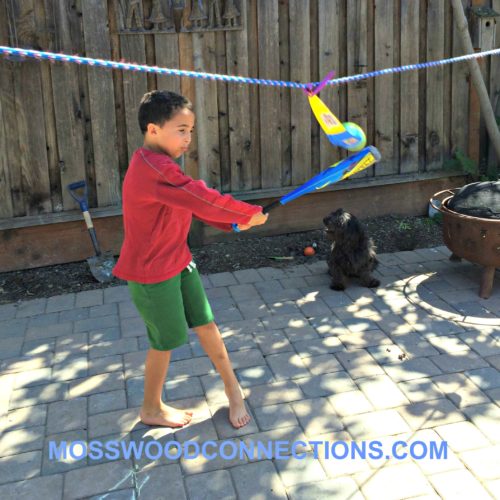 It doesn't need to be complicated to be fun
Put a ball in pantyhose, a net or tie in a length of spandex material. Hang the ball from the rope and hit with the bat, paddles, etc.. We tied one up in our house to entice more interaction with hitting the ball. You can change up the size and weight of the ball along with different bats and paddles.
This gross motor activity turned out to be a real winner at our house. My son had been very reluctant to play t-ball. He kept saying that sports just weren't his thing and getting him to go to practice was a painful affair. The idea for this game came up when I was talking about his visual tracking with a friend. After bouncing ideas off of each other we came up with this gross motor activity that incorporates visual tracking skills. It is a bonus that this game works on tracking skills and proprioception motor skills. I did not realize then that it would also have the added benefit of building his confidence and thus, his enjoyment when playing ball games.