3-D Bird Mobile Craft
Art and Craft Projects for Kids
My mother-in-law has a bird mobile that hangs above the bed that my daughter sleeps in when she visits. My daughter loves that bird mobile so I decided to try to create a 3-D Bird Mobile Craft for us to make at home.
3-D Bird Mobile Craft for Kids
This page contains affiliate links. Please visit our disclosure page for more information.
We love bird crafts. We made a game out making a bird from cardboard rolls and we had fun exploring owls and making an owl alphabet game as a book extension craft for the book Owl Babies. This 3-D Bird Mobile Craft is part of our Bird Study Unit. Get the kids excited about nature, read books about birds, go bird watching, write about birds or make bird inspired crafts. This craft requires pretty good fine motor skills so the assembly is best for older children. Younger children will have fun with the painting part of this craft. Our 3-D Bird Mobile looks awesome flying in our garden. You will enjoy having one hanging around your yard, too!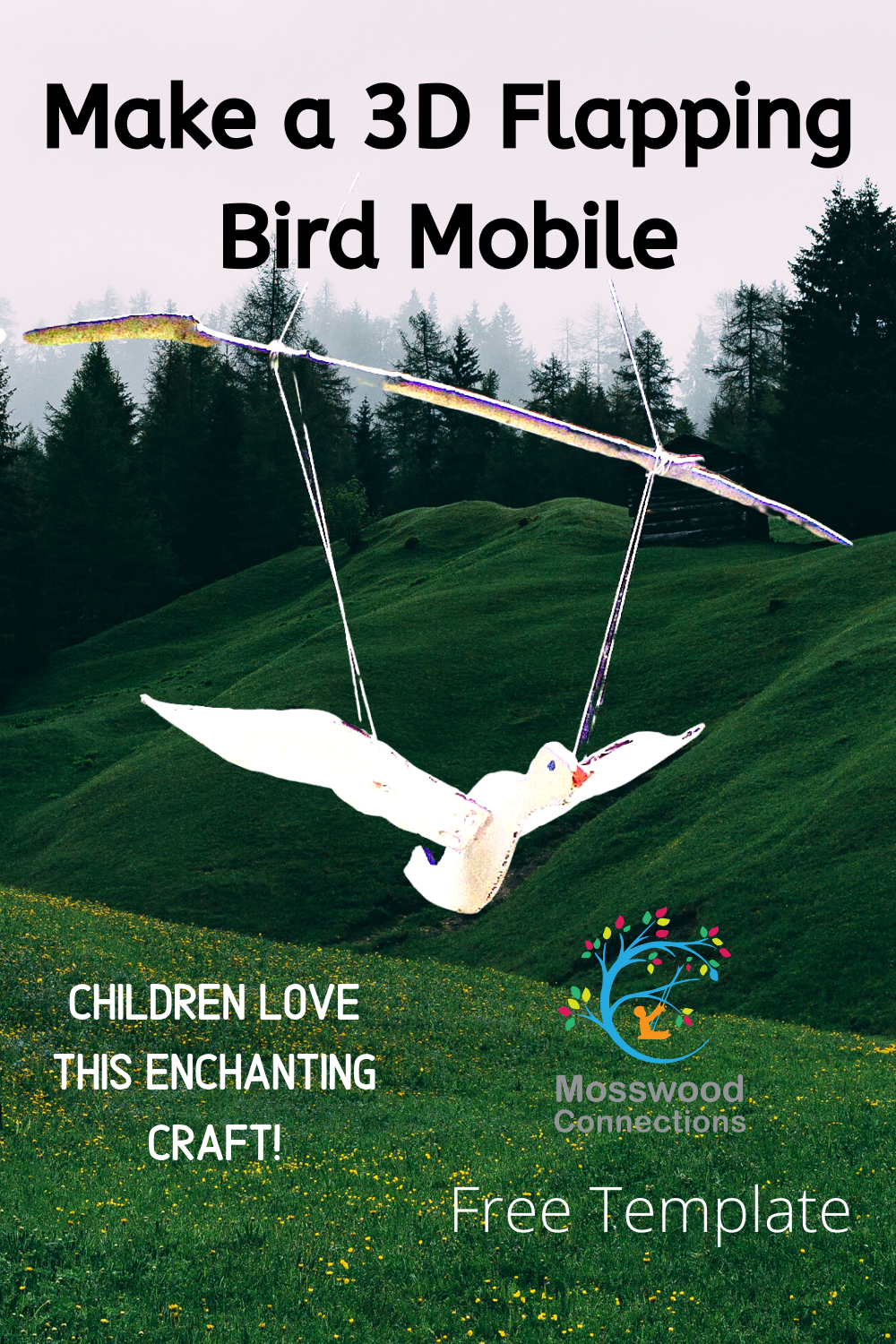 Materials needed to make a 3-D bird mobile craft:
Cardboard
String
Stick
Tempera Paints  (We used white, orange and blue)
Scissors
Hole Puncher (We used golf tees and a child's hammer.)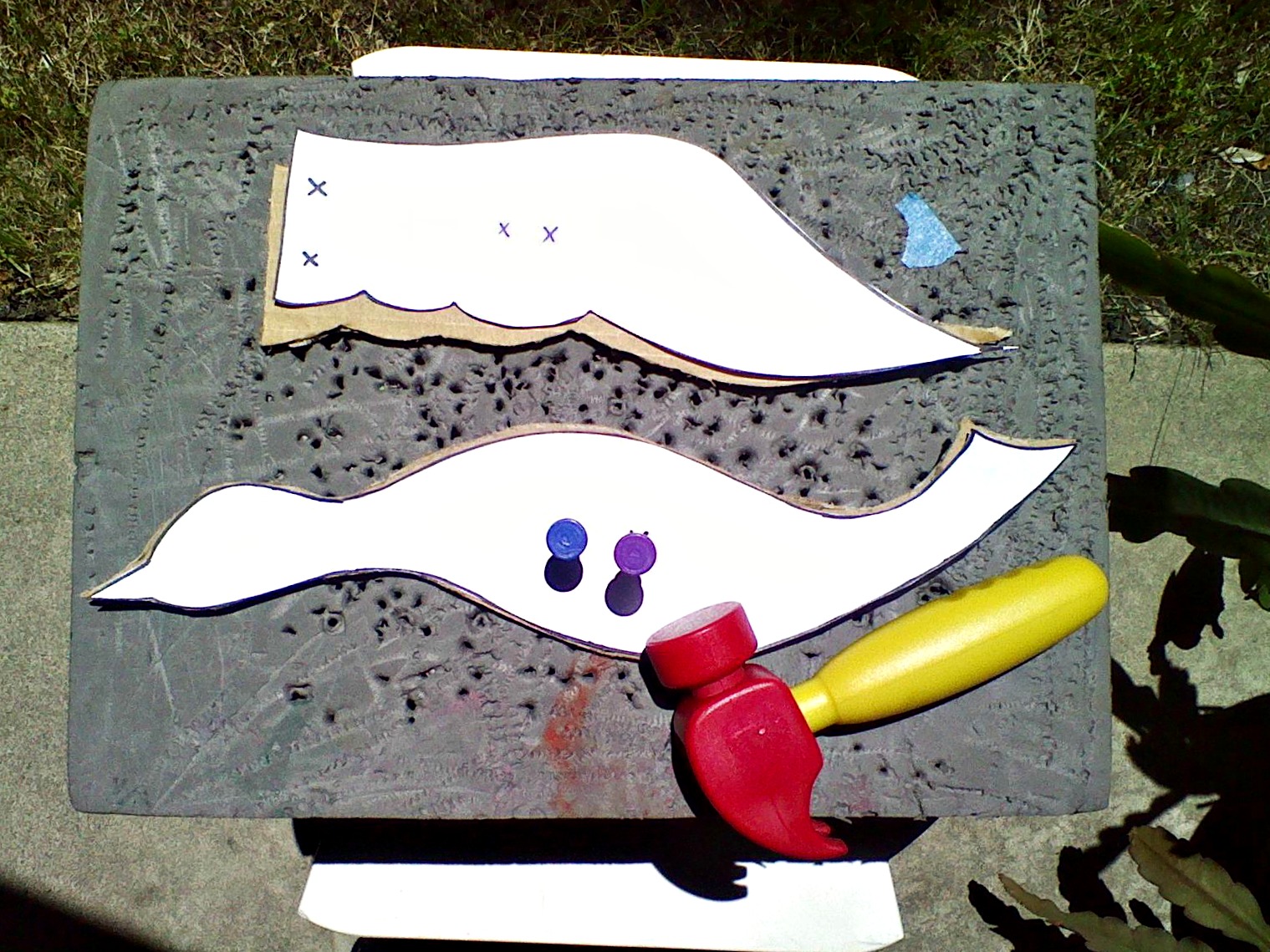 Bird Instructions
Instructions on how to make a 3-D bird mobile craft:
Print out template and trace onto a piece of cardboard.
Punch holes in the cardboard. We had a hammer set that made it easy for kids to make the holes but you can use a hole punch or a pen to punch through the cardboard.
Paint the cardboard. We needed two coats of paint. Allow the painted cardboard time to dry.
Paint on the beak and the eye.
Cut 4 strings 12 inches long. Cut 3 strings 24 inches long
Thread the 12-inch string through the holes at the edge of the wings and thread into the holes on the body. Tie and cut off any excess thread.
Take one of the 24-inch strings and tie each end onto the ends of the stick.
Take two of the 24-inch strings and loop over the stick. One length of string on each side of the stick. Take the string and thread through the holes in the middle of the wings and tie.
Ta-Dah! You have your very own Bird Mobile. We are enjoying ours!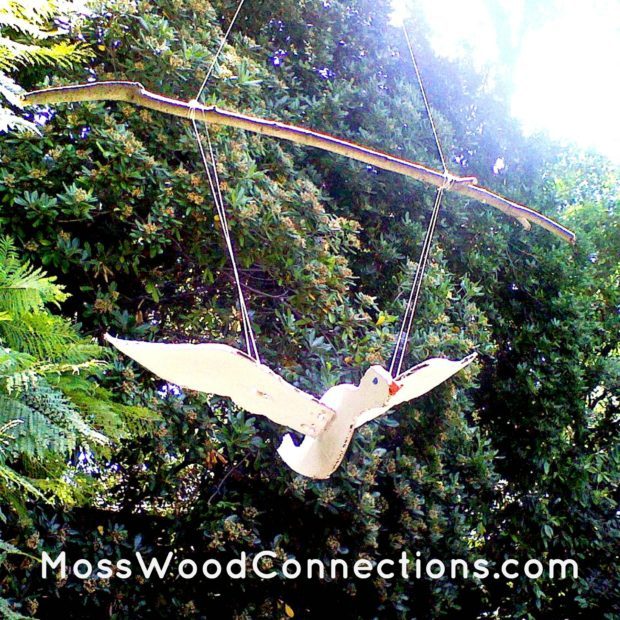 More 3-D Paper Crafts
If our 3-D mobile has inspired you to try more 3-D paper crafts you may want to check out Creative Park. They have an extensive assortment of printable 3-D paper crafts for you to try. Auntie Annie has some super cute paper crafts that also make good toys and Crafts Unleashed has some pretty 3-D gift boxes that are super sweet.